8 Graphic Fabrics & Wallcoverings
Make graphic strokes with these fabrics and wallcoverings.
Designer: Brett Beldock of Brett Design
Product: My Corb
Standout: A mural wallpaper also available in Type II vinyl, the vivid pattern channels the designer's fascination with Le Corbusier's paintings but adds a touch of Dalí and Cocteau to the mix.
Designer: Amanda Eaton of Arc-Com
Product: High Rise
Standout: A complex balance of structure and color, the VP of design's woven polyester-nylon pattern is a midscale geometric in eight colorways that offers a rainbow of tonal possibilities.
Designer: Jon Sherman of Flavor Paper
Product: Bead Obsession
Standout: The creative director's clay-coated wallpaper takes compositional cues from artist Yayoi Kusama's trademark polka dots to devise a depth-bending motif that radiates a sense of joy.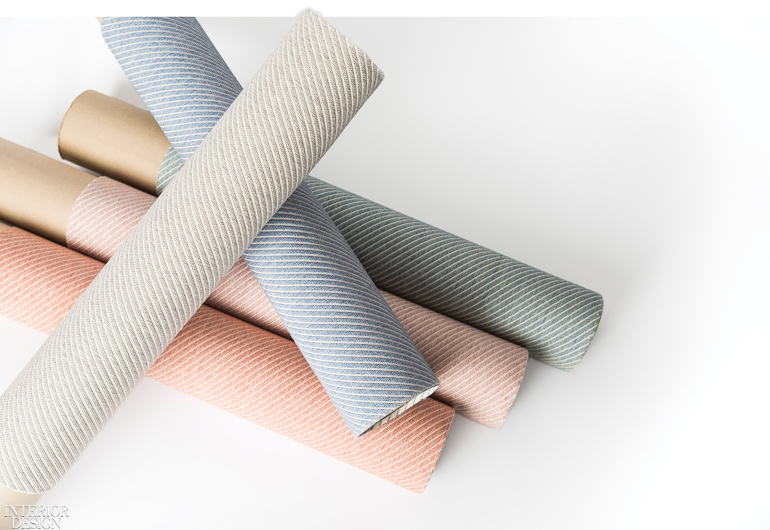 Designer: Iris Wang of Brentano
Product: Sequence
Standout: Collaborating with Gensler, the designer conjures a bold and structured polyester twill matelassé with undulating grooves for visual depth and interest—plus it's bleach cleanable.
Designer: Stephanie Seal Brown for Schumacher
Product: Carmo
Standout: The ruins of a 14th-century convent in Lisbon supplied the inspiration and the name for the designer's collection of cotton-linen trim tapes, which channel the grace and beauty of medieval arches.
Designer: Dorothy Cosonas of KnollTextiles
Product: Retreat
Standout: The postconsumer-recycled polyester-acrylic blend upholstery fabric's textural richness is achieved by weaving a combination of slub and heathered yarns for a sophisticated hand and linenlike look.
Designer: Sarah Morris for Maharam
Product: Hellion Equilibrium
Standout: The New York-based painter and filmmaker's digitally printed wall covering mirrors the bold colors and jagged geometric forms of her permanent stained-glass installation in a New York subway station.
Designers: Kelly Diehl and Elizabeth Williams for Chasing Paper
Product: Dot Comb
Standout: The New Hat Projects duo bring their bold aesthetic to a pattern that incorporates Japanese motifs and is available as a traditional wallpaper and a removable poly-woven with a low-tack adhesive backing.