1 Hotel Brooklyn Bridge Park by Inc Architecture & Design, Marvel Architects, and Michael Van Valkenburgh Associates: 2017 Best of Year Winner for U.S. Boutique Hotel
Think globally. Design locally. This twist on the activist rallying cry is a fitting mantra for the 1 Hotel Brooklyn Bridge Park, the latest property in the eco-forward hospitality brand launched by Interior Design Hall of Fame member Barry Sternlicht, CEO of Starwood Capital Group. INC partners Adam Rolston, Drew Stuart, and Gabriel Benroth created the artfully sustainable look, unveiled on Earth Day inside a 10-story building by Jonathan Marvel, in a section of a wild, willowy riverside park by Michael Van Valkenburgh, who also designed the hotel's rooftop pool area.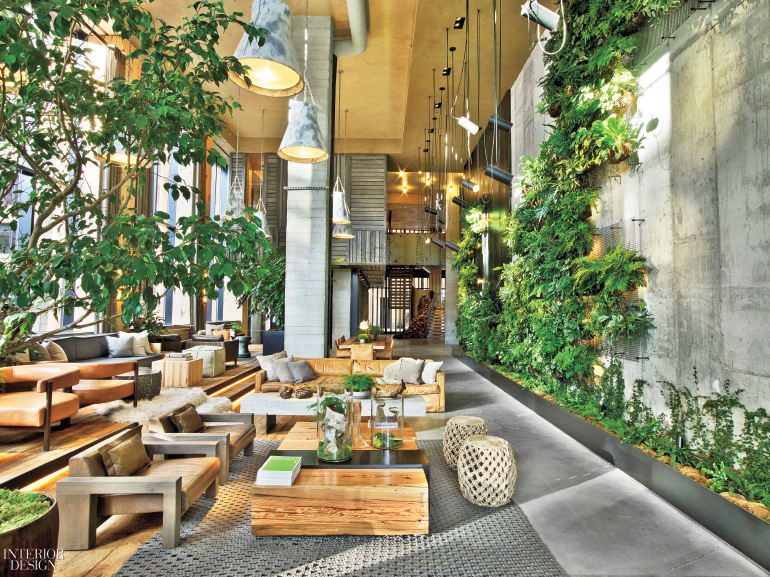 The 194-key interiors job entailed tackling such questions as: "What is sustainable luxury?" And: "How do you celebrate the spirit of the borough without that most overused of Brooklyn design tropes, the Edison bulb?" Initial direction came from Sternlicht's concept of capturing the beauty of nature while safeguarding the environment. Wood and stone, often reclaimed, feature prominently. So do green walls. Additional inspiration derived from the site's previous incarnation. "We tried to relate to the history of the wharf that used to exist here," Rolston says. His team also engaged with the local maker and artist community. Uhuru Design, for example, turned beams from the nearby Domino Sugar refinery into cocktail tables. Almost entirely missing are Edison bulbs. You'll find them in only a handful of sconces.
Project Team: INC Architecture & Design: Tyler Kleck; Louisa Revitte; Megan McGing; Riley Miller. Marvel Architects: Guido Harry; Dennis Vermeulen; Andrew Torres; J.S. Yong.
> See more from the December 2017 issue of Interior Design
> See all 2017 Best of Year winners and honorees