10 Global Spas and Wellness Retreats to Fulfill Your New Year's Detox Resolutions
So long 2019 and all the crimes we committed with you. With 2020, it's time for a little rest and rejuvenation—and health-geared hospitality destinations are here to help. From a remote Costa Rican retreat with tent-like structures conscious to a sensitive tropical landscape to a spa that cocoons guests in hanging teepees and a pool promising a "womb-like" experience, here are 10 standout spas and wellness retreats around the globe. We've focused mostly on those new to the scene—but you'll find one established favorite and one yet to come.
1. Kasiiya Papagayo, Guanacaste, Costa Rica
In remote Costa Rica, Paris-based architecture firm AW² designed custom timber-and-canvas "luxury tents" for wellness retreat Kasiiya Papagayo, opened in March of 2019. Raised off the ground, the tents protect the sensitive landscape of the dry tropical jungle—and can be broken down to disappear without a trace. The master bath in this tented suite provides a soaking opportunity in a custom copper tub, but self-care can also be drawn from strong personalities on the property's staff. Yamuna, the property's healer—rumored to have treated Brad Pitt—will quickly pinpoint over tea both the troubles of your soul and how to release them, while fitness expert Bruno teaches strength-building exercises based on animal movements.
2. Hotel Palácio Estoril, Estoril, Portugal
With another James Bond film gearing up for April 2020, what was once the setting for the classic film "On Her Majesty's Secret Service," released in 1969, could be just the place for a limber spy—or anyone else eyeing a few days of well-being. Designed by French architect Henry Martinet and built in 1930, the Hotel Palácio Estoril was a playground for royals for decades. Today the property combines historical grandeur—think a doorman smartly dressed in traditional garb—with high-class health facilities. In the 27,000-square-foot Estoril Wellness Center designed by Palmer Grego Arquitectos, two floors are occupied by a Banyan Tree Spa. For one spa massage treatment, staff takes aim with high-powered water jets, hosing the brave off firehose-style. A more subdued water experience is found in the dynamic pool, where jets slowly spin guests around in circles under the twinkle of LED lights recalling the night sky—no crime-fighting required.
3. The Spa at the Mandarin Oriental, London
Glass above a 60-foot-long pool reveals a lounge's fire place at the Mandarin Oriental Hyde Park. With a restoration and enlargement completed by New York designer and Hall of Fame member Adam Tihany in the Summer of 2019, the Spa at Mandarin Oriental, London now includes 13 treatment rooms, a massage suite for two, a traditional mosaic-tiled steam room and warm rain shower, mani-pedi studio, and room dedicated to Chinese medicine consultations and treatments.
4. The Rena Spa at The Midland Manchester, Manchester, England
Spa lounging reaches new heights at The Midland, Manchester, which opened in November after a rebranding conceived by an in-house design team drawn from developers Leonardo Hotels and U.K. and Ireland hotel group Jurys Inn. In the Rena Spa, ceiling-mounted tepees and Eero Aarnio's retro Ball chair, designed in 1963, are among unique opportunities that tuck guests away from the outside world.
5. Six Senses Thimpu, Bhutan
Perched on a hillside and capturing breathtaking views of a nearby mountain range, the Six Senses Bhutan will be the most recent debut for global hotel brand Six Senses—its fifth property in Bhutan—when it opens in Spring 2020. Packed soil, hemlock wood, bamboo, granite, and natural stone are the dominating materials in a sustainably conscious design crafted by Thailand-based firm Habita Architects and the brand's in-house design team. In the spa area, shown here, floor-to-ceiling glazing allows an infinity pool to reflect both sky and mountains.
6. Euphoria Retreat, Mystras, Greece
With a pool promising a "womb-like experience," the Euphoria Retreat is a 2018 opening by DecaArchitecture in collaboration with Natalia Efraimoglou & Partners carved into the base of a mountain. A tall cylindrical well with a large skylight draws light into the 32,000-square-foot spa, organized on four levels surrounded by earth. Positioned at the heart, the indoor-outdoor pool is spherical in shape, taking cues from Byzantine domes.
7. The Magness Soulful Spa in the Bless Hotel Ibiza, Ibiza, Spain
The timeless aesthetic of French fashion icon Coco Chanel is the muse for the Magness Soulful Spa in the Bless Hotel Ibiza, a Palladium Hotel Group property opened in June 2019. Careful placement of monochrome color is found throughout the 10,000-square-foot complex, designed by Hirsch Bedner Associates in collaboration with the Palladium Hotel Group's in-house design team. In the water zone, shown here, the colors are a tribute to the Mediterranean, where the natural environment is blessed with rosy sunsets and aquamarine water.
8. El Llorenç Parc de la Mar, Palma, Spain
Lanterns drop over the 46-foot-long indoor thermal pool, rendered in turquoise glazed tiles, at the spa at the El Llorenç Parc de la Mar. To conceive both the 33-room hotel—a Design Hotels member which opened in the summer of 2019—and its spa, Swedish designer Magnus Ehrland channeled Old World Spanish, Moorish, and Arabic traditions.
9. Shou Sugi Ban House, Water Mill, New York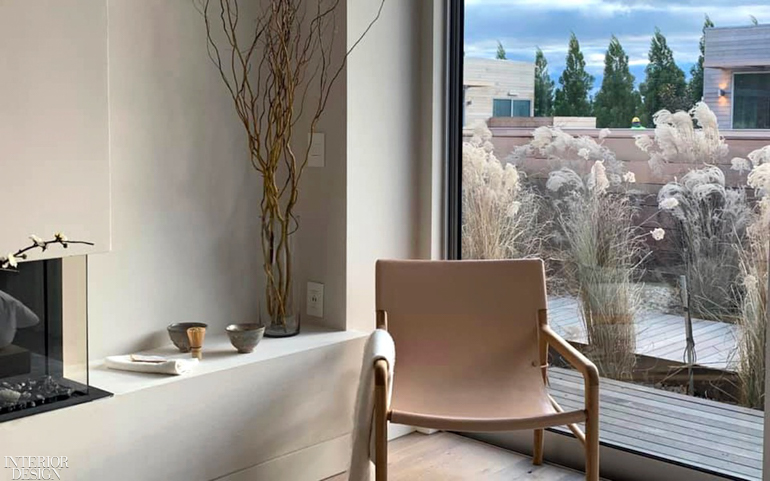 A 13-room hideaway in the Hamptons, which made its debut last May, the Shou Sugi Ban House by Debbie S. Kropf, principal of DSK Architect, incorporates the Japanese technique of wood preservation by flame charring—which blackens the wood—and oil. Views of the wellness retreat's deck and private pool area are visible from the guest studio, shown here.
10. Anantara Desaru Coast Resort & Villas, Desaru Coast, Malaysia
Low-rise buildings and stand-alone villas overlook lush tropical gardens, a lagoon, and the ocean at new wellness retreat Anantara Desaru Coast Resort & Villas, which opened December 1. Designed by WOW Architects | Warner Wong Design and Environment Design Consultants, the property is Anantara Hotels, Resorts & Spas' first luxury hotel in Malaysia, with its six spa treatment rooms nestled around a garden. Traditional building techniques were used for the stone facade and ceramic roof of the resort's main building, shown here.