10 Poolside Retreats to Celebrate Towel Day and the Unofficial Start of Summer
What would summer be without the towel? While the official summer solstice is still a few weeks away, May 25 is deemed Towel Day. Though the celebration started out as a tribute to Douglas Adams' "The Hitchhiker's Guide to the Galaxy" series, Interior Design is taking a slightly different approach. Sure, the towel is a must-have for any season, but it truly shines in the summer at the poolside, doing its job alongside chlorine-treated and salted waters alike. To honor the towel—an item that will always be there for you—here is a roundup of inspiring summer escapes and poolside products, which only the ultimate summer accessory could complete.
Max Núñez Arquitectos Avant-Garde Beach House
Overlooking the beach, a towel is the perfect companion for any pool deck, whether catching some rays or drying off on the patio above, off the four-court entrance.
The Luxury Zannier Hotels Sonop
In the oasis of the Namibian desert, this heated infinity pool sits at the base of a rock outcropping, transporting guests to a utopia seemingly at the edge of the map. All that's missing is a towel draped atop the pouf loungers, waiting for guests to surface from the pool.
Sitting poolside in Peru, lounging on top of custom chaise loungers at this hotel designed by José Cruz Ovalle would not be complete without a towel. Nestled in a valley within the Andes range, this poolside patio combines staggeringly beautiful views with architecture that's inspired by archeology.
From the company CEO, Janice Feldman, a retro-style aluminum chaise lounger with supersized wheels is adjustable and transportable. Topped by chevron polyvinyl mesh and optional cushions. Not optional? A towel.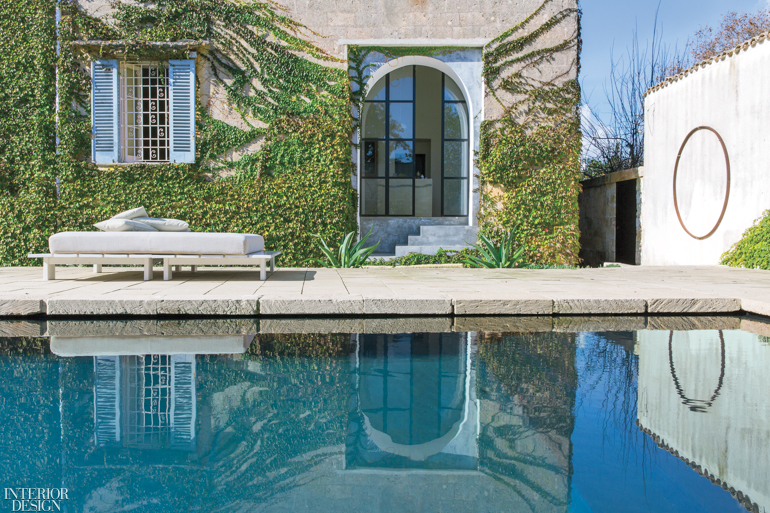 Transformed 19th-Century Boutique Hotel in Puglia

Just off the kitchen of this redone palazzo by Ludovica+Roberto Palomba and GS Collection, a limestone-tiled pool terrace is a rustic and inviting place to laze around. But you wouldn't recline on stone alone—an ideal spot for a towel.
Nani Marquina's Costa Brava Retreat
This pool designed by Nani Marquina features pigmented cement to blend into its surroundings hillside. The lush grass surrounding it offers a lovely spot to relax on… a towel and, perhaps, practice your Spanish.
Brazil Residence by Studio MK27
This 2019 Best of Year Winner for Beach House is a simply stunning home in Porto Seguro, near the Amazon jungle and Atlantic Ocean. Designed to be a manmade iteration of the sea, it also serves as a reminder that towels are the perfect addition to a hidden oasis.
Aigua Blava Residence by Cloud 9
From the main home to the pool house, this complex's sinuous fiberglass forms, with intricate vaulted-brick ceilings handmade by a Catalan artisan, loosely follow the shape of the Spanish coastline. Towels take on dynamic forms too, able to follow the curves of the human body.
Cool, calm, and very California is the running theme throughout this Napa Valley retreat. Designed by Pfau Long Architecture, the pool house offers see-through views and cross-ventilation. Not to mention, room to store all the towels.
San Mateo Residence by Oculus Architecture & Design
Rising out of board-formed concrete is a site-sensitive green-roofed aerie with a hot tub that juts dramatically over lush landscaping and a 40,000-gallon lap pool serviced by a terrace, which doubles as a diving platform. With so much room for so many people to jump in, this situation calls for an abundance of towels.
Read next: 10 Indoor Pools to Leap Into