10 Projects from Best of Year 2019 Set the Bar High
We're getting ready for Best of Year 2020 by highlighting 10 game-changing project winners from last year's awards. Be sure to submit your best by September 10.
1. Sfer Ik Museion Uh May by Roth-Architecture for Small Museum/Art Gallery
The coastal town of Tulum, Mexico, is renowned for its Mayan ruins and Caribbean beaches. But it holds another draw for intrepid tourists willing to venture 14 miles deep into the jungle. It's there that this gallery, or "interdisciplinary creative sphere," as the Sfer Ik Museion Uh May calls itself, resides—and it's like nothing we've ever seen.
2. National Museum of Qatar Gift Shop by Koichi Takada Architects for Mixed Retail
With its interlocking disks modeled on the desert rose minerals found in Doha, the National Museum of Qatar by Ateliers Jean Nouvel was one of the signal architectural achievements of 2019. Its pair of gift shops inside, designed by Koichi Takada Architects and similarly influenced by the area's natural heritage, are an interior tour de force.
3. Banu by Studio Link-Arc and Kane AUD for Casual Dining
The turbulent flow of the Yellow River inspired the 25,000-square-foot Banu Hotpot flagship designed by two firms, Kane AUD and Studio Link-Arc, for a growing local chain. The two studios collaborated on the facade as well as the interior, which has a flowing plan encompassing two levels, with open kitchens and private dining.
4. Children's Healthcare of Atlanta Center for Advanced Pediatrics by EYP Architecture & Engineering for Healthcare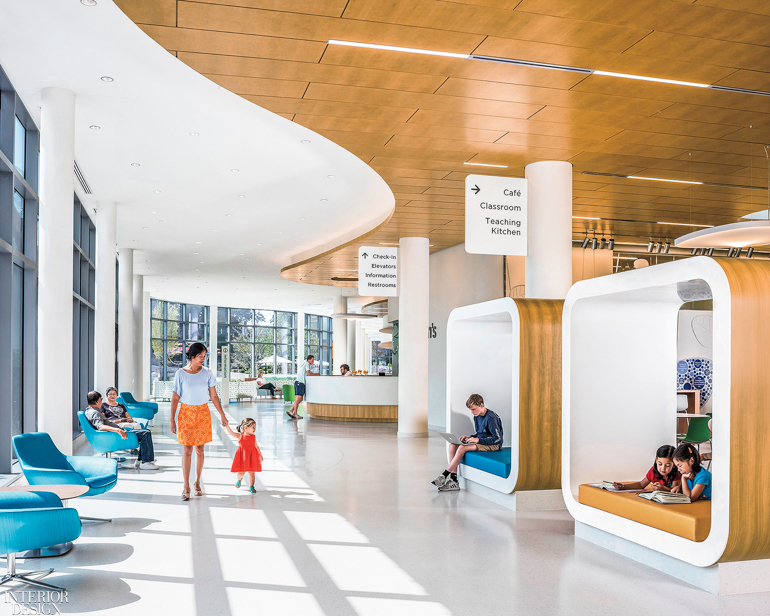 It's nicknamed the City in a Forest. That's Atlanta, the metropolis with the most abundant tree coverage per square mile in the U.S. This natural occurrence significantly influenced the design of Children's Healthcare of Atlanta Center for Advanced Pediatrics, a new children's medical center there.
5. XinMeng Montessori Kindergarten by L&M Design Lab for Early Education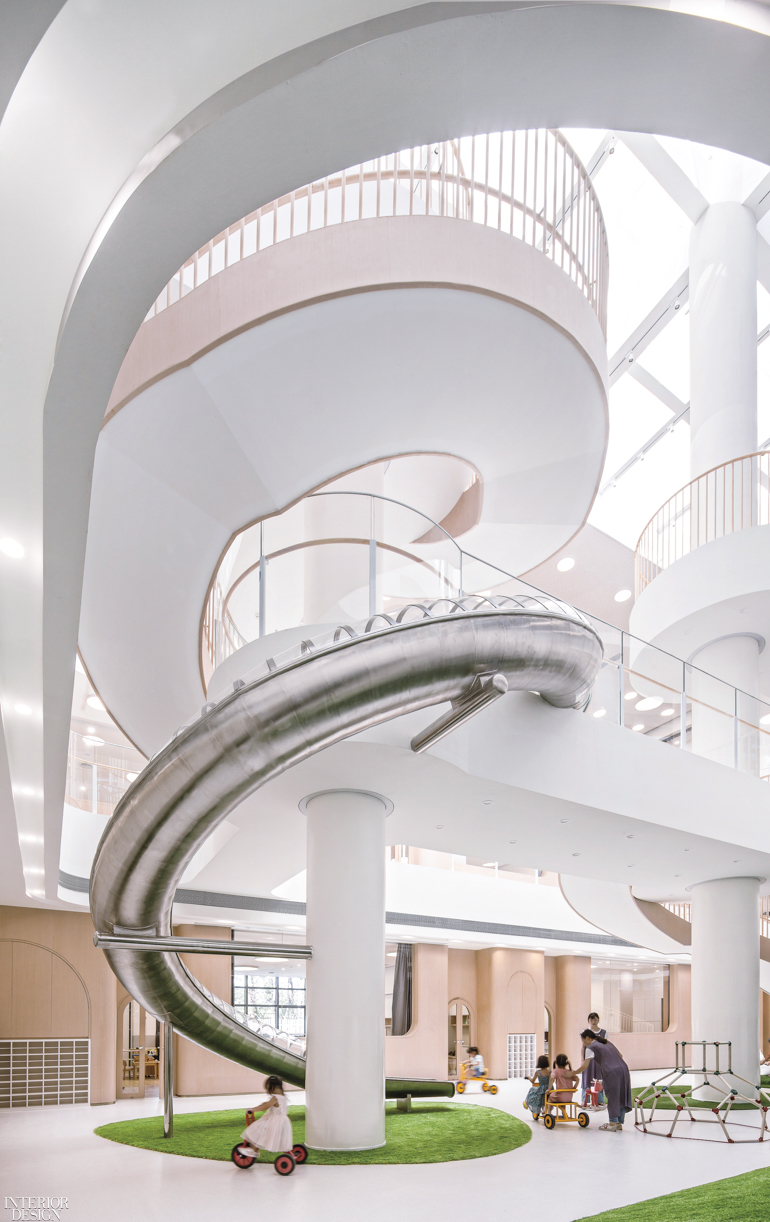 The Montessori method, a 100-year-old approach to education based on scientific observations of children, is on full display at XinMeng Montessori Kindergarten, a 53,000-square-foot kindergarten in Xiamen Island, China, serving kids ages 2 through 6. L&M Design Lab devised an airy building that prioritizes the little students' freedom and well-being and the idea of learning through discovery.
6. Chongqing Zhongshuge by X+Living for Bookstore
Shoppers enter a fantasy world at the trippy Chongqing Zhongshuge Bookstore in China, X+Living creative director Li Xiang's eighth project for the client. The space is large—occupying two floors and nearly 14,000 square feet—but looks twice that courtesy of strategically placed mirrors that conjure the illusion of never-ending stacks.
7. Moncler Marina Bay by Curiosity for Innovation
Bringing the heat in fashion and forward-looking design is Moncler, the ne plus ultra of puffer jackets. For the brand's 6,400-square-foot flagship in the Asia-Pacific region, located within the Safdie Architects–designed Marina Bay Sands casino resort in Singapore, Curiosity president Gwenael Nicolas interpreted the quilting forming Moncler's classic down coat in black marble.
8. The Getty Residences by Peter Marino Architect for Kitchen & Bath
Never one to shy away from extreme elegance, architect Peter Marino stays true to form with this residential project in Manhattan. Overlooking the glorious High Line park, the 12-story, 56,000-square-foot condominium tower brings together all the pas­sions of the Interior Design Hall of Fame member: art, design, and overriding luxury—as well as his deep appreciation for stone, present throughout his oeuvre.
9. Sand House by Studio MK27 for Beach House
Little can compete with the natural beauty of northeast Brazil's Itapororoca Beach and its surrounding rain forest. For an 8,800-square-foot residence just off the Atlantic Ocean coast, Studio MK27 founder Marcio Kogan was smart enough to not even try. "The house abandons any reference to the dwelling machine of the modernist evocation," Kogan says.
10. Hong Kong Tseung Kwan O Alto Residences Clubhouse by One Plus Partnership for Residential Amenity
Making a specialty of cinema design, Ajax Law and Virginia Lung of One Plus Partnership have completed dozens of scene-stealing theater projects across China. The three-story Hong Kong Tseung Kwan O Alto Residences Clubhouse offered a change of pace, but the design directors still brought drama and storytelling to the 26,000-square-foot project.