10 Questions With… Ben Waechter
At the helm of Portland, Oregon-based Waechter Architecture, architect Ben Waechter confesses his preference for a creative vision based on simplicity and pragmaticism over novelty, which probably comes (partly) from his German background. Inspired by the rigor and cleverness of buildings by Swiss architect Valerio Olgiati, Waechter has developed his own style through a wide range of building types that include cultural, hospitality, commercial, and residential. The key to every project: the process of understanding the unique character of a site before responding to it. Both the new Blu Dot showroom in Portland and The Society Hotel Bingen in Washington state reflect this sensitive design approach.
Interior Design: Could you tell us the story behind the new Blu Dot showroom in Portland?
Ben Waechter: Blu Dot approached us to design a new showroom for them in the Pearl District in Northwest Portland. They had already selected the location—a 9,300-square-foot brick and heavy timber building dating back to the 1920s. The space was beautiful with a simple grid of columns and day-lit on two sides, but it also presented challenges. Specifically, there were three objects within the room that disrupted the clarity of the space: a ramp, a building stair/elevator, and a mezzanine. Our strategy, or concept, was to unify these somewhat random elements with a single gesture: a wooden ribbon that circumscribes the room and visually separates itself from the original space. This ribbon became a container, a 'piece of furniture,' that encapsulates the Blu Dot collection.
ID: The Society Hotel Bingen is your first hotel. What convinced you to work on this project? And what was the biggest challenge you faced?
BW: There was no convincing required! We love to work on hospitality projects and we were excited for the opportunity to work on this unique site. We embrace project challenges, often using them as drivers in developing a concept. The Society Hotel Bingen is located in the scenic Columbia River Gorge, near the waterfront yet separated from it by a series of industrial facilities. To further complicate things, the property is within a residential setting, which required a certain sensitivity to scale and the privacy of its neighbors. The main challenge was wanting to simultaneously connect the larger context of the Columbia River Gorge to the more intimate setting of the hotel and spa. Our solution was to deploy the hotel cabins in a ring form as a way to frame the long view, edit out the middle view and contain the short view. Ultimately our 'ring' strategy maximizes views outward for hotel guests, retains a sense of privacy for the neighbors, and consolidates the hotel's key elements into a singular form and community space.
ID: How has the Portland/Oregon design scene evolved for the past 10 years? And do you envision the future of design in the region?
BW: There are more good quality design firms in Portland now than 10 years ago, which is a positive thing for the city. Portland has a longstanding and strong appreciation for craft, which has in part shaped our firm DNA—we always aim to honor the unique conditions and character of a site, while bringing our own sense of clarity to the design. As project budgets increase in future years, I see the craft of building improving just as it has improved in other industries.
ID: Your grandfather, Heinrich Waechter, was an architect. What did you learn from him?
BW: My grandfather passed away before I began studying architecture, which was unfortunate. As a child I was aware of and influenced by how interconnected his life was with his work as an architect. He was a student of Bruno Taut and educated during the Bauhaus movement. The physical making of things within the discipline of architecture was important to him. My grandparents lived on a rural property that had a number of buildings, including a converted schoolhouse that was his studio. There was a wood-shop building and it sounded like some type of building project was always happening.
ID: You worked in the Genoa office of Renzo Piano Building Workshop for three years. How did this European experience impact your work/your style?
BW: Working at RPBW had a big impact on me. Within the office I was inspired by mock-ups, model making, and the use of repetitive building components to create quiet yet textured facades and how this strategy creates buildings that possess a strong identity. Living in Genoa also allowed me to spend a lot of time in many of the great buildings in northern Italy and Switzerland.
ID: What is your first memory of design?
BW: I'm not exactly sure, but I'd probably describe it as an aesthetic experience rather than design. I have vivid memories as a child of hiking in old-growth forests in Oregon and being moved by the visual simplicity and strength that is experienced in a very old forest. This was probably my first experience of feeling beauty.
ID: In what kind of home do you live?
BW: I live in a flat above our office, which is located in a two-story 1910 brick building that retains much of its original character and original fir floors. My space is sparingly furnished with a mixture of mid-century furniture and some custom pieces. The artwork is almost exclusively from my family. I have a number of paintings by the late Israeli artist Ruth Schloss, who was my grandmother's cousin. I also have paintings by Claire Hormuth, my great-grandmother who was a portrait artist in Germany.
ID: What are your upcoming projects?
BW: We have a number of current projects underway, including mixed-use, residential, and commercial. The largest is a 224-unit affordable housing project East of Portland, which we're particularly excited about. The project is comprised of four 4-story buildings that thinly surround and contain a publicly accessible park. Construction starts in January 2020.
ID: What are you reading?
BW: Seeing Is Forgetting the Name of the Thing One Sees by Lawrence Weschler, a series of conversations with the artist Robert Irwin. I am inspired by Irwin's understanding of perception.
ID: When you feel that you need to find inspiration, what do you do?
BW: I go for a run. I have the most mental clarity during a good run.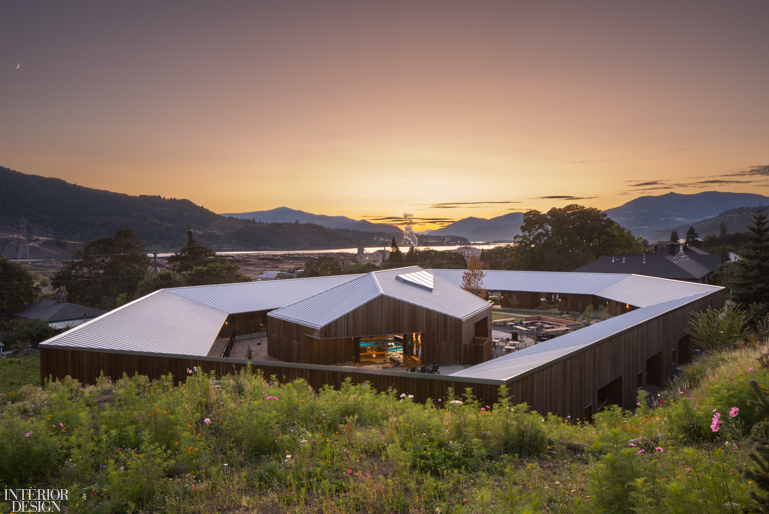 Read more: 10 Questions With… Avenue Interior Design