10 Questions with… CetraRuddy
With sky-high towers such as the 50-story One Madison, with its cantilevered white-glass cubes, and the recently completed 62-story ARO at 242 West 53rd Street, distinguished by its nesting glass rectangles, Interior Design Hall of Fame members John Cetra and Nancy J. Ruddy have made an indelible mark on the face of Manhattan. Since founding CetraRuddy in 1987, the husband-and-wife team have built their New York-based architecture, planning, and interior design practice up to a staff of over 100—winning numerous awards in the process. In New York alone, the firm has stamped its signature expression on more than 80 buildings, with clients ranging from the city's largest real estate firms to the Statue of Liberty, the Bronx Zoo, and New York University. The duo sat down with Interior Design to share the design influences of their youth, how they tackle a project that has a profound impact on a city's skyline, and the simple trick that helps them function as a team.
Interior Design: Could you describe a few recently completed projects?
John Cetra: In England, we recently wrapped up a new restaurant in Manchester's tallest tower. 20 Stories is located on top of No1 Spinningfields, in the downtown commercial district. The bar canopy is really unique—the soft light illuminates the fabric and the ribs like an inverted umbrella. It's very windy there, so inverted umbrellas are not uncommon. Another design highlight, the custom metal ceiling panels reflect table light, city light, the space's beautiful fabrics, and the restaurant patrons themselves onto the ceiling.
Occupancy is just beginning at ARO at 242 West 53rd Street in New York's theater district. The 62-story residential tower twists and cantilevers as it rises, creating spectacular views and light within the residences, and its rounded corners form unique interior layouts. The sky is reflected in the glass, and the white metal spandrels and fenders create shadows. The building looked great during Manhattanhenge—that's the two days when the sunset is exactly aligned with Manhattan's grid of streets. A podium with three levels of amenities are internally linked. Interestingly, these are connected by exterior stairs. We created a small hill town in Midtown!
ID: What's upcoming for you?
JC: We're working on a waterfront residential development along the Hudson River. Lately I've been thinking about how introducing multiple levels to building bases animates the streetscape. This is something we did with ARO and are now carrying forward with this project.

Nancy Ruddy: We're also transforming a suburban office park into a 13-acre mixed-use district with retail, public open spaces, and new residential uses—creating a work-live-play environment in a beautifully landscaped environment, but keeping a sense of urban vitality and vibe. In addition to developing the master plan, we are designing a pedestrian-focused main street, residential buildings, restaurants, indoor and outdoor wellness environments, co-working spaces and outdoor celebration and event spaces. It will be essentially a new town, and a truly 24/7 live-work-play environment. My favorite detail is that while we are providing parking in this suburban area, the site has been designed as a totally integrated walking environment where cars will be left in garages.
We have a thing for creating tall buildings adjacent to parks. We designed luxury residential tower One Madison in New York to minimize the 60-story building's impact on Madison Square Park, and, similarly, for our latest tower in Toronto, we have designed a building with a twisting sculptural form that minimizes its shadow on a park and on historic brownstones that face the green space. The building twists as it grows, forming terraces along its surface. These terraces are tucked within the form so to not interrupt the fluidity of the building.
We've just officially landed the design of the New York location of the Fotografiska museum of contemporary photography, part of its global expansion. We'll be converting a New York Landmark, and the juxtaposition of advanced contemporary art with a Gothic Revival ecclesiastic building forms a unique environment that we think will lead to a more personal yet dynamic experience, quite different from other museums in New York. We are particularly excited about an educational and event space created after we discovered mechanical space underneath a terracotta-clad pitched roof. We're leaving it pretty much as is—as a found space. Often doing less turns out to be more artistic.
ID: How do you tackle a project that has a profound impact on a city's skyline, such as the 18-story office tower 412 West 15th, now the tallest building in New York's Meatpacking district?
NR: One needs to start with the understanding that tall is not bad. When designed and sculpted sensitively, height and form can engage the sky to create magical visual moments. The critical tenet is to create a rich, responsive pedestrian experience and connect it artfully with a great tower and building crown.
ID: How did your childhood influence your design thinking?
JC: Everyone in my family was involved in construction in New York. At a very young age, my paternal grandfather would take me on tours of projects he worked on, like the MetLife Building (known as the Pan Am building then). I spent many summers working as a mason's helper, or in my uncle's showroom—he sold kitchen cabinets—assisting sales associates. Through the construction experience, I learned what it takes to get buildings built. It was in college that I began to appreciate the importance of design in architecture.
NR: I was fortunate to have an amazing mother who laid the foundation for many of my world views. In a sense she was a Jewish Zen Buddhist. An artist in her own right, she saw beauty in all situations and every corner of our environment. She taught me that the aesthetics of beauty are real only if they're formed by deep, meaningful content. She also gave me the confidence and foundations to pursue whatever fulfilled and challenged me. I entered architecture in an era where there were very few women—but my family had given me the confidence to succeed.
ID: How did you get your big break?
JC: Sometimes those 'big breaks' are really hidden. We've been working very hard for the last 30 years and have built upon our experiences all along the way. But a significant moment came in the 1990s when we started doing work for large, established developers in the New York market.
NR: If there was one big break, it was meeting during our formative years and not only falling in love, but knowing intuitively that we had the same professional goals and ambitions, as well the confidence to let each other fly.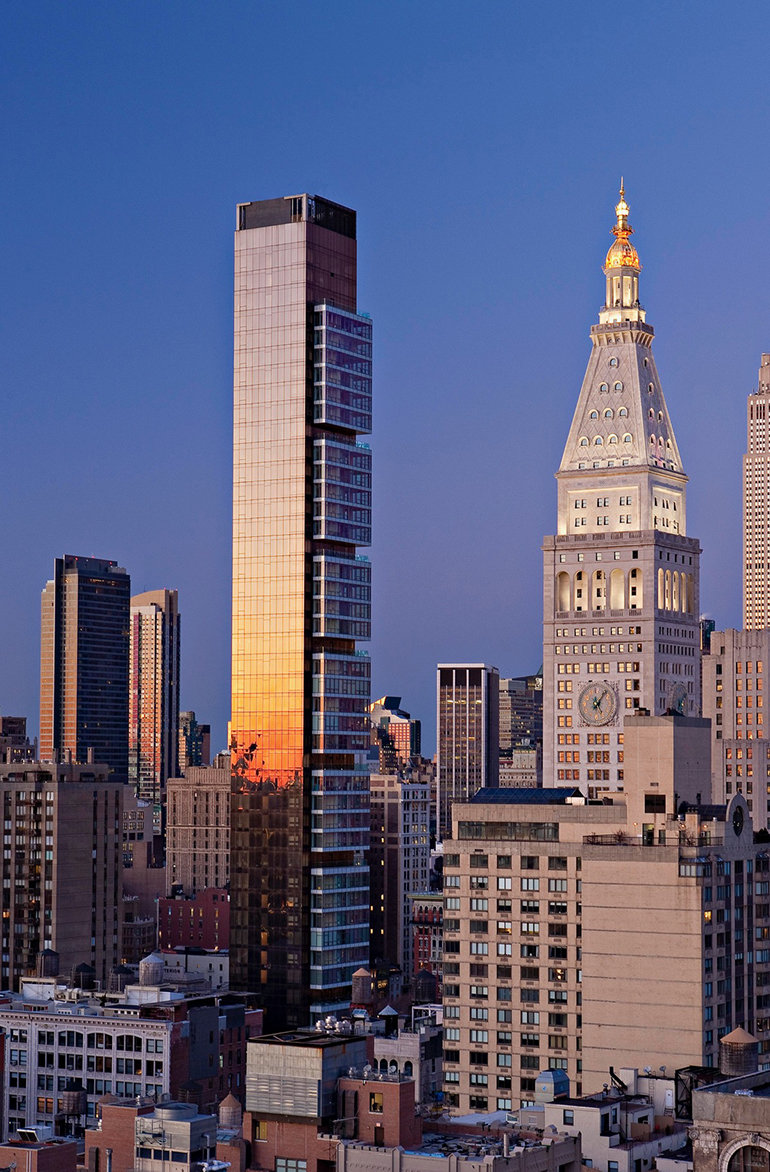 ID: How do you start your design process?
JC: We start with an empty sheet of paper (I usually pick up the pencil first!) to get things going and then we share it back and forth, working at it until we are both satisfied.
NR: The process also starts with research and consideration of the client mission—we begin with a deep dive into context, into historical precedent of the typology. I also tend to walk around a lot with that blank sheet of paper John mentions.
ID: How do you complement each other as a team?
JC: Our interests overlap in many areas of design—I like to delve into the aspects of zoning, planning, layout and building exterior. Nancy is great at scoping out who the occupants of the building will be and how they might like to use the spaces, how those spaces should be finished, and how potential pain points can be removed. Even with our own emphasis on these aspects we still each contribute to the overall project. Nancy plays the role of 'design muse' on the architectural side—she pushes me and our design teams to strive for higher and better.
NR: Most importantly, John and I share the same pillars of excellence for our work. For example, at Oskar, a new 14-story residential community in Hell's Kitchen, we were able to set a program and lay out individual units to maximize views and natural light from the angled and curvilinear windows created by the sinuous façade. So although John focuses more on architecture and myself on interiors, the process rotates from inside to out, and our input on all aspects creates a more integrated design and experience for users.
ID: Is there a person in the industry—dead or alive—that you particularly admire?
JC: Nancy and I recently revisited Vicenza, in the Veneto region of Italy, and toured many of Italian architect Andrea Palladio's buildings. We were reintroduced to his mastery of making incredible spaces. It was a revelation to me how pure and simple his interiors really were.

NR: Swiss architect Peter Zumthor is a master whom I admire. We spent a summer in Switzerland visiting his work, which spans from chapels to homes to industrial buildings. He has a quiet minimalist craftsmanship that translates into site-specific buildings that nestle into the landscape. His buildings are truly a gift to the natural environment, like a sparkling dew drop nestled on a leaf.
ID: What are you reading?
JC: "A Prayer for Owen Meany" by John Irving—as well as lots of architecture magazines in print and online.
NR: "Leonardo Da Vinci" by Walter Isaacson. It's the story of a man who had a divine curiosity spanning art, science, politics, and life in general. Most impressive is that his life melded into his art and vice versa. Having that zest for learning, improvising, and having no fear about failing—those are the elements that made him excel.
ID: What item in your home has particular significance to you?
NR: I have a drawing from my daughter, Andrea, from when she was quite young. It says "Today is going to be a great day," albeit misspelled. I had had one of those frustrating days and my sensitive girl had sensed it. So while I was sleeping, she slipped it next to my bed and I awoke to it. Nineteen years later, that drawing still starts my day.