10 Questions with… Crème's Jun Aizaki
"My inspiration often comes from what's readily accessible, but overlooked or not being used in creative ways," says Jun Aizaki, a Rockwell Group alum who founded Brooklyn-based design firm Crème in 2004. This strategy has worked — over the years, the firm has garnered a high-profile client list that includes some of the biggest names in hospitality, among them Starwood Hotels & Resorts, Hyatt Hotels Corp., and InterContinental Hotels Group. Most recently, Aizaki gave Interior Design a tour of Crème's design of RedFarm London, the dim sum restaurant chain's third location. Here Aizaki shares the career choice he almost made, his passion for gourds, and the beverage he is unexpectedly using as a dye.
Interior Design: Can you describe a few recently completed projects?
Jun Aizaki: RedFarm London is our third RedFarm restaurant, following two in New York. The first we designed for a small West Village townhouse. Given the space, we thought why don't we come up with something really unpredictable. So each of the RedFarm restaurants has a farmhouse-style interior, with reclaimed wood, checkered table cloths, a communal table, and some kind of plant element. They are playful yet super-efficient. The food is also very creative, with Pac Man and ghost-shaped dumplings.
We also just finished a New York store for Naked and Famous, a denim brand from Montreal. It's in SoHo, on the ground floor of an old cast-iron industrial building. The owners contacted us because they saw our Special Edition Indigo Exchange chair, which launched last year for Stellar Works. The chair caught the owner's eye as being something very quirky and interesting and of course denim is also indigo-dyed. We made a floor of denim tiles and a sales counter from indigo-dyed wood. The brand only uses Japanese denim, which is super high quality and organic; we learned a lot about the jeans culture with this project. Jumping off this concept, at the recent hospitality design trade show Sleep+Eat London, we created a pop-up bar which has a mosaic of different hues of indigo-dyed wood.
ID: How do you start your creative process?
JA: With the Special Edition Indigo Exchange chair we were experimenting with wood. Indigo is an organic natural dying process and typically you see it used in fabrics throughout history in many different cultures, everything from China to Japan to Africa. When you do shibori, a kind of Japanese tie-dye, you use pieces of wood to create little patterns, clamping the wood on top of folded fabric. The part that's clamped doesn't accept the dye — and then when you open up the entire fabric, you get an interesting pattern. So we noticed this piece of wood, which becomes a deep blue color, and thought about using it for furniture, wall tiles, and different architectural elements. It's all part of an ongoing exploration. We're also interested in dying wood with other things more organic and less synthetic, like coffee.
ID: Is there a past project that has particular importance to you?
JA: We designed the masterplan of the renovation of two floors of the Kimpton Hotel Eventi in New York, including the hotel lobby, three restaurants, and the entire facade. That is something we're really proud of. The project influenced part of a block that stretches from 29th Street to 30th Street…it really changed the experience of walking in front of that block.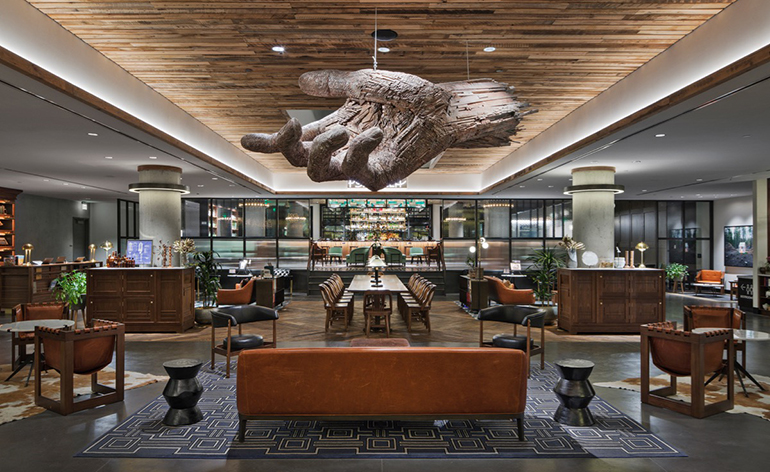 ID: How do you think your childhood influenced your design thinking?
JA: My father was a journalist working for a Japanese newspaper, and he was sent around the world. I had the opportunity to travel a lot—and travel is always a source of inspiration. I remember on a trip to Mexico City being amazed by the different colors, the different fruit, the craziness of the city. These trips planted a seed of curiosity.
ID: What made you become an architect?
JA: Actually, at one point I wanted to become a cartoon artist. I liked to imagine spaces, so I would draw floor plans and sketches of houses and come up with little stories for them. From that I moved on to studying architecture.
ID: Is there a historical landmark you particularly admire?
JA: The Centre Pompidou in Paris—the building is so daring in its context, yet part of the city fabric—and the programming is great.
ID: We hear you have a passion for gourds.
JA: Yes, the Gourd Project is something we've been working on for a few years—we're trying to come up with a 100 percent organic container. We put a little 3D printed mold over a baby gourd so it grows into the shape of a cup.
ID: You've designed your fair share of hospitality projects. How do you think the hospitality market is changing at the moment?
JA: With social media, information is shared so fast. I think it's getting harder and harder to find people doing original things that are honest and authentic.
ID: What's upcoming for you?
JA: We are experimenting with coffee-dyed wood for a coffee shop we're designing.
ID: Do you have like a secret source you can share?
JA: Zura Bushurishvili is a metal worker/artist who works with us on a lot of projects—he's our go-to guy for little metal exercises. It's such a resource to have somebody like that who can just whip up little mock-ups, samples, and artisanal work.