10 Questions With… Marije Vogelzang
Don't call Marije Vogelzang a food designer. Eating designer is her preferred moniker, to celebrate the sensual act of ingesting. A graduate of the Design Academy Eindhoven and head of its new Food Non Food department, as well as founder of the Dutch institute of Food and Design, Vogelzang began her career by launching two experimental restaurants before moving on to food-related projects. These ranged from installations and exhibits to consultations and social experiments for the likes of Dutch Design Week, the Tokyo Metropolitan Art Museum, and Cooper Hewitt, Smithsonian Design Museum. At the Interior Design Show in Toronto January 17-20, she presented "Seeds," an interactive installation in collaboration with Caesarstone. We chatted with Vogelzang to hear more about her installation (which involves grinding seeds), the under-explored field of food design, and what Asian cuisine kicked off her culinary journey.
Interior Design: Could you describe your Caesarstone installation at IDS 2019?
Marije Vogelzang: It's an immersive installation that pairs sturdy, solid Caesarstone with a forest of light, flexible ribbons. Visitors enter the forest guided (via an audio story) by a seed, which offers a choice similar to that in the movie "The Matrix." The seed then takes the visitor through various interactive elements in the installation, connecting them to the basic yet important things in life—like being attentive or using all your senses instead of just eyes and ears. The experience takes us out of the little bubble that makes us focus on superficial things and ignore our bodies, instead giving users a space to get in touch with life again in a light, simple, and sometimes humorous way.
ID: What food concepts did you debut in the IDS installation?
MV: If you want people to connect with food in a very primal way, it has to be simple. Despite the low-carb trend, grains are still the main ingredient in most of our food. I used Caesarstone to make a grinding table where visitors grind barley, rye, and wheat—an act that's as old as humanity.
ID: What else have you completed recently?
MV: I did an installation about Bento food culture for the Tokyo Metropolitan Art Museum. It was interesting to find the right layer between food culture (bento boxes) and human nature (eating, loving, having memories, using senses). This is the layer I try to operate on, in the context of cultural variations. A "spirit of bento" guides visitors through an immersive experience. The idea of a spirit resonates with Japanese culture's Animist beliefs. When objects and lifeless things have a soul or spirit, it changes the way you experience and approach them.
Also in Japan I gave a performance, "The Future in Your Hands," which had people eating out of my palm. All food was made from ingredients that give back to or heal the earth.
ID: What's upcoming for you?
MV: Two years ago, I started the Dutch Institute of Food and Design, an NGO. It's the first global platform for designers working with food and includes an award program, the Future Food Design Awards. Now we're working on a traveling show, "Edible Futures," an interactive exhibition with an audio story to present various futurist scenarios. There are endless conferences about future food—but they're all about technology. This exhibition is very much focused on food's societal, cultural, and political impact.
I'm also working on a book about food and design. What can designers do with food and the act of eating to show us that food is more than mere fuel or taste? Lately I've heard many dietitians talk about personalized nutrition as the holy grail of health, but I seriously doubt this will solve all health-related food issues. Even without a DNA test, we know what's good for us. There are many other reasons—cultural, emotional, political—why we might not eat in a healthy manner. Another thing to wonder about is if what's healthy for you is also healthy for the planet. The book addresses changing perspective though design on food, food culture, and eating habits.
Then, I'm working on a Beijing exhibition and an experience where food and touch are intertwined through massage.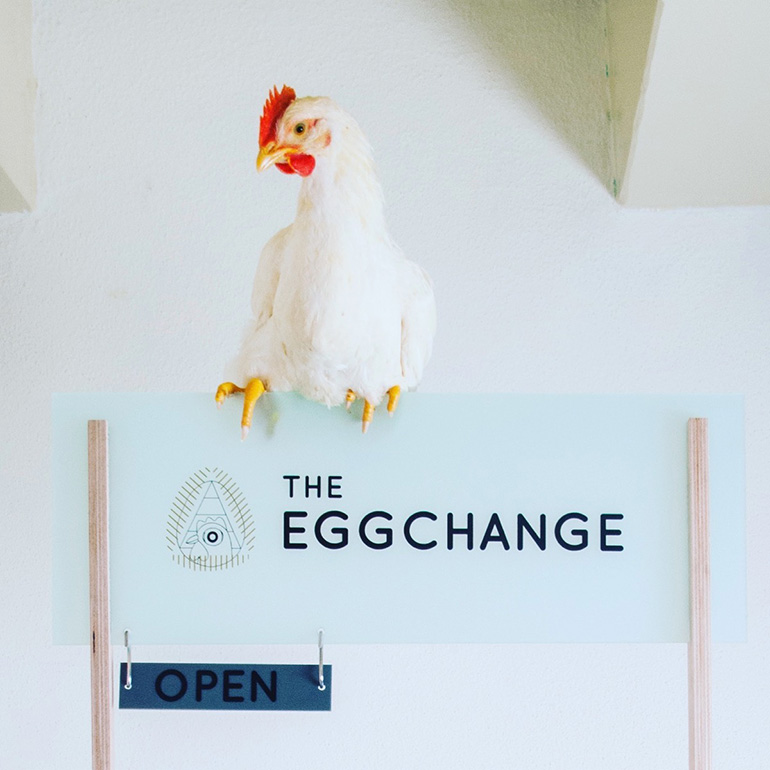 ID: So, we noticed a chicken on your head in your photo.
MV: It doesn't always stay still, and it sometimes poops! I am fascinated with chickens and eggs. When I pose this way, I imagine my head is the egg the chicken will hatch. "The Eggchange" project, which I did with a chicken farmer, had people take eggs home, hatch and feed broiler chickens, and then eat them. The project included a bank—or an exchange office—for fertilized eggs and stories about chicken farming.
ID: Is the food design profession earning more attention?
MV: Yes, absolutely. On one side, many designers are fed up with designing products. On the other side, most big global issues are food-related. The food system is sick and needs creative ideas to instigate change. I do not think designers can actually change the food system, but we can collaborate with specialists in the system to find alternative paths, disrupt our narrow visions, and change our perspectives in order to change behavior.
ID: What project of yours do you feel is particularly significant?
MV: My three-day performance project "Eat Love Budapest" shows very well how food can be used as a tool to connect people in a new way.
ID: How did your childhood or formative years influence your design thinking?
MV: While I didn't have a very culinary childhood, I've always been interested in human behavior. I remember once making simple hors d' oeuvres that were all slightly different—just to see which family member would pick what. Most of my food fascination started when I was at the Design Academy cooking for myself and discovering new things through roommates. I grew up with typical Dutch food and was disappointed with its limited, one-sided flavors. I had sushi for the first time in London when I was 19. That seems strange now, as sushi has taken over the world, but back then there was nothing like it in the Netherlands. In that instant, I realized food could also look good, which was absurd to talk about in the Netherlands. Then there were the completely different flavors—the ginger, the raw fish—all very light, elegant, and subtle. I immediately went to the library (there was no Internet then) and got a stack of books on Japanese cooking.
ID: How do you use social media?
MV: To understand new ways of eating, perceiving food, ingesting food, and ritualizing the act of eating. I'm making a lot of porcelain lately, which I sell in a vending machine outside my studio. I've been using Instagram (@marije_vogelzang) to post tests and trials.
ID: Do you have a secret you can share?
MV: Changing the name of things you do or eat can make them more appealing or exciting. My kids prefer "pirate's cucumbers" to regular ones, and "disco balls" are much tastier than grapes.