10 Recent Projects by the 2019 Rising Giants
These 10 spaces created by the Rising Giants—companies featured on Interior Design's annual list of the second 100 largest industry firms, per our annual survey—caught our eye.
1. Serafina Beach Hotel by ICRAVE (#28)
Puerto Rico is still recovering from Hurricane Maria, but that fact only encouraged the team behind the Serafina Beach Hotel, a 65,000-square-foot gem in the Condado district of San Juan, to continue full steam ahead on the project. ICRAVE worked with local firm LA Architects on the hotel, which now serves as a hopeful symbol of the area's path forward. "Luckily, almost everything had been delivered prior to Maria," says ICRAVE director Jesse MacDougall. Read more here.
2. Kawi by DesignAgency (#39)
DesignAgency went with a dark and moody aesthetic for their newest collaboration with Momofuku, a Korean fine dining experience in Hudson Yards. Red leather banquettes and floral motifs complement the stained oak throughout.

3. Detroit Foundation Hotel by Simeone Deary Design Group (#25)
Two urban visions are merging in downtown Detroit. The former fire headquarters is now the Detroit Foundation Hotel. Simeone Deary Design Group's Gina Deary and Lisa Simeone transformed the 95,000-square-foot structure into a reflection of the city's past while embracing its present. "I'm from the area," Deary says, "so I felt an obligation to produce a project the city could be proud of." Read more here.
4. Intuit Silicon Valley Headquarters by Clive Wilkinson Architects (#49) and WRNS Studio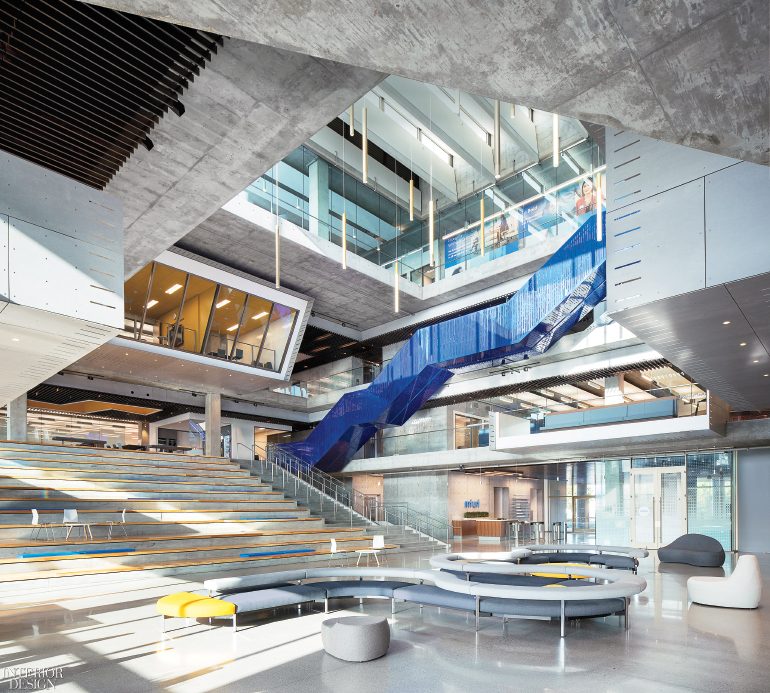 An integrated team for a well-integrated program. Interior Design Hall of Fame member Clive Wilkinson took on the interiors, naturally, for this Silicon Valley headquarters, while WRNS founding partner Bryan Shiles oversaw site planning and the building's architecture. Objectives for the finished product: to attract and retain talent and to foster community spirit at an increasingly global operation, providing financial and tax software for small businesses. Read more here.
5. White & Case's NYC Headquarters by HYL Architecture (#50) and HOK
If New York lawyers have immortal souls, underneath it all, then law offices should have some soul as well. That's the reasoning behind White & Case's surprisingly uncorporate headquarters. This collaboration between HOK and HYL Architecture sprawls across the top nine levels of a tower in Midtown's Rockefeller Center, and every inch is superlatively composed and calming. Each detail subtly underscores a commitment to well-being. Read more here.
6. West Village Penthouse by Mojo Stumer (#66)
"He is a pure modernist," architect Mark Stumer says of his entrepreneur client Mark Jacobson. So it was kismet that in searching for a large apartment in New York's West Village to call home, Jacobson found it at an address flanked by two modernist buildings. Make that, found apartments, plural: There were four in total. Stumer and senior associate Peter Johns's task was to combine them into one luxe duplex penthouse. Read more here.
7. Kona Coast Compound by Philpotts Interiors (#85) and Walker Warner Architects
It took nearly three years to perfect a Kona Coast vacation home, but the clients' wait was rewarded with spectacular results. Architecture and interior are ultramodern and yet rely heavily on traditional materials and touchstones. Old and new ebb and flow as easily as the tides right outside the home's copious sliding-glass doors. Principal Greg Warner of Walker Warner Architects and Philpotts Interiors partner Marion Philpotts-Miller approached the project in a thoughtful and methodical manner. "We call it the 'Village,'" Warner says of the unusual arrangement, a grouping of four separate structures linked by a lush courtyard and a series of walkways and patios. Read more here.
8. The ARO Building in New York City by CetraRuddy (#95)
With sky-high towers such as the recently completed 62-story ARO at 242 West 53rd Street, distinguished by its nesting glass rectangles, Interior Design Hall of Fame members John Cetra and Nancy J. Ruddy have made an indelible mark on the face of Manhattan. Since founding CetraRuddy in 1987, the husband-and-wife team have built their New York-based architecture, planning, and interior design practice up to a staff of over 100—winning numerous awards in the process. Read more here.
9. Statue of Liberty Museum in New York City by FXCollaborative (#1)
The Statue of Liberty has welcomed visitors and immigrants to New York Harbor since its installation in 1886 and now those who ferry over to see this powerful symbol, a centennial gift from France sculpted in copper by Auguste Bartholdi, can gain extra insight into its history and construction at the new Statue of Liberty Museum. Designed by New York City-based architecture firm FXCollaborative and opened today, the 26,000-square-foot museum features exhibits created by ESI Design, a NYC-based experience design firm, that includes the Statue of Liberty's original torch as its centerpiece. The copper-and-glass emblem is set inside a 22-foot-tall glass vitrine offering sweeping views of the statue. Read more here.
10. Informatica's Austin Office by Revel Architecture & Design (#6) and Lauckgroup
Cloud data management company Informatica had some earthly concerns when opening its new Austin workspace. Its 400 employees required more than 250 workstations. The 35,000-square-foot space was vast but narrow, and needed to be fashionable enough to attract the city's competitive workforce yet versatile to change with the times. Luckily, the project's architect of record, Lauckgroup, was full of ideas, many gathered from post-occupancy analysis of their work on previous Informatica facilities. In collaboration with Revel Architecture & Design, the team conceived a double-layer circulation plan: a concrete-floored main corridor, and a second, carpeted track between open office areas. Read more here.