12 Fantastic Fine Dining Experiences
We rounded up luxurious, romantic fine dining experiences with touches of gold, blushing rose, and lavish leather.
1. Icha Chateau by Spacemen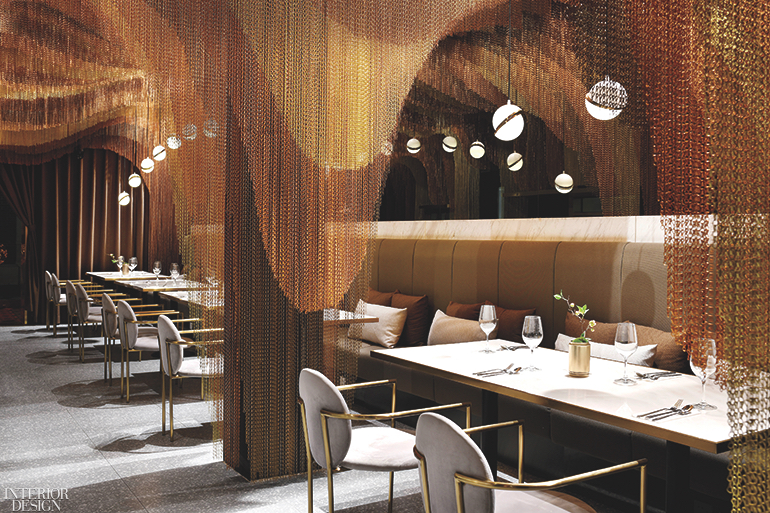 Linen-covered chairs stand beneath 20 miles of undulating aluminum chain in this landmarked former villa.
2. The Gibson by Mister Important Design
Painted steel screens and Karman sconces stand out against the living room's board and batten walls.
3. Ore by Dominique Perrault Architecte
A wrought-iron balcony surrounds one of two tearooms, both raised on a platform.
4. Lucca by Ezequiel Farca + Cristina Grappin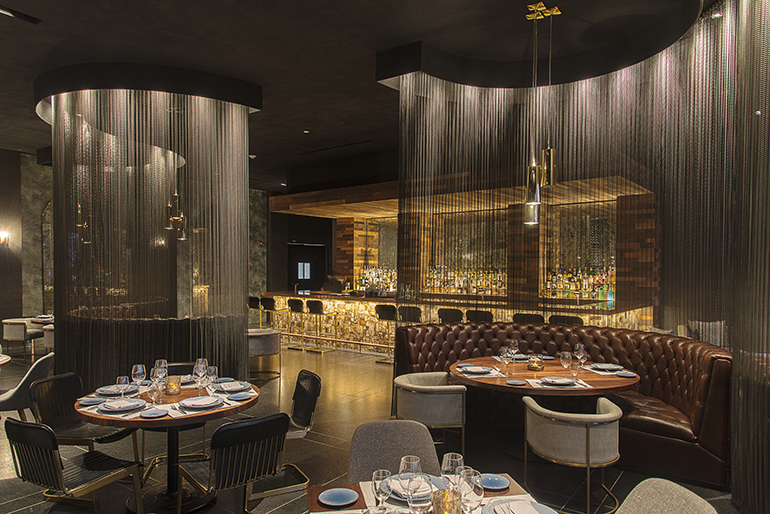 Metal curtains carve out intimate spaces within the larger dining area.
5. Ta-ke by Kengo Kuma & Associates and Steve Leung Design Group
Beyond bamboo partitions, the VIP room is visible, its granite teppanyaki table backed by brass paneling.
6. Noma by Studio David Thulstrup and Bjarke Ingels Group
Pine paneling is charred in the kitchen, but Douglas fir and oak are left natural throughout.
7. Cortina by Heliotrope Architects
The chandelier is by Bocci, and leather upholsters the custom banquettes.
8. Detroit Foundation Hotel by Simeone Deary Design Group
Curtains separate a private dining room in the fire-station-turned-hotel.
9. The Spaniard by Home Studios
Oliver Haslegrave designed the film-inspired Manhattan restaurant.
10. Copenhague by GamFratesi
The Nordic-inspired restaurant is one of two at the Maison du Danemark in Paris.
11. Alain Ducasse at Morpheus by Jouin Manku
LED-lit icicles seem to drip into reflecting pools that wend around the dining room's periphery.
12. Enigma by RCR Arquitectes
Translucent resin barrel chairs and pedestal tables appear to have been chiseled from ice caves.
Read next: