13 Stunning Stores Around the World
For merchandise from clothing to housewares, these retail environments fit perfectly.

1. Firm: Demirden Design.
Project: Pasabahçe.
Site: Istanbul.
Standout: To delineate zones for a manufacturer's different brands of glass, handblown orbs, tinted or colorless, are suspended in painted iron étagères.

2. Firm: Tokujin Yoshioka.
Project: Issey Miyake.
Site: Milan.
Standout: A greenish tinge to the white wall paint subliminally echoes bolder green accents, such as the anodized-aluminum disks that descend from the ceiling.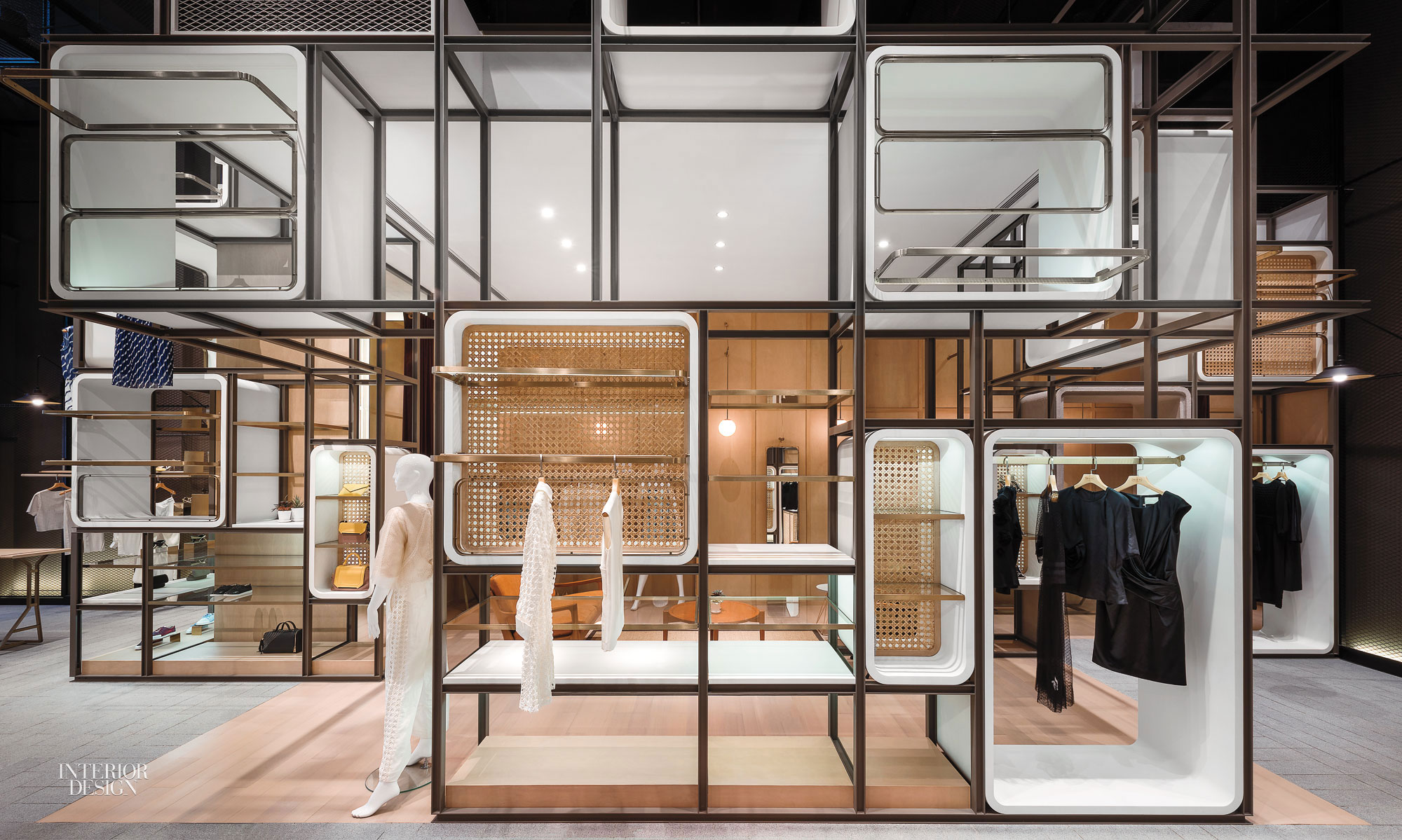 3. Firm: Lukstudio.
Project: Chuang x Yi.
Site: Shanghai.
Standout: The city's "lane houses," with clothes hanging to dry outside, get a high-style nod from Tiwu's modular display fixtures fronted by copper-finished steel bars.

4. Firm: Prism Design Consulting Shanghai Co.
Project: Sugar Lady.
Site: Shanghai.
Standout: A two-week pop-up wore its temporary nature on its sleeve, turning zip-up polypropylene tent fabric into ad hoc womens-wear displays and fitting rooms.

5. Firm: Masquespacio.
Project: Gnomo.
Site: Valencia, Spain.
Standout: Memphis references, particularly the palette of pastels and saturated colors and the geometric shapes of display stands, give a housewares shop its graphic charge.

6. Firm: MNA.
Project: Aquatalia.
Site: New York.
Standout: Faceted lime plaster walls, accented by antiqued brass shelving, guide customers to the finishing touch: a changeable display wall under an faux skylight.

7. Firm: Gensler.
Project: b8ta.
Site: Santa Monica, California.
Standout: An indoor-outdoor storefront, minimal branding, and a black palette create a seamless environment for testing consumer technology prototypes.

8. Firm: Joseph Grappin Studio.
Project: Mark'Style Tokyo.
Site: Paris.
Standout: Ash shelving requiring no nails or screws creates an infinite grid for displaying Japanese objects, an effect multiplied by mirrored ceilings.

9. Firm: Megan Grehl Design.
Project: Shein Showroom.
Site: Los Angeles.
Standout: Blackened steel displays with concrete platforms, contrasted by pink velvet upholstery, fill out a raw loft space in an art deco building.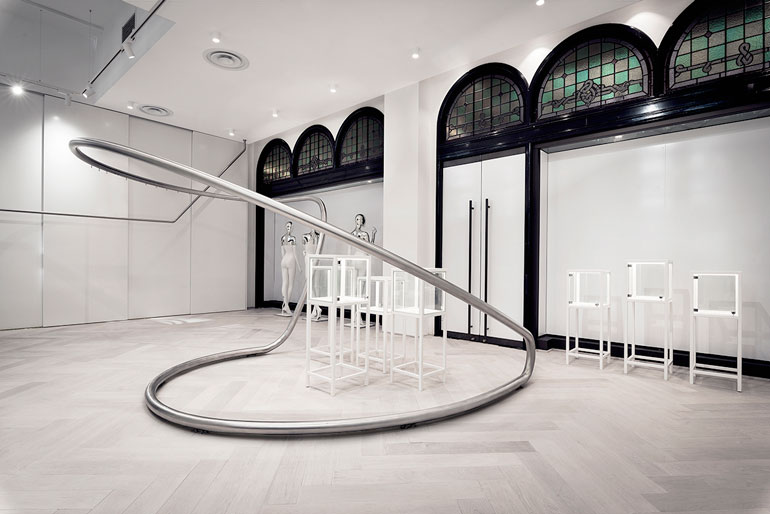 10. Firm: Loopcreative.
Project: Alquema.
Site: Sydney.
Standout: A radial steel clothing rack draws attention to the fashion brand's new collections, as do chrome-dipped mannequins from the Netherlands.

11. Firm: Michael Saiger and Analog Modern.
Project: Miansai.
Site: Venice Beach, California.
Standout: American black walnut display cases add an earthy touch to the accessories brand's outpost, complete with a kombucha bar and backyard garden.

12. Firm: Situ Studio.
Project: Turntable Lab.
Site: New York.
Standout: Clad with a rearrangeable plywood cleat system, the audio store's walls can hold record shelves, glass cabinets, apparel hooks, and more.

13. Firm: Carter Design.
Project: Tai Jewelry.
Site: New York.
Standout: Furnishings from The Future Perfect, BDDW, and Dienst + Dotter complement marble and brass display cases and bleached-oak floors.