14 Red and Pink Interiors Tell Their Own Love Stories
Roses are red, and so are these rooms. Touches of burgundy, washes of crimson, and blushing pinks define the 14 interiors we've selected to celebrate Valentine's Day.
Inspired by suprematism, the early 20th–century abstract art movement, AOE applied stainless steel to create floating structures for a residential sales center. The textured surfaces reflect color and light throughout the space, forming a range of color moods, all visible from the outside through a glazing of UV-resistant panels. Read more about Courtyard No. 1
2. Casa di Confine by Simone Subissati Architects
For this new-build version nestled in the panoramic landscape of Polverigi, architect Simone Subissati combined the vernacular's barnlike linearity with a decidedly modern twist. The first floor, which the Ancona-based architect conceived for daytime activities, is clad in red iron panels treated with an anti-rust primer. Read more about Casa di Confine
3. SOHO 3Q by Ippolito Fleitz Group
Interior Design Hall of Fame member Peter Ippolito of Ippolito Fleitz Group transformed 150,000 square feet of space across five levels for a SOHO 3Q coworking space. Motivational wall graphics honor revered icons, including I.M. Pei and Albert Einstein. "The design language mirrors the energy of the coworking ethos," Ippolito says. "It's an inspiring, engaging atmosphere for a target group that's always on the move." Read more about SOHO 3Q
4. BBR by Alain Ducasse, Raffles Singapore by Jouin Manku
An open kitchen is the heart of the 5,700-square-foot BBR by Alain Ducasse restaurant at Raffles Singapore, the 17th collaboration between the French chef and Interior Design Hall of Fame member Patrick Jouin and his partner, Sanjit Manku. Pendant fixtures are hung from the wood-paneled ceiling, now restored, and the old ceramic-tile flooring runs under the Jouin-designed dining chairs. Read more about Raffles Singapore
5. Xian Changjiang Insun Imax Cinema by One Plus Partnership
One Plus Partnership design directors Ajax Law and Virginia Lung are arguably the world's premier cinema designers. They've masterminded more than 80 of them, with each as bold and idiosyncratic as the next. Although typically modern, their latest was sparked by nostalgia for analog film. The striking lobby is reminiscent of Georges Rousse's perspective art: From certain angles, one sees only red or only white. Read more about the Best of Year Award-winning Entertainment project
6. Campari Group Headquarters by Gensler
Workplaces often contain cafés and lounges galore. But a bar? Not as likely…let alone four of them. But such is the case at Campari Group's 65,000-square-foot, two-story office by Gensler. The office areas for the 135 employees are spread across the two floors, connected by an LED-lit stairway drenched in red. Read more about the Campari Group HQ
7. Loong Swim Club by X+Living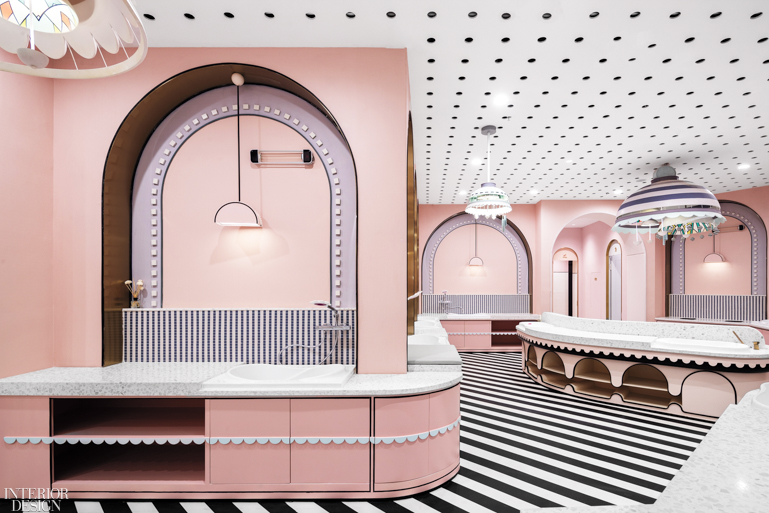 Wavy leather-upholstered lounge seating and the pool's dropletlike iron drums recalling condensation signal an aquatic theme at the parent-child swim center integrating leisure and entertainment. Read more about four imaginative spaces for kids
8. SKP Department Store/Cinema by Sybarite
Sybarite helped Shin Kong Place rebrand itself as a world-class luxury department store with a much punchier moniker: SKP Beijing. Love Hall, pictured here, is one of 10 color-coded theaters in the project's multiplex cinema. Read more about SKP
AD Architecture's combination of concrete, sculpturesque seating, and spare but strong color feels more art gallery than branding consultancy headquarters. Read more about four design-driven workplaces
10. Blairgowrie residence by McBride Charles Ryan
A wood veranda is an Australian design classic, but the trope is refreshed at this suburban beach house by McBride Charles Ryan, becoming part of a faceted volume that renders the facade like a frozen wave. Inside, a raked box-beam wall painted cerise is a receptacle for much-leafed books, family snapshots, and beloved bric-a-brac accumulated during vacations. Read more about four bold and eccentric homes
11. Il Palazzo Experimental by Dorothée Meilichzon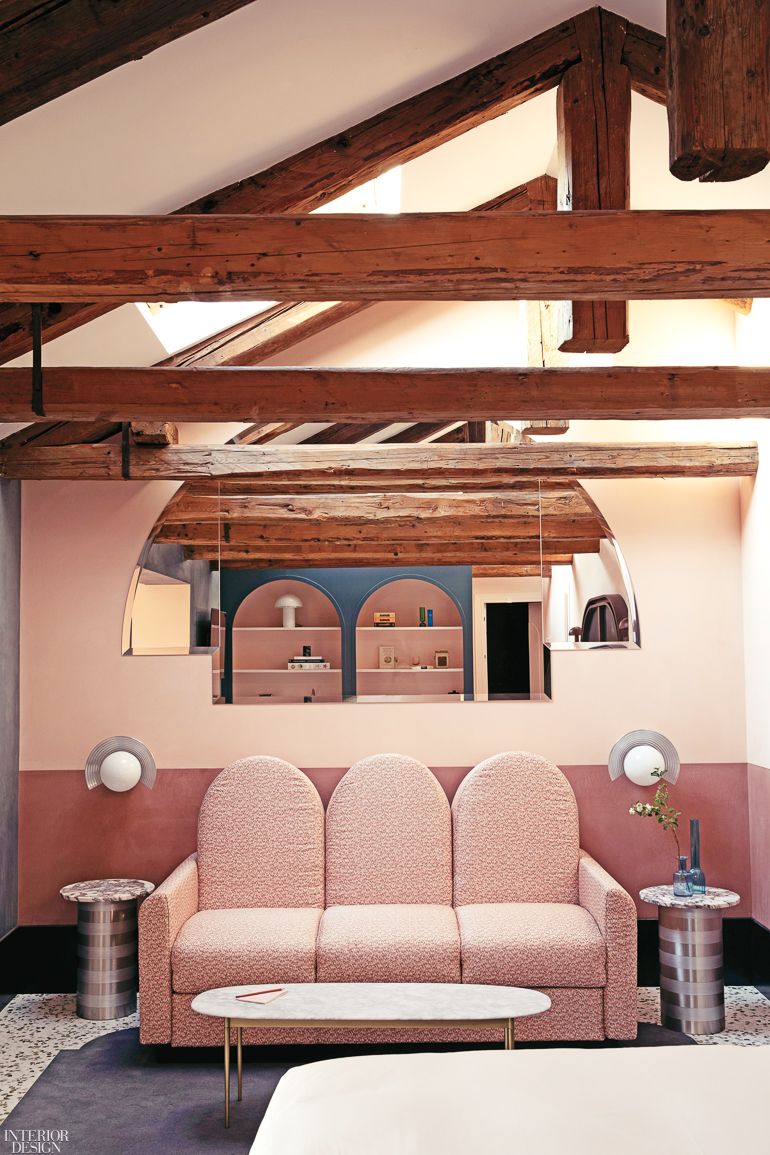 Dorothée Meilichzon's latest commission is Il Palazzo Experimental, a boutique, 32-key property occupying a centuries-old palazzo in Venice. It's her first project in Italy but her fifth for the Experimental hospitality group. "Each time, we research to create a different setting, one that's deeply rooted in its environment," she says. "Here, we imbued Venetian flair through hand-painted tiles and columns, curved furnishings and arches, and salmon and terra-cotta hues." Read more about Il Palazzo Experimental
The Nordstrom x Nike boutique adds a strong punch of color to Nordstrom's NYC flagship. Designed in lush scarlet red with velvet upholstered walls and arched display nooks featuring Nike sneakers, the space—created by Nordstrom's Vice President of Creative Projects, Olivia Kim—also features a wall of CCTV screens that will capture customers feet as they enter. Read more about Nordstrom's NYC flagship
13. Forty Five Ten by 5G Studio Collaborative and Snarkitecture
5G Studio Collaborative and Snarkitecture joined forces for the New York debut of Forty Five Ten, which channels the eclectic fashion it offers with such trompe l'oeils as a "fractured" glass-block storefront and a rocklike display of carved and painted high-density foam. Read more about the projects that define Hudson Yards
14. MK Gallery by 6a Architects
About 50 miles northwest of London, an eye-catching building has taken root. It's MK Gallery, the "MK" standing for British town Milton Keynes, and it's the work of 6a Architects, a practice known for its contemporary art galleries, partic­ularly in historic environments. Some original elements were retained, but the facade, panels of corrugated steel interrupted by an enormous, sun-reminiscent circular window, is purely 21st century. Inside, however, the vibe skews slightly 70s. Read more about MK Gallery
Happy Valentines Day from Interior Design!