15 Colorful Kitchens
Move aside, all-white kitchen. We're chasing the rainbow, and it's lead us right to the pantry. These colorful kitchens will inspire amateur chefs and microwave lovers alike.
1. Super-Green Los Angles House by Minarc
This kitchen is predominantly sustainable bamboo, with black recycled rubber outlining the main run of cabinets. The island, meanwhile, is wrapped in a composite of quartz. A photo­graph of an Icelandic glacier, printed on acrylic and backlit by LEDs, accompanies the kitchen sink.
2. Moscow Home by Art Group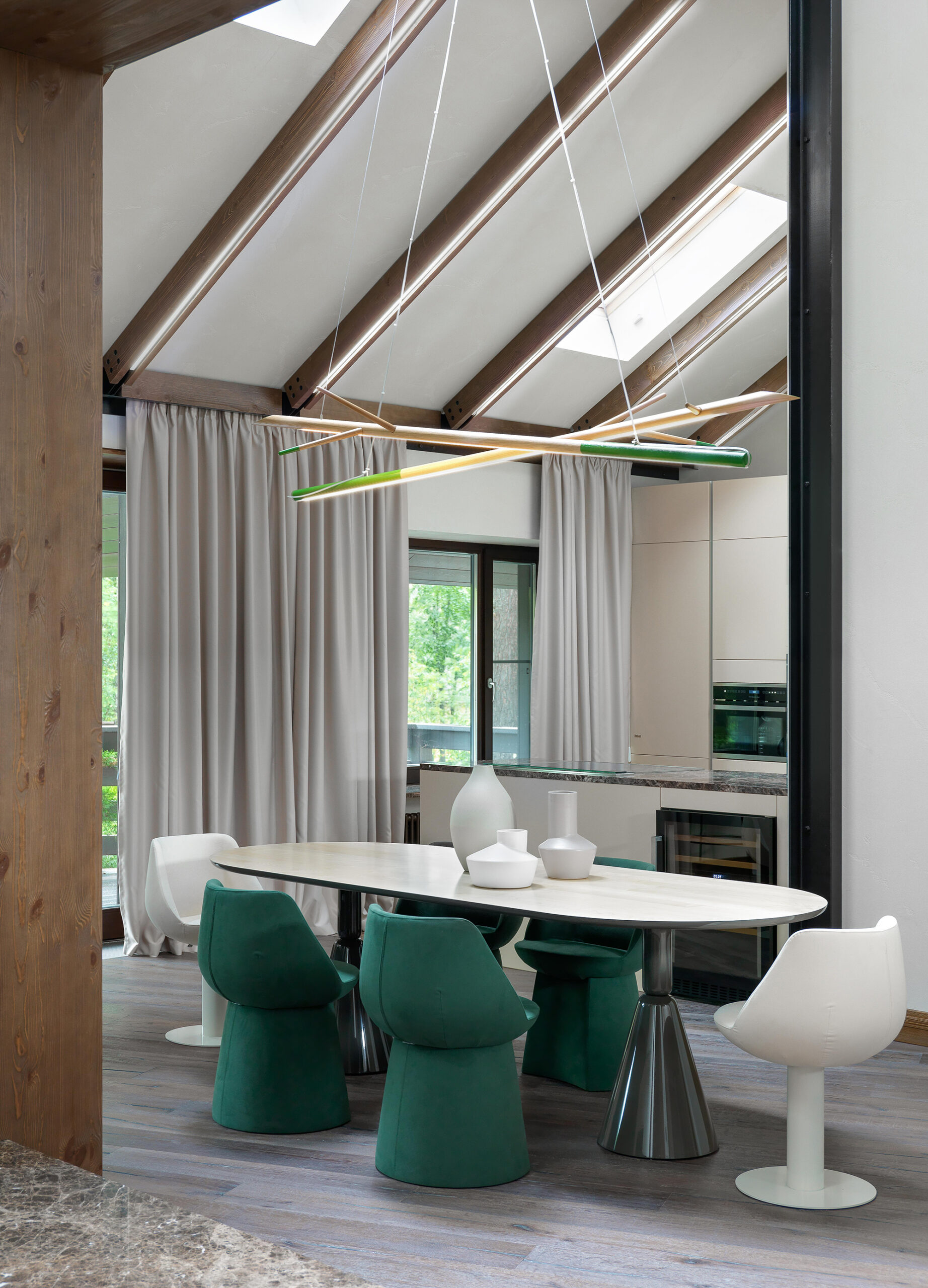 Art Group oversaw reconstruction of the exterior, including attic overhangs and a new rafter system that updates the classic chalet style with modern touches such as LEDs embedded in the beams. An island and cabinets by Fabel define the kitchen, behind the dining area's Sancal table and chairs.
3. Trouville-sur-Mer Apartment by Nous Studio
The kitchen's wall and floor tile, a combination of black-and-white pinwheels and gold-leafed crystal perpendicular lines, is a decorative glimmer of the designer's time spent in Lebanon. Stools are by Komplot Design, while the pendant fixture is by Seppo Koho.
4. Mini Manhattan Duplex by AM/MOR Architecture
Using models, AM/MOR developed the architectural plan and the interiors scheme simultaneously, using woodwork to tie everything below the pitched roof together and fine-tuning the orientation of the seating. From inside the island between the kitchen and the dining area, a painted steel table slides out.
5. Modernist Brazil Apartment by René Fernandes
Fernandes was tasked with revitalizing Egon Harry Sternfeld's 1972 apartment, originally designed by Jorge Zalszupin, one of Brazil's most respected designer-architects. The kitchen pairs original Formica cabinetry with new production Robin Day polypropylene chairs.
6. Swiss Chalet by Pierre Yovanovitch Architecture d'Intérieur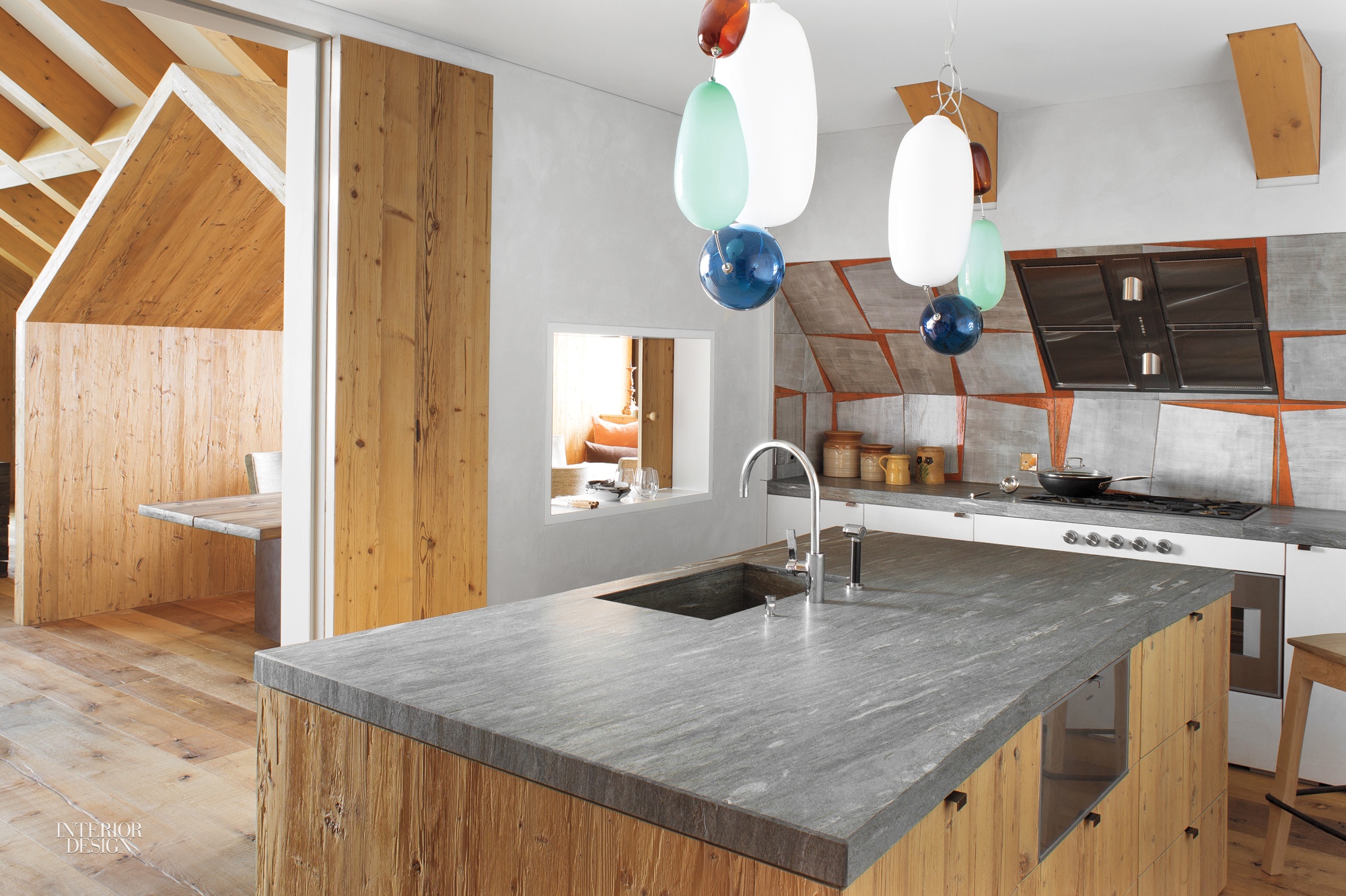 This project took nearly three years to complete, and the result is both elegantly simple and spectacular. Long one of Yovanovitch's preferred "noble" materials, wood—in the form of oak, pine, spruce, and larch—provides warmth, a lively range of natural colors, and a link to the chalet tradition. In the kitchen, Hely blown-glass suspension lights by Finnish designer Katriina Nuutinen illuminate the island's quartzite countertop.
7. Cheerful Paris Apartment by SABO
Principal Alex Delaunay rebelled against HGTV's advice to let floors recede into the background. In the kitchen of a fashion forecaster's apartment, he installed a colorful array of 6-inch-wide rubber flooring strips—25 in all.
8. Barcelona Home by Colombo and Serboli Architecture
In this 700-square-foot apartment, partner Andrea Serboli and Matteo Colombo installed a coral-painted volume in the kitchen that contains the powder room. Similarly rounded forms, such as the counter, dining table, and various spherical motifs, are found throughout the apartment.