15 Simply Amazing Murals
Creativity shines in these eye-catching walls that showcase color, texture, and attitude.
1. Studio O+A livens up software company Blend
Bright graphics include a border collie at the center.
2. BHDM Design takes cues from the colorful surroundings of Shoreline Hotel Waikiki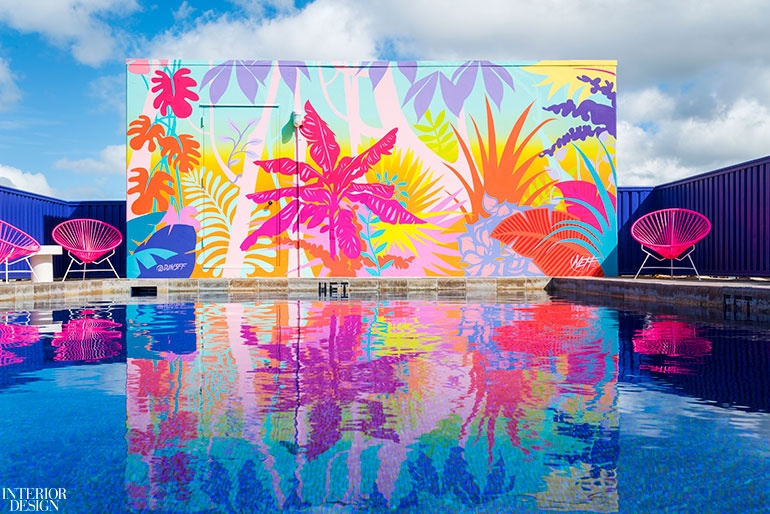 DJ Neff painted the poolside mural.
3. Shades of blue reflect the lakefront view of this Zurich office building by Diener & Diener Architekten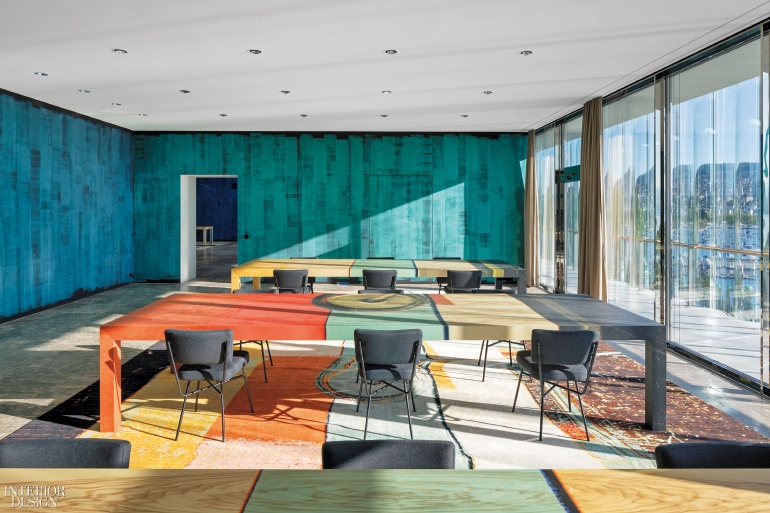 Heimo Zobernig murals surround the library, where tables and rugs are by Guyton\Walker.
4. BnA Co. designs a Tokyo hotel with fantastical guest rooms
Keigo Julian Fukugaki commissioned an acrylic mural from painter Yohei Takahashi for a guest room.

5. Auberge de l'Ill by Jouin Manku is a flash of fairy-tale fantasy
The shimmering wall combines oxidized copper, more than a dozen fabrics, embroidered butterflies, and paper songbirds.
6. Ippolito Fleitz Group starts conversations with collages at White Monkey Pizza Lab & Bar
Slightly surreal murals combine images of Renaissance art with dolce vita photography.
7. The Stockholm Metro gets a rainbow makeover from SL:S Arkitektkontor, Enno Hallek and Åke Pallarp
Newer stations like Stadion welcome straphangers with a riot of color and pattern.
8. Renaissance Atlanta Airport Gateway Hotel by Rottet Studio brings a touch of luxury to layovers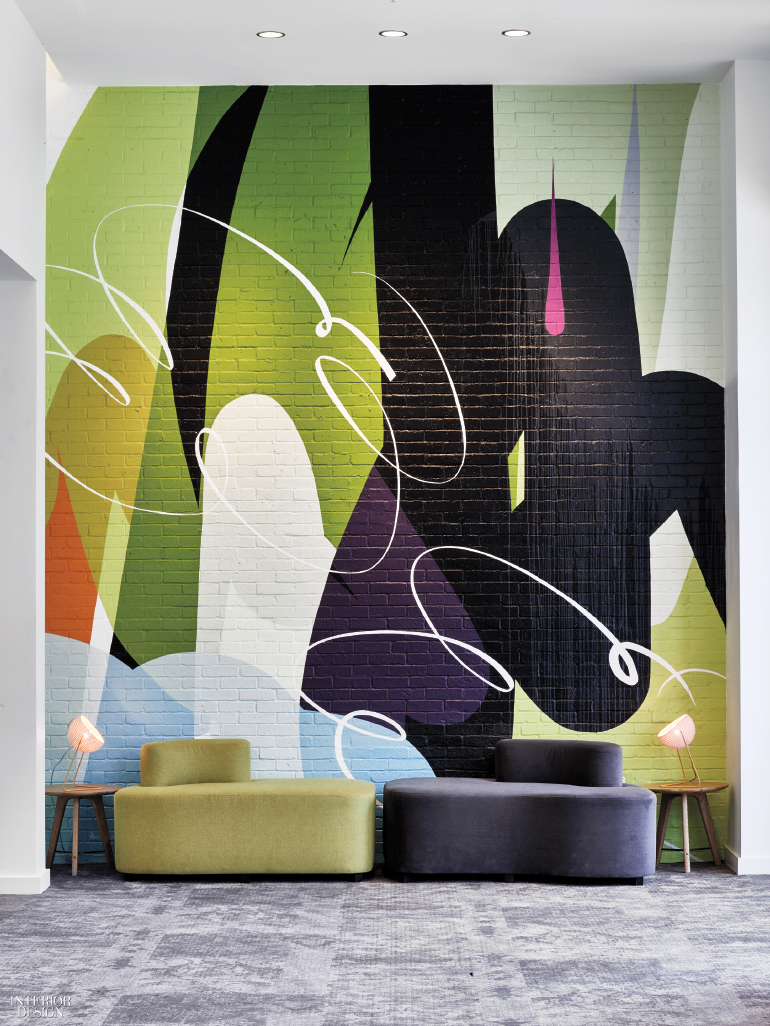 Neri & Hu tables flank custom polyester-upholstered sofas in front of the pre-function area's acrylic mural by Coleman.
9. Wolf Ackerman Design and Hanover Avenue turn a 1913 club into Common House Charlottesville
The coworking space features Mario Bellini chairs and mural in spray paint and acrylic by Nils Westergard.
10. Kaan Architecten designs their own office in Rotterdam
The muted tones of Louis van Roode's 1955 mural established the office's materials palette of walnut and white-painted concrete.
11. London restaurant The Glade appears like a picnic in Wonderland
An existing decoupage mural by artists Carolyn Quartermaine and Didier Mahieu remains after renovation.
12. InterContinental LA Downtown by AC Martin Partners references California dreaming
The porte cochere mural evokes sights from the LAX sign to palm trees.
13. Studio GUM creates luxury hotel in a storied Sicilian town
The lounge's vinyl mural by Rossana Taormina features a tourist studying a guide book.
14. Vans SoCal HQ by Rapt Studio reflects the brand's skate-centric, groovy aesthetic
Rapt Studio relocated a mural by Zio Ziegler from the former headquarters of Vans to its new one in Costa Mesa, California.
15. Martin Brudnizki Design Studio gilds Dallas Hotel with French motifs
Commissioned from Matthew Chambers, a mural of painted canvas strips covered with felt dust dominates a seating niche.