20 Cheerful Yellow Interiors That Radiate Sunshine
Bright yellow—the color of Easter "Peeps" and spring daffodils—adds a touch of sunshine to any room. Cheerful pops of this vibrant hue create visual focal points, while bolder, more saturated applications give plain spaces a wow factor, as seen in these 20 yellow interiors.
1. BT Arquitectos Creates Dynamic Tensions in a Beachfront Panama City Apartment
From the moment you step out of the elevator into this home, polarities begin. The living and dining areas, which segue seamlessly into one another, are mainly white, disrupted by luscious hits of color. Dining chairs upholstered in canary yellow sing out, and wingback armchairs covered in a faux-marble-print fabric make a tongue-in-cheek nod to the stone's current popularity. Read more
2. Miami Beach Apartment by SheltonMindel Wins 2018 Best of Year Award for Large Apartment
Interior Design Hall of Fame member Lee F. Mindel, the founding principal of SheltonMindel, combined two residences for a family of six. The sweeping water views afforded by the apartment's floor-to-ceiling glazing and wraparound terraces inspired his décor scheme. "It conjures the feeling of vacation, of joy and beach balls and umbrellas," Mindel says. Here, wire jellyfish sculptures by Benedetta Mori Ubaldini appear to drift against the curved sunny yellow doors of a hallway storage unit. Read more
3. Wutopia Lab Conceives a Fantastical Kids' Amenity Space at a Coastal China Resort
Although Wutopia Lab is no foe of bright, youthful hues, having used them to transformative effect, for the Aranya Kids' Restaurant, they shifted into neutrals, with a few well-placed strokes of yellow and red. Trippy funhouse mirrors, gravity-defying vertical gardens, giant "soap bubbles," and a balloon-strewn ceiling help spark the imagination. Read more
4. Sanchez + Coleman Refreshes a Tired Manhattan Apartment With Tropical Vibes
Tasked with refreshing this four-bedroom pied-à-terre on Manhattan's Upper West Side, Christopher Coleman combined his new chromatic restraint with a touch of his old flamboyance, creating a predominantly white shell to which he added feverish electric-blue and lemon-yellow accents. The project is the first for Sanchez + Coleman studio, a new venture that formalizes Coleman's longtime collaboration with Venezuelan fashion designer Angel Sanchez. Read more
5. HBA Designs Spa Hotel Artyzen Sifang Nanjing Recreation Centre in Ettore Sottsass Building
The host building for Hirsch Bedner Associates' interior was conceived by Sottsass Associati a few years before the death of Ettore Sottsass himself. The prolific architect was known for geometric shapes, primary colors, and black-and-white motifs. And the Sifang building is pure Sottsass: splashy and colorful, rendered in outsize geometric forms. Here, polished textured stucco lines the walls around the pool. Read more
6. Studio Modijefsky Discovers the Power of Three in Rotterdam's CityHub Hotel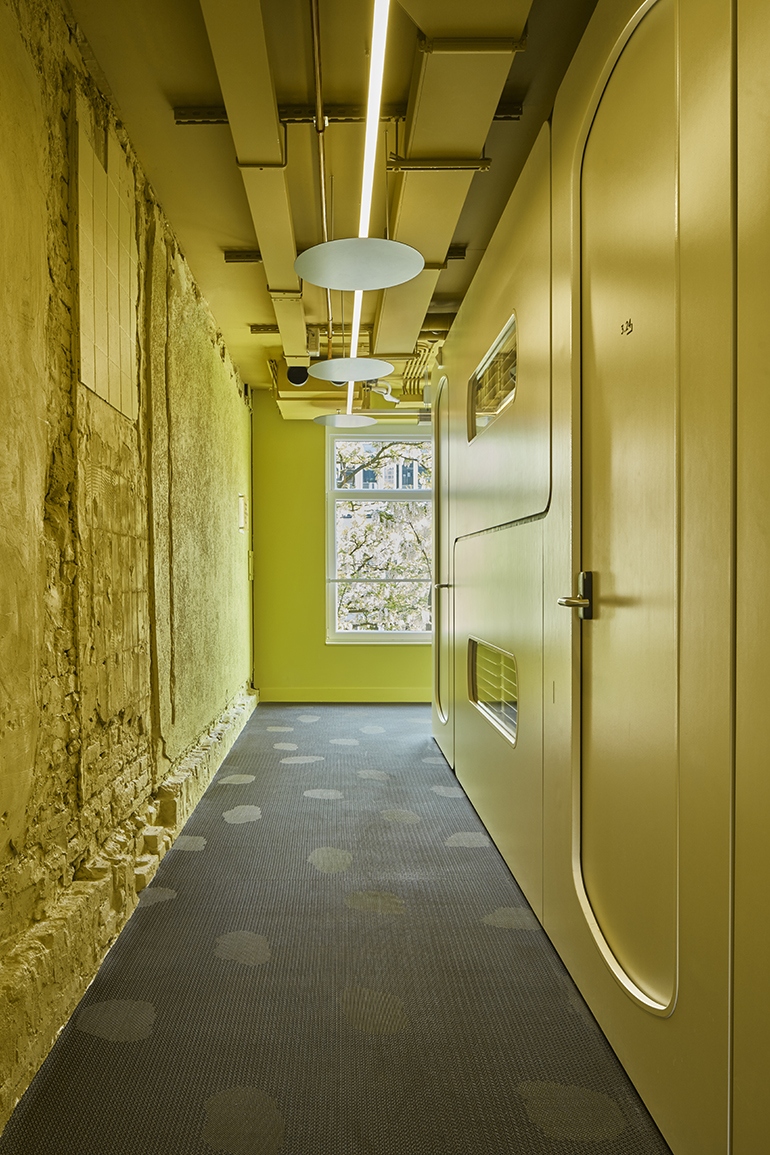 Rotterdam's Witte de Withstraat is two neighborhoods in one: by day, it's a bustling art district, while after dark it's a neon-lit nightlife destination. The new CityHub does one better, combining the interiors of three Withstraat buildings into a single hotel, courtesy of the vision and hard work of Amsterdam's Studio Modijefsky. To guide guests around the hotel, the buildings have separate color schemes, with tones that gradually darken from floor to floor as the natural light increases. Read more
7. Architecture Research Office Coats Calvin Klein's NYC Flagship in Taxicab Yellow
Calvin Klein's creative director, Raf Simons, rarely holds back. In light of this, Architecture Research Office changed the entire aesthetic of the previous minimal showroom. Scaffolding, the city's ultimate forecast of change, became the focal point. Not to mention a means for hanging artist Sterling Ruby's mixed-media sculptures incorporating found objects. Then, every inch of the once-creamy interior was coated in taxi-cab yellow. Read more
8. Playster by ACDF Architecture Wins 2017 Best of Year Award for Midsize Tech Office
ACDF Architecture's associate architect Joan Renaud used a secret weapon to befit a hip company's headquarters: color. Aside from the central circulation corridor, paneled in glossy white vinyl, other connectors and common spaces are vivid statements in mustard, teal, or rose, with the walls and carpet coordinating for maximum saturation. Each team got assigned a different identifying color that also nods to the company's logo. Read more
9. 1960's Paris Office Complex Gets an Electrifying Update by Saguez Workstyle
Saguez Workstyle's client had one major objective for their office complex: to connect with the elegant gardens of the nearby Parc Monceau, around which many of the bankers who financed Baron Haussmann's 19th-century reinvention of Paris once lived. From the gilded details of the park's majestic iron gates came the golden yellow of the rugs at the lobby's two reception desks. Read more
10. Moncler NYC Flagship by Gilles & Boissier Could Pass for a Grand Parisian Apartment
Like a grand Parisian apartment, Gilles & Boissier began the store's journey with a proper foyer. Shoppers, having opened the tall glass front doors with the help of Louis-style oiled-bronze pulls, encounter a bronze Moncler logo set into the floor and, to either side, wall installations comprising tall, curved louvers anodized gold and backlit to radiate a sunny warmth. It's a surprisingly abstract, contemporary introduction to an interior built upon a firm foundation of tradition. Read more
11. Cumulus Creates "Pockets of Play" for Romania's OK Center
The OK Center in Bucharest is more than just an after-school spot for Romanian teenagers to take courses geared toward financial literacy. In the words of concept architect Yasmin Asan, whose firm Cumulus designed the interiors, it's an "anti-boredom place." No yawn-inducing grids of desks and chalkboards here. On the mezzanine, a "pocket" of yellow aluminum cladding announces the kitchenette. Read more
12. A Lentil Design Mixes Simple Materials and Bold Hues for a Cozy Home in Taipei
From the get-go, the client told Taipei-based A Lentil Design that an all-white residence would bore them. So the firm, led by Lin Chia Hsien, broadened the apartment's palette to a range of vibrant colors mixed with different materials. Russet red mingles with a lake-like green; yellow plays a role as well. But it's not all bold—oak and pine throughout lend subdued touches. Read more
13. Lim + Lu Brightens Up a Bachelor Pad in Hong Kong
It takes a certain type of client to hire a design firm whose motto is "live differently." For the firm in question, Lim + Lu, that client was an eccentric French bachelor looking to inject playful personality into a tiny Hong Kong apartment. The firm achieved the requested atmosphere by combining subdued, pale tones with dynamic pops of color and texture. Read more
14. Memorial Sloan Kettering Cancer Center Bergen by EwingCole Wins 2018 Best of Year Award for Healthcare
The task of transforming a former office building into a state-of-the-art outpatient treatment center was secondary to the challenge of conjuring what EwingCole managing principal Mary Frazier calls a "magical environment" to foil the clinical gloom. In the central waiting area, shapely columns of white glass fiber-reinforced gypsum whimsically ascend into illuminated ceiling apertures, the sculptural motif reiterated in curvaceous armchairs by Jaime Hayon. Read more
15. Thiel Architecture + Design Integrates Client's Creative Collection Into the NYC Office of Collins
For the New York office of Collins, chief creative officer and co-founder Brian Collins brought a sizable collection of books, vintage toys, and furnishings. From oversize comic strips to a scale model of a Holiday Inn, unique objects were carefully integrated into the workspace by Thiel Architecture + Design. Pops of color, from hot pink to bright yellow, also foster creativity throughout the office. In a communal space, a counter-height table is topped in yellow laminate. Read more
16. 2Michaels Takes a Less-is-More Approach to 1970s East Hampton Gem by Joseph D'Urso
Jayne Michaels of New York design firm 2Michaels and her husband have long been drawn to the natural beauty of eastern Long Island. While searching for the perfect modernist house for themselves, they spent years renting offbeat hideouts in Amagansett and Montauk. Then in 2014, a modest Joseph Paul D'Urso house with all its key features intact popped up on the market, and it was kismet. Here, a Frank Veteran painting hangs in the sunroom addition, featuring a vintage Stilnovo lamp and a wrought-iron chair with vinyl upholstery. Read more
17. Six Delicious Dining Environments Whet the Appetite
At Casaplata by Lucas y Hernández-Gil, rounded forms and a pastel upholstery palette juxtapose with such industrial, brutalist nods as unpolished concrete flooring and exposed pipes. Read more
18. Church Undergoes Divine Transformation by INC Architecture & Design into The Line DC Hotel
While turning deconsecrated churches into commercial space is hardly cause for pearl-clutching these days, the grandeur of this particular nave made its ecclesiastical heritage impossible to ignore. For INC, the elephant in the room was the main room itself: a 60-foot vaulted sanctuary with massive Diocletian stained-glass windows. Now the win­dow is the centerpiece of a Rake's Progress, a res­tau­rant inside the hotel. Read more
19. Saguez & Partners Creates a Tour de Force of Color for the Conseil Régional d'Ile-de France
Bureaucracy is rarely this exuberant. Offering an eye-popping explosion of colors, patterns, and graphics, the headquarters of the Conseil Régional d'Ile-de France, the civil administration for Paris and its surrounding ring of seven départements, is a visual tour de force by Saguez & Partners. A custom mural backs seating by Propeller Design in a break-out area. Read more
20. HOK's Facelift of Ronald and Maxine Linde Hall of Mathematics and Physics is Far from Formulaic
As HOK's senior designer Mike Goetz discovered, the entire faculty at California Institute of Technology still writes with chalk, on blackboards, as a form of mind-body communication. So chalk was factor number one in his design equation for the math and physics departments' home. In the coffee bar, hand-painted ceramic tiles were positioned to reference sine waves. Read more
Looking for more color inspiration? Check out Seeing Green: 20 Interiors to Inspire You on St. Patrick's Day and 20 Visually Striking White Interiors.