20 Projects by the Top 100 Giants of 2020
These 20 spaces were created by the Top 100 Giants of 2020, firms featured on Interior Design's annual list per our industry-wide survey.
1. Western Union's Denver Headquarters by Gensler (#1)
Gensler design principal and studio director Michelle Liebling emphasized workplace connections—not just among colleagues on a given level, but also for the total population of 1,300 employees occupying Western Union's vertical campus.
2. Brierley+Partners Headquarters in Frisco, Texas by Perkins and Will (#3)
Graphic wallcoverings help liven up and carve out open workspaces at Brierley+Partners, as do glass-film graphics across glass meeting rooms and office fronts, while writeable walls are at the ready whenever inspiration strikes. "They wanted to support employee well-being and create a fun yet professional space for their mix of creative software engineers, finance, and administration," says Melissa Cooksey, senior interior project manager and associate principal at Perkins and Will.
3. WPP offices in New York by HOK (#5)
WPP wished to gather the New York offices of several subsidiaries into a single location, and HOK won the bid to design the consolidated workplace at 3 World Trade Center. The overall look is "refined industrial," so ducting suspended from the ceiling remains visible, downtown-loft style.
4. McDonald's Chicago headquarters by Studio O+A and IA Interior Architects (#6)
What sounds (and looks) like the paradigm-shifting headquarters of a venture-funded Silicon Valley startup is in fact the home of an iconic Fortune 500 corporation founded in the 1950s, the kind of company you'd envision rooted in some cubicle-centric suburban campus. Which in fact describes McDonald's former Oak Brook, Illinois, HQ to a T. IA Interior Architects, which had been tapped years ago to consult on the company's Oak Brook campus master plan, was hired again—this time to help with the real-estate search and an extensive workplace strategy initiative.
5. Charles Library by Snøhetta and Stantec (#9)
The research facility isn't always the most exciting place on campus. But the new Charles Library at Temple University, a joint venture between Snøhetta and Stantec, is much more than just a book repository. Rather, it's a human-centric space that embraces its role as a dynamic learning commons.
6. Perkins Eastman (#10) Studio in Chicago's Rookery
The Perkins Eastman team honored the Rookery building's history with 12'8" exposed ceilings and brick, but it's keeping its eye on the next 125 years by pursuing WELL v2 Gold certification. Such sustainability would not only make it among the very first studios in Illinois to receive the certification, but would also surely make the founders proud.
7. St. James Training Center by HKS (#11)
An Olympic swimmer, a quarterback from the NFL, and… members of the pee-wee hockey team. Rarely would you put them altogether. But at the St. James in Springfield, Virginia, they share the same turf—along with professional and recreational soccer players, Zumba participants, and young gymnasts. It also presented a challenge for Emily Macht, who, as the director of commercial interiors for HKS, spent more than four years designing the facility.
8. Showtime's Los Angeles Office by CannonDesign (#12)
To express Showtime's own history at the new Los Angeles headquarters, CannonDesign took cues from the company's award-winning dramas. "Perception versus reality" became the governing design concept, which plays out from the start.
9. The Netsch House by Skidmore, Owings & Merrill (#21)
The late architect Walter A. Netsch specialized in library and education buildings as a partner at Skidmore, Owings & Merrill from 1947 to '79. Perhaps the purest expression of Netsch's brutalist philosophy is his own home in Chicago, which he completed in 1972. In 2013, new owners who had purchased the property from Netsch's widow tapped SOM to render the 3,500 square feet more functional as a living environment while preserving its wide-open sight lines and unique spatial experience.
10. Two Union Square by NBBJ (#26)
Nearly three decades after NBBJ first designed iconic 56-story Seattle skyscraper Two Union Square, the team re-envisioned the building's public spaces as a series of human-centered and -scaled "social landmarks."
11. Children's Healthcare of Atlanta Center for Advanced Pediatrics by EYP Architecture & Engineering (#27)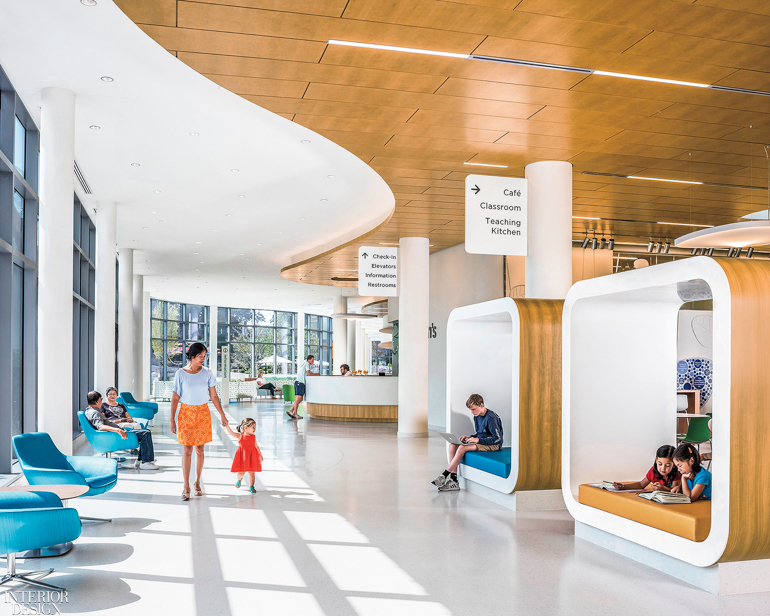 Atlanta's abundant tree coverage significantly influenced the design of Children's Healthcare of Atlanta Center for Advanced Pediatrics, a new children's medical center by EYP. Wooden panels rise up walls and wrap onto ceilings, like a tree canopy, guiding patients and visitors through the multilevel facility.
12. Google's Los Angeles office by ZGF Architects (#28)
Google and ZGF Architects had already worked together on six projects, but the renovation of a 1943 hangar would be the largest effort that either had ever undertaken in the realm of adaptive reuse. ZGF celebrated the grandeur of the space and simultaneously created human-scaled work and lounge spaces for Googlers.
13. Sentry Insurance in Stevens Point, Wisconsin by Flad Architects (#30)
When Sentry Insurance finished a two-year rebrand of its corporate identity and embarked on a new office building in Stevens Point, Wisconsin, executives didn't imagine the firm's new logo would also inspire the architecture. But the logo's pair of interlocked lines was a perfect fit, says Flad Architects design principal Jeffrey C. Raasch.
14. Moxy Chelsea by Rockwell Group (#33), Yabu Pushelberg (#56), and Stonehill Taylor (#80)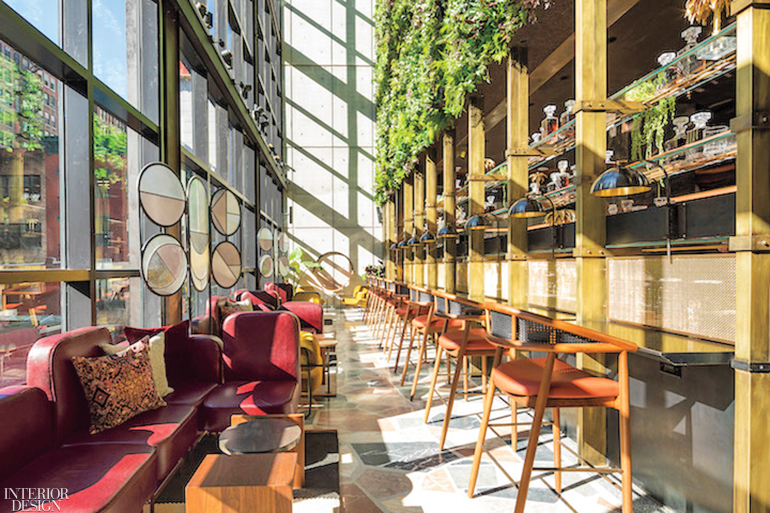 Three of the Top 100 Giants—Rockwell Group, Stonehill Taylor, and Yabu Pushelberg—collaborated on boutique hotel brand Moxy's newest location in Chelsea. Nostalgic elements recall a bygone era, but the 25-foot-tall green wall in the second-floor Conservatory bar celebrates the Flower District location of this rapidly expanding Marriott International brand.
15. Vocon (#42) Cleveland headquarters
Vocon has offices in Los Angeles and New York and has designed interiors from coast to coast and pole to pole, but as firm designer Katerina Fantozzi says, "Cleveland is home." So, when it came time to redesign its hometown headquarters to better meet the needs of the firm's growing staff, the idea was to keep it local.
16. The 300 lobby in Chicago by Huntsman Architectural Group (#62)
Huntsman Architectural Group installed a permanent food truck in The 300 lobby, offering a rotating menu of local purveyors. Both a literal and figurative centerpiece, it's visible from outside, inviting passersby to come on in.
17. Paradigm Los Angeles Office by Rottet Studio (#68)
"Light and movement." That's what Sam Gores said he wanted to see upon entering his office in Los Angeles. And when the chairman and CEO of Paradigm Talent Agency asks for something, that is precisely what he gets—particularly when the project is designed by Rottet Studio.
18. MDR Truss campus in Marina Del Rey, California by Rapt Studio (#85)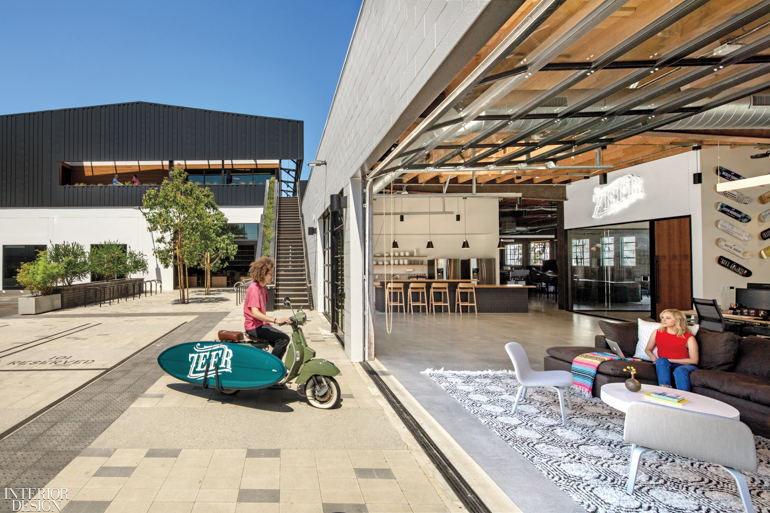 Rapt Studio CEO and chief creative officer David Galullo, prolific designer of workplaces for such companies as Google, Twitter, and PayPal, opted to retain all but one of the six brick and concrete-block structures for the Marina Del Rey, California, campus now called MDR Truss. Today, it's home to Zefr digital advertising, the Bouqs Co., an online farm-to-table flower delivery service, and real estate developer the Bradmore Group.
19. Perry Lane Hotel in Savannah, Georgia by AvroKO (#87)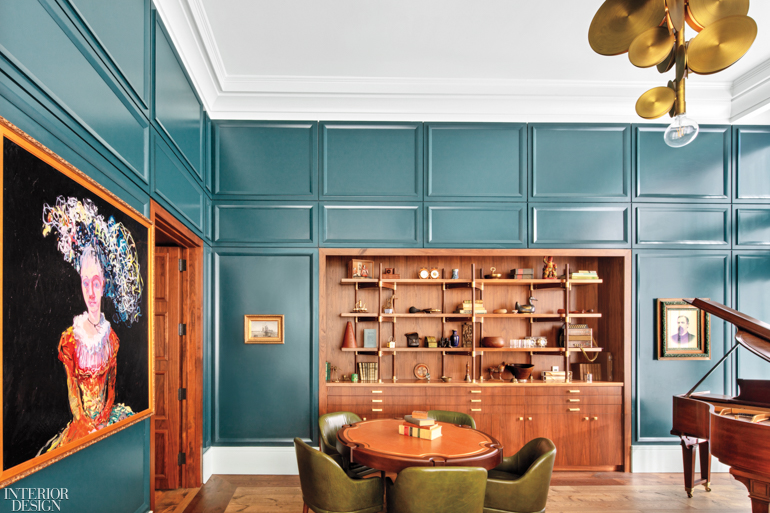 From a distance, it looks like it's been there for a century. But in reality, the Perry Lane Hotel in Savannah, Georgia, is a new ground-up structure—actually, two structures (more on that later). Its interiors, however, conjure a bygone era, yet still feel fresh and modern. That's the work of AvroKO principals Greg Bradshaw, Adam Farmerie, William Harris, and Kristina O'Neal, who immersed themselves in Savannah and even invented a muse to guide the project—their first in the Hostess City.
20. Rauxa Flagship by Spector Group (#92)
Creating a new home for a marketing agency known for its creativity (Vans, Verizon, and more than 20 other brands are clients) takes more than just a few good ideas. It takes head, heart, and hustle. Luckily, those three attributes form the tagline of Rauxa, the nation's largest female-owned agency, which had the good idea to hire Spector Group for the job.
Read next: Interviews With Principals and Design Directors from the Top 100 Giants of 2020