20 Skylights Bring the Sunshine Indoors
From sunlit atria to sun soaked living rooms, these superb skylights let the summer rays shine in.
1. Votive Chapel by Mario Filippetto Architetto
The entire roof of this restored 18th-century chapel is a skylight. Inside, a restored painting of the Madonna hangs above the marble parallelepiped altar.
2. Private Wellness Retreat by BarlisWedlick Architects
This landmark house built in 1961 by Jens Quistgaard was reinvented as a place to nurture body and mind. Bedrock surrounding the house was blasted away to add an additional 1,000 square feet for a swimming pool and hot tub.
3. Noma by Studio David Thulstrup and Bjarke Ingels Group
This 2018 Best of Year honoree for Fine Dining immerses its guests in Danish forests. BIG clad the kitchen walls with charred pine paneling, but used unstained Douglas fir and oak in the dining areas. The expansive skylight and floor-to-ceiling windows allow guests to fully take in the seasons and the natural surrounds.
4. The Beekman by Gerner Kronick + Valcarcel, Architects and Martin Brudnizki Design Studio
The Temple Court building's nine-story interior courtyard is a Gilded Age marvel. From the arcaded walls, cast-iron dragon brackets spring forth to support encircling balconies. In the unlikely event of a fire, smoke-proof fabric panels concealed below balconies will unspool like roller shades to seal off the atrium, while fans suck smoke out through louvers beneath the restored pyramidal skylight.
5. To Align: works in situ 2017 by Daniel Buren
For his Tribeca exhibit, Buren installed 44 rectangular columns throughout the space. A lone black Corinthian column stands beneath the colorful skylight.
In the central atrium of this luxury shopping complex, aluminum louvers, layered over oak paneling, angle up toward a frosted skylight surfaced in hemp-leaf-patterned washi paper. To Japanese visitors, the colors and lines evoke traditional design. The eyes of the less-initiated might see a futuristic fantasy.
7. University of Toronto's Architecture, Landscape, and Design Building by NADAAA
This 2017 Best of Year award-winner was a tough build because, according to Principal Katherine Faulkner, "this building is for designers, and they'll be looking closely." The long and lofty studio opens up to rooms below as well as to the sky above, thanks to a spectacular roof structure that blends skylights and drainage into undulating drywall forms.
8. Asmundo di Gisira Hotel by Studio GUM
Partners Giampiccolo and Minaldi simultaneously respected history and looked to the future in this Italian boutique hotel. The team kept demolition and construction to a minimum. Here, a steel-framed skylight turned a courtyard into an atrium, paved with cement tiles that were either restored or replaced.
9. 21C Museum Hotels by Deborah Berke Partners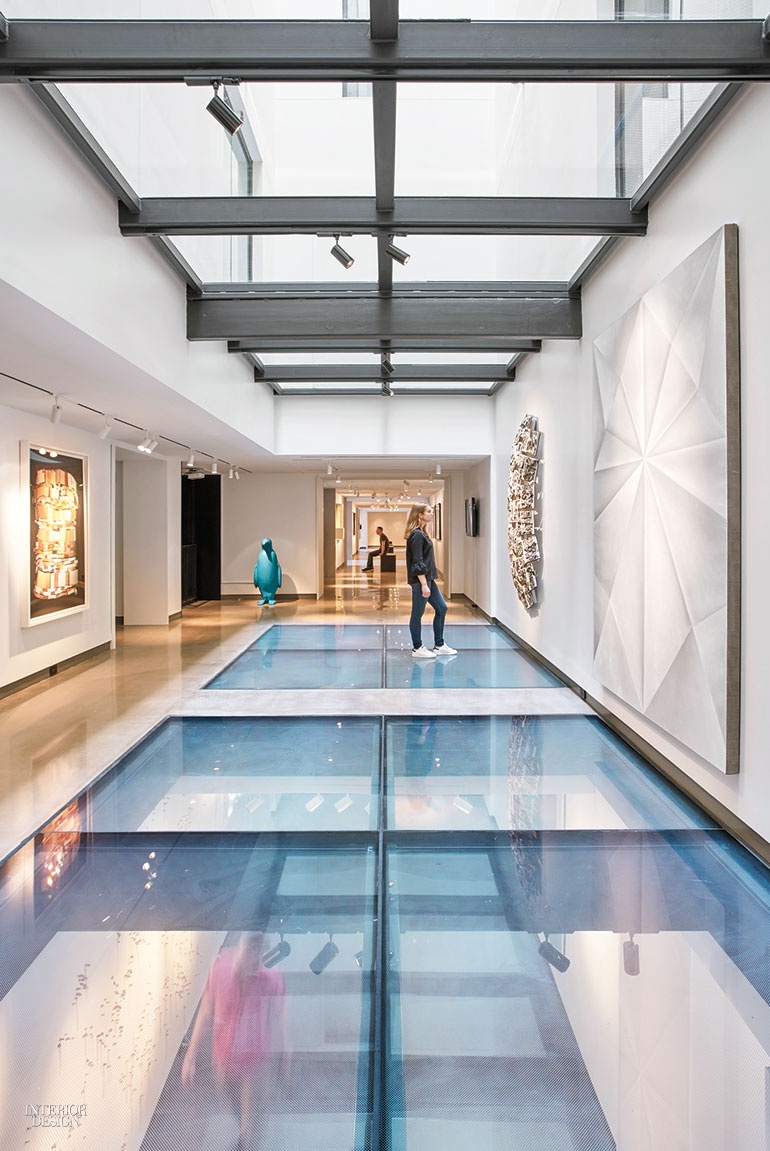 A corridor receives sunshine through the glass ceiling positioned directly below the second level's skylights, which enclose the bottom of light wells punched out to compensate for the lack of windows in the building's party wall. Painted steel frames both the fire-rated glass floor and skylight.
10. Le Grand Restaurant/Jean-François Piège by Gulla Jónsdóttir
Gulla Jónsdóttir Architecture + Design has designed many high-profile hospitality projects worldwide. In this restaurant, the faceted skylight over the dining room represents the jewels that a chic Parisian might wear.
11. Canopy Office by Fuseproject
To achieve "work Nirvana," the designer chose to install skylights and private offices enclosed in glass. In the lounge, Joe Colombo chairs and a Don Chadwick sectional employ a modernist aesthetic.
12. The Department Store by Squire and Partners
This five-story annex dates to 1906, when it was constructed in the Edwardian style to house Bon Marché's furnishings department. A new dome tops the existing stone tower, now a private dining room. Its early-1900's copper cupola was replaced with steel-framed green glass.
13. RtA Boutique by Dan Brunn Architecture
Darkness transitions to light-and-bright in this 1,200-square-foot interior. That's partially courtesy of the L.A. sun shining through a new circular skylight, necessary for the health of an olive tree planted in the middle of the sales floor.
14. Armazém Luxury Housing by Pedra Líquida
Original granite and new concrete, steel, and fir dominate the interior envelope not just to keep costs down but also to be consistent with the building's industrial nature. A floating staircase connects the aboveground levels.
15. Garden Pavilion by Gluckman Tang Architects
To display Walter De Maria's pieces, the design duo envisioned a setting free of distractions. Beams of Alaskan yellow cedar run beneath a skylight fitted with retractable shades to protect the pencil drawings.
16. Great Bowery by Corvin Matei
Matei selected simple, graphic materials—plate glass, black and white lacquer—to demarcate all that is new, from window frames to built-in furniture. Period details were refurbished, such as the mosaic flooring, a decommissioned copper elevator cab, now a phone booth, and the stairwell's restored plasterwork skylight.
17. New York Stock Exchange by Rottet Studio and Studios Architecture
This project was a double-pronged effort: to restore the historic Beaux arts features and seamlessly insert new furnishings, artwork, and technology. The boardroom's glass ceiling, covered since 1920, was exposed and restored, and the walled-off antechambers on either end of the room were reconnected.
18. Upper East Side Mansion by Gabellini Sheppard Associates
This firm is known for their mastery in lighting. In this five-story residence, illumination emanates from coves framing floating ceilings or from strategic slits, while a pervasive glow descends from the skylight directly over the stairway.
19. Modernism Gallery by Aidlin Darling Design
Board-formed concrete walls, Douglas fir ceiling joists, and skylights define rooms throughout the gallery. The meeting area features Mies van der Rohe chairs.
20. La Oca Selezione by Zooco Estudio
For its new flagship on Madrid's trendy Calle de Castelló, the modern furniture company turned to its local firm to transform a blandly anonymous space into a witty take on retail design. Televisions hang from either side of a skylight, each element housed in a black metal frame.
> More sunshine this way: a Tulum hotel that's just a bike ride from the beach and a light-filled boutique by Neri & Hu.