2013 BOY Winner: Casual Dining
Firm: Equipo Creativo
Project: Pakta
Location: Barcelona, Spain
Photography: Adria Goula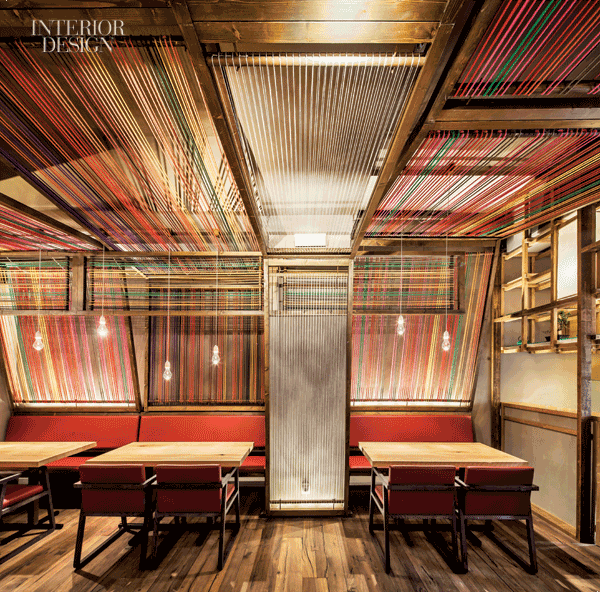 Fusion, both gastronomic and aesthetic, is on the menu at this encore from El Bulli's brothers, Albert and Ferran Adrià. The Peruvian-Japanese synthesis begins with the restaurant name. In Peru's indigenous Quechua language, pakta means union.
By the entry, pendant fixtures bathe the sake bar, in chestnut and pine, with a welcoming glow that seems to expand the tight dimensions of the 1,100-square-foot space. The sushi bar has a top in precision-cut American oak supported by rough-hewn marble slabs. The same oak tops the dining tables, which line the slim banquettes. Asian austerity then gives way to South American flamboyance, as cotton yarn strung across a pine frame forms a network of can-opies—the effect is of giant looms, with areas of vibrant color alternating with neutral combinations. Beyond the loom-canopies, the kitchen occupies a box enclosed with glass in varying degrees of transparency, allowing clear or blurred views of cooks preparing ceviche or nigiri.
Project team:
Lucas Echeveste Lacy; Cristina Huguet; Mirela Gallego.