2013 BOY Winner: Fashion Retail
Firm: Rene Gonzalez Architect
Project: Alchemist
Location: Miami Beach, FL
Photography: Michael Stavaridis
Adding a second boutique in the same Herzog & de Meuron garage, this fashion retailer returned to the firm that had taken charge of the first one. But rather than duplicate the steely drama of that space, up on the fifth floor, Rene Gonzalez stretched toward space-age modernity for the new one, a 2,500-square-foot storefront conceived as a cocoon where customers can disconnect from the clamor of Lincoln Road right outside.
Melamine foam wraps the ceiling and walls. At the center of the pebbled epoxy floor, a pair of neon-green fiberglass benches by Zaha Hadid Architects establishes an abstract landscape for sitting. Mirror and acrylic clad the counters and cash-wrap desk. At the rear, the futuristic yields to the naturalistic: A pine floor and ceiling trellis frame flat-screen TVs on which videos by Paris Kain, also a jewelry designer, depict appropriately sultry environs.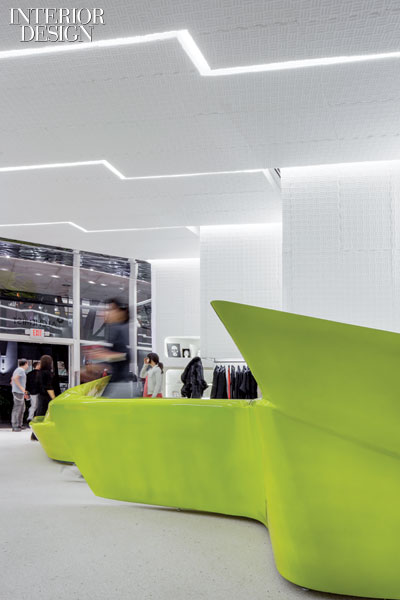 Project Team:
Monica Vazquez; Kevin Regalado; Marija Brdarski.