2idArchitects Adopts the "Engawa" Tradition for a Modern Japanese House
The coastal city of Hamamatsu, about 2.5 hours southwest of Tokyo, is surrounded by water to the east and west, rolling plains to the south, and verdant mountains up north. With all those natural wonders, it makes sense that the traditional Japanese concept of engawa—an outdoor corridor seen through a window but integral to interior space because it creates an ideal circumstance to enjoy the views—took hold there.
A striking example is 2idArchitects' Shiraiwa house in the northern part of the city. Its 1,173-square-foot interior footprint is balanced by a 1,050-square-foot interpretation of engawa in the shape of a pergola. White slats cast shadows across the modernist structure and frame views of the landscape surrounding the house, which in turn inspired its materials.
"The area has a white stone quarry," says architect Tsukasa Okada. Local builders often use the stone for the walls of homes, as did 2id, applying a scraped finish for exterior walls. "It continues to the interior walls to visually connect inside and out," Okada says, "with a less scraped finish for a suitable tactile feeling."
Furnishings are simple so as not to compete with the landscape. For a finishing touch, the region's mandarin farms inspired bespoke terrazzo floors for the bathrooms, while the living room sofa reflects the citrus fruit's vibrant color.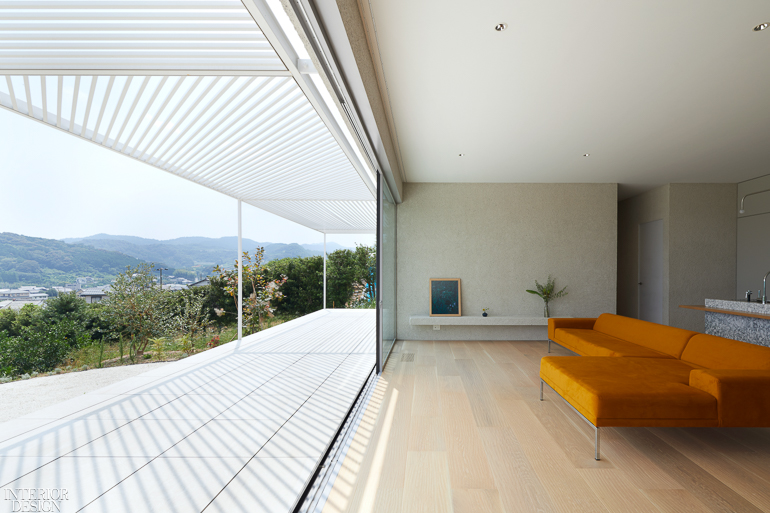 Read more: Four Open, Airy Residences Located Around the World