4 New York City Apartments Exhibit Neighborhood Character
Beeline from Upper Manhattan to lower, then over to Brooklyn via a quartet of apartments, each exhibiting neighborhood character—and Big Apple sophistication.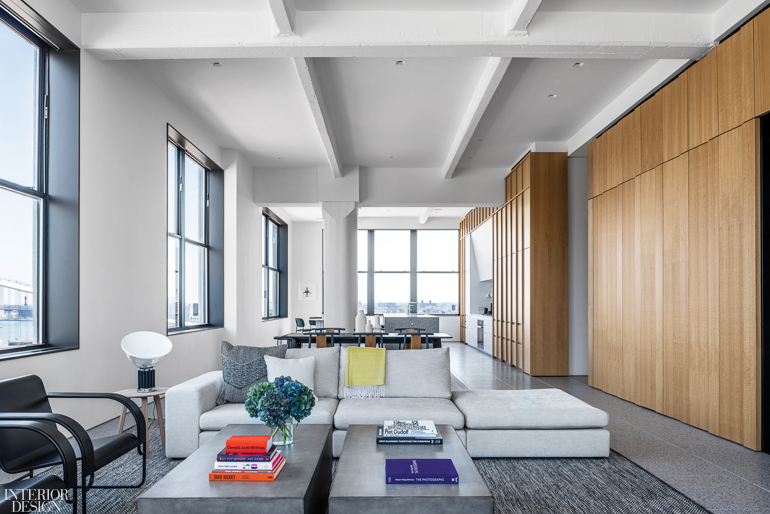 Firm: Worrell Yeung
Project: Three-bedroom loft, DUMBO.
Standout: To take advantage of the panoramic four-way views surrounding the corner unit in the landmarked Clocktower Building, living spaces have been organized along the perimeter while two central volumes clad in white oak contain the foyer, kitchen, bathrooms, and storage.
Firm: Wid
Chapman
Architects
Project: Four-bedroom condominium, East Harlem.
Standout: Anchored by fumed stained European oak planks, faceted metallic
dust–infused plaster surfaces mingle with jewel-toned custom furnishings, velvets, and paints—materials and colors that reflect the sky and Central Park views captured through the windows of Wid Chapman's own home.
Firm: LUCE et studio
Project: Two-bedroom condominium, Chelsea.
Standout: A clean rectilinearity formed from 12-inch planks of California old-growth white oak, monolithic Pietra Cardosa, and sleek gray glass offsets the rounded apertures defining Zaha Hadid's 520 W 28, but the series of Francis Alÿs white paintings nods to them.
Firms: D&A Companies and Ravi Raj Architect
Project: Three-bedroom condominium, Chelsea.
Standout: After a gut renovation unearthed the 1880s former cigarette factory's original timber structure and
red-brick masonry, all well-preserved, bleached walnut flooring and honed black, beige, and white marbles were introduced to refine and add color to the industrial backdrop.