4 Sculptural Houses are in Tip-Top Form
Whether mathematically geometric or organically shaped—or both—these houses are in tip-top form.
Firm: Standard Architecture
Site: Los Angeles
Recap: Inspired by American vernacular architecture, such as barns, and Louis Kahn's tripartite Kimbell Art Museum, a trio of identical pitched structures troweled in stucco forms a neat row. Inside, rift-sawn oak paneling and floorboards warm the expansive 11,000 square feet, figuratively speaking, while oversized board-formed concrete fireplaces heat things up literally.
Firm: Bortolotto
Site: Toronto
Recap: Grasshopper modelling software rendered the Bézier curve of this residence's spectacular roof, realized by tying together evenly spaced timber joists and pulling them to maximum tension—thereby fanning them. Exposed rafters clad with red oak veneer continue the zinc-shingle roof's dynamic
expression into the interior.
Firm: Batay-Csorba Architects
Site: Toronto
Recap: Harking to the city's plentiful stock of Victorian-era brick houses, a riff on Flemish-bond masonry forms the intricately textured facade of this residence, home to two retirees looking to age in place. In a subtle homage to the couple's Italian heritage, a series of vaults—that archetype of ancient Roman architecture—artfully accent the volume.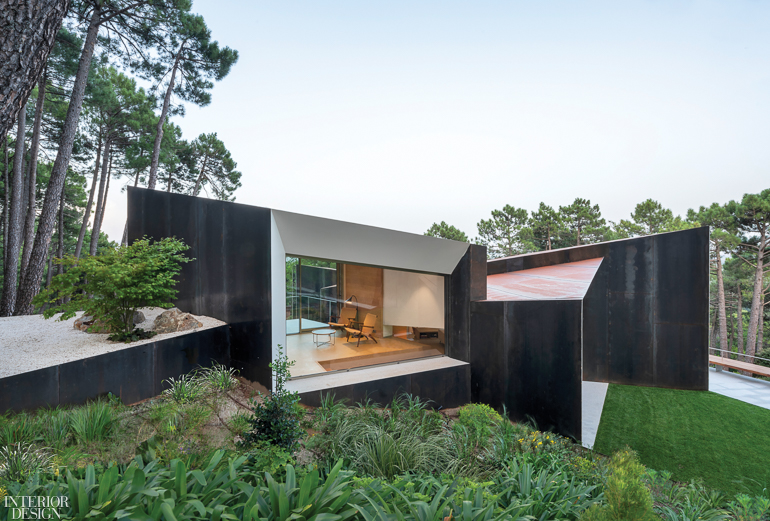 Firm: Aranguren & Gallegos Arquitectos
Site: Madrid
Recap: A single-family home composed of geometric volumes with glazed portals pulls in views of a pine forest to the southwest and the Royal Site of San Lorenzo de El Escorial, a 16th-century palace, to the east. Roofed in Corten steel, the house appears to merge with the granite ground (darkened
by erosion) and the rust-red tones that crop up seasonally in the surrounding trees, integrating the building with its natural environment.