4 Sleek Sneaker Shops
Take a ride through four international sneaker environments.
1. Firm: Sid Lee Architecture
Project: Adidas x Concepts, the Sanctuary
Site: Boston
Standout: A temple aesthetic pervades the basement space, courtesy of steel doors water-jet cut in a Celtic pattern, tinted-glass portals, and interactive mirror displays by sculptor Jordan Söderberg Mills.
2. Firm: Slade Architecture
Project: Flight Club
Site: Los Angeles
Standout: For its West Coast expansion, the kicks mecca continues the gallerylike vibe established in the Manhattan store via a simple palette of sealed concrete, perforated sanded aluminum, and raw plywood.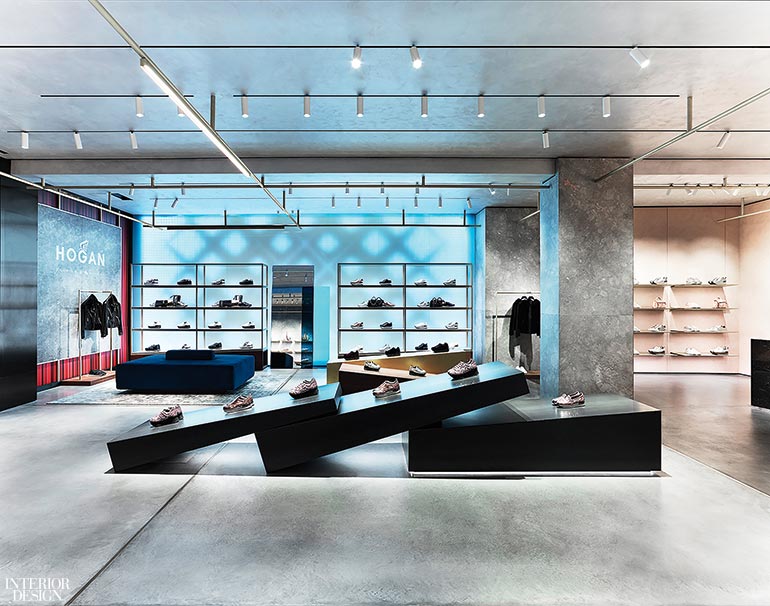 3. Firm: Checkland Kindleysides
Project: Hogan
Site: Milan
Standout: Inspired by the dynamic bronze sculptures of early 20th–century artist Umberto Boccioni, hot-rolled steel plinths are tilted and stacked.
4. Firm: Flip Ziedses Des Plantes
Project: "FZDP x Filling Pieces"
Site: Paris
Standout: Design firm and footwear brand, both Dutch, teamed up for a fashion week exhibition, in which 150 concrete pillars and "botanical clouds" nodded to the label's inspiration from architecture, nature, and urban culture.
> See more from the April issue of Interior Design