4 Wildly Original Wallcovering Collections
As the end of the year approaches, it's the right time to look back on all the innovative and inspiring products launched in 2018. This year, one brand certainly outdid themselves with original work, bringing diverse inspirations and eclectic imagery to the wallcoverings market. Astek debuted four original collections this year that feature traditional Japanese craft techniques, fanciful illustrated images, and gritty, liminal photography from Steve LaVoie.
Astek also completed some high-profile custom projects this year that certainly merit a gander. These custom wallcoverings can be spotted in movies, music videos, hotels, restaurants, and even spotted in a few celebrity homes.
All of the collections and custom products were assembled by Astek's in-house design team, whose talents range from traditional artistic skill to graphic design to videography. Along with these new collections, the company also recently launched a redesigned website and logo as part of a larger rebranding effort.
Scroll below to learn more about Astek's four wildly original 2018 collections.
Apperception
Photography courtesy of Astek.
Apperception features a carefully curated selection of images from Los Angeles-based photographer Steve LaVoie. LaVoie's pictures feature the marks, scars, secretions, stains, and patinas that exist in the liminal space between representational and abstract photography. His focus on industrial materials like steel and concrete captures our attention and produces a tension between what feels familiar and what's been ravaged by time.
Natsukashii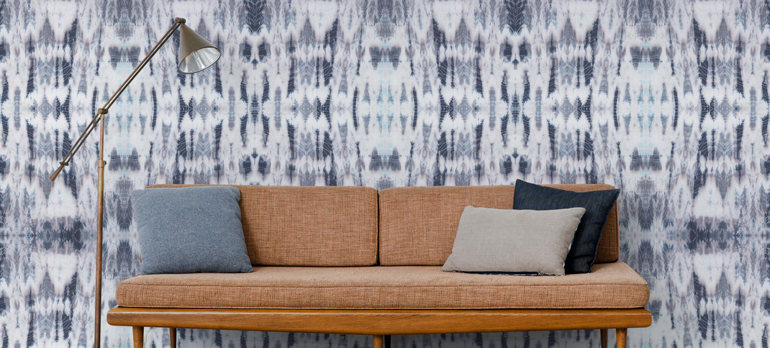 Photography courtesy of Astek.
Natsukashii draws inspiration from a traditional Japanese form of resist dyeing called shibori. This technique involves creating one-of-a-kind pattern by binding, stitching, folding, twisting, and compressing cloth. Astek designers created each look in-house using both traditional and experimental methods, and their efforts were rewarded with a Best of Show Finalist nomination at BD West.
Ukiyo
Photography courtesy of Astek.
Ukiyo continues the theme of finding inspiration in traditional crafts. This collection looks to the Japanese art of marbling called suminagashi. Astek's designers reproduced this technique manually and then digitally transformed their creations into murals. The result is a compelling wallcovering that feels both impermanent and dynamic. Ukiyo has been honored with a Best of Year award, an NYCxDesign award, and a first place prize at the 2018 Hospitality Design awards, all in the contract wallcovering category.
Utopia
Photography courtesy of Astek.
Finally, Astek's design staff went fanciful with Utopia, an eclectic mix of the team's unique aesthetics and personal imaginings of an idyllic reality. This collection demonstrate's the company's artistic strength, with designers using things like cut paper, hand-drawn illustrations, gouache paintings, and virtual reality renderings to bring these wallcoverings to life.