5 Unexpected Resources for Sustainable Design Inspiration
Given mounting concerns about our planet's health, sustainable design is a clear necessity and manufacturers and designers alike are taking note. After all, sustainable choices do not just benefit the planet, they also improve our health and wellness. A growing body of research, including studies by Terrapin Bright Green, shows biophilic elements in workplaces and schools—like greenery and natural light—help reduce stress and improve focus.
In a nod to the importance of sustainable design, the New York School of Interior Design (NYSID) offers a Master of Professional Studies program in Sustainable Interior Environments. The unique program boasts a low student-to-faculty ratio and a curriculum tailored to suit those who want to better understand the practical application of sustainable design principles.
But as more manufacturers tout the environmental benefits of their products, designers must grapple with how to navigate an increasingly saturated market. To ease the process of specifying sustainable materials and help garner new design ideas and inspiration, NYSID recommends these five unexpected, yet readily available resources.
1. Upcycling
The process of transforming by-products into new materials is having a moment in the design realm. Creative reuse enables designers to utilize waste products, including those leftover from the manufacturing process, to create entirely new materials or installations. "A friend once found [on the street] a set of used Eames Aluminum Group chairs in a cool, mid-century orange," says David Bergman, director of sustainability at NYSID. While flea markets and furnishings left street-side remain a trove for designers looking for unique room accents, these are far from the only options. Coveted pieces ranging from historic doors to nearly pristine appliances can be found in New York City's nonprofit store for salvaged and surplus materials, BIG Reuse (BIG stands for Build It Green). Groups, such as Renovation Angel, formerly called Green Demolitions, and Planet Reuse, also offer a breadth of design finds.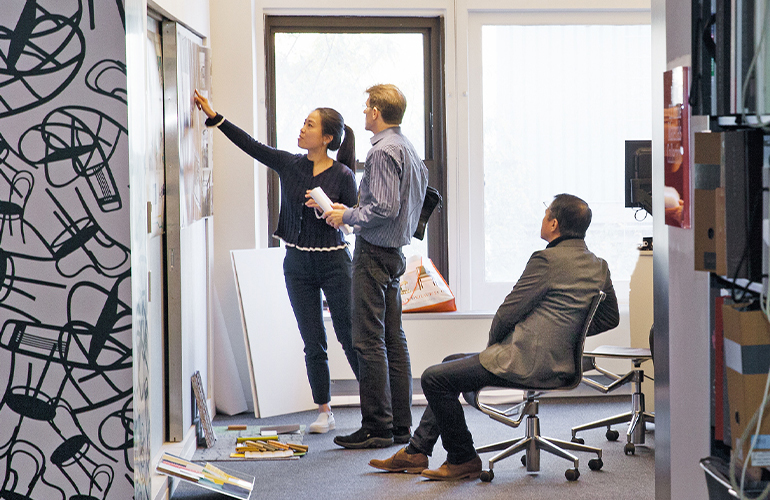 2. Peer Advice
Designers rely on their network at every stage of a project's development, from securing a new client to finding sustainable flooring. During a recent roundtable hosted by Interior Design, emerging designers agreed that they want to work with people, from clients to sales representatives, who are equally passionate about their work. Undoubtedly, networking is an invaluable design resource that fosters the exchange of innovative ideas.
3. Eco-Friendly Blogs
While there's no shortage of design blogs, some of the best ideas regarding sustainable builds and decor stem from broader scientific concepts. Gizmodo has a surprising number of environmental—and sometimes eco-design—posts and the website's tagline says it all: "We come from the future." Treehugger, particularly Lloyd Alter's posts, also offer insightful information about eco-design.
4: Materials Libraries
Sustainable design often boils down to choice of materials. And what better way to examine eco-friendly materials than visiting a materials library? Sandow Media's Material ConneXion offers a display of cutting edge materials for design professionals and students to peruse. The curated collection changes regularly, ensuring viewers can access the most innovative mix of new and unusual materials. As another option, Parson's Healthy Materials Lab and their Donghia healthier Materials Library offers a look at a selection of materials sourced specifically for their sustainability.
5: Trade Shows
While some trade shows are more fruitful than others, many serve as a resource for sustainable design ideas and industry connections. Just be sure to approach these events with a discerning eye, since some irrelevant products may sneak into the mix. "You have to make sure you aren't being tripped up by greenwash," warns Bergman. "I once encountered a vinyl company displaying at Greenbuild."
Regardless of a student's course of study, NYSID's wealth of resources arm design leaders of tomorrow with the knowledge and skills to harness the power of sustainable design. Click here to learn more about how an education at NYSID can help your career.