6 Health & Wellness Facilities Cure the Blues
From Los Angeles to London and stops in between, these wellness-minded facilities are just what the doctor ordered.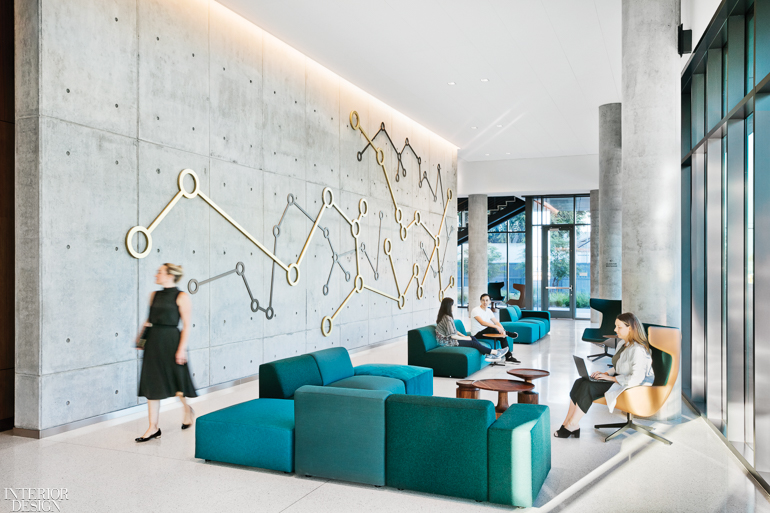 Firm: ZGF Architects
Project: Lundquist Institute for Biomedical Innovation Medical Research Laboratory 1, Los Angeles.
Standout: More than just a lab, the structure's glazed facade with angled projections creates a sense of arrival and ushers in abundant natural light to airy, industrial-chic spaces designed specifically for fundraising, presentations, and entertaining.
Firm: CO Architects
Project: Outpatient Surgery at Cedars-Sinai Advanced Health Sciences Pavilion, Los Angeles.
Standout: In addition to the technical and functional expertise required to plan dozens of ORs and pre-op and post-anesthesia care units, the 45,000 square feet also deliver a sense of calm through cloudlike ceiling forms of acoustical plaster rimmed with fiber-optics.
Firm: Pedra Silva Arquitectos
Project: Maida Smiles Dental Clinic, London.
Standout: More than 500 handcrafted ceramic discs based on the implants commonly used in restorative dentistry clad reception's walls and door leading to the clinical area, where advanced cosmetic dental and facial aesthetic procedures take place.
Firm: NC Design & Architecture
Project: Garden Pavilion, Hong Kong.
Standout: When shoppers at a mall so luxe it's confidential need a break from spending, they can refuel in this lounge offering concierge and coffee service, themed as a cocooning garden in a garden, detailed with raked plaster, oxidized brass,
and marble.
Firms: Estudio Colmena and Estudio 4
Project: Fitship, Córdoba, Argentina.
Standout: The high-concept gym situated inside a 10,000-square-foot warehouse is big enough to hold a 100-foot running track and a basketball cage as well as sports-medicine, arts, and snack areas.
Firm: Studio I In
Project: Shiseido Future Solution LX, Shanghai.
Standout: The first flagship for the brand's new skincare line channels nature through windows fronted in translucent textured fabric, organically curved plaster, and stone surfacing produced in the Japanese mountains.