6 Simply Amazing Family-Friendly Spaces
Family-friendly spaces that the whole brood will enjoy.
1. Washington D.C. Residence by NADAAA
NADAAA transformed a straitlaced 1920's house in Washington D.C. into an eye-popping showcase of plywood ingenuity. The firm nearly doubled the square footage of the original house to better fit a family of five. While zoning regulations restricted them from expanding the footprint of the house, they instead increased the amount of bedrooms to eight, lifted the roof to create a full-size top story and converted the basement into an entertaining area; now everyone has plenty of space.
2. Hôtel Joke by Maidenburg Architecture
This Parisian hotel by Maidenberg Architecture features candy-colored furnishings, nostalgic school references, optical illusions and interactive toys, offering tourists the chance to relive the French childhood they never had. Silliness begins at check-in with funny video clips playing on a large screen above the reception desk, and other various hotel gags will keep guests of all ages laughing as they explore different spaces in the hotel.
3. New York Apartment by Sara Story Design
Sara Story, as a mother of three herself, made sure this Manhattan apartment was fully child-proofed and kid-friendly, while maintaining a certain flair for her clients: a family with two young children. To do so, Story used a peacock blue patent leather banquette fabric for the breakfast room, a forgiving cotton velvet for the living room's sofa and a quartz composite for the playroom's custom table that "markers and glue can't destroy."
4. Texas Lake House by Lake Flato Architects and Abode/Fern Sanitini Design
Lake Flato Architects and Abode/Fern Santini Design's collaboration on a lake house in Austin, Texas, was designed as a celebration of living on the water. The plan was to create a house, located at the intersection of Lake Austin and Hog Pen Creek, where the architecture enhanced the surrounding landscape. The complex was configured in an L-shape that covers just ½ acre of the 5-acre lot and built the main house—which forms one leg of the L—as close to the creek as possible.
5. Renaissance Atlanta Airport Gateway Hotel by Rottet Studio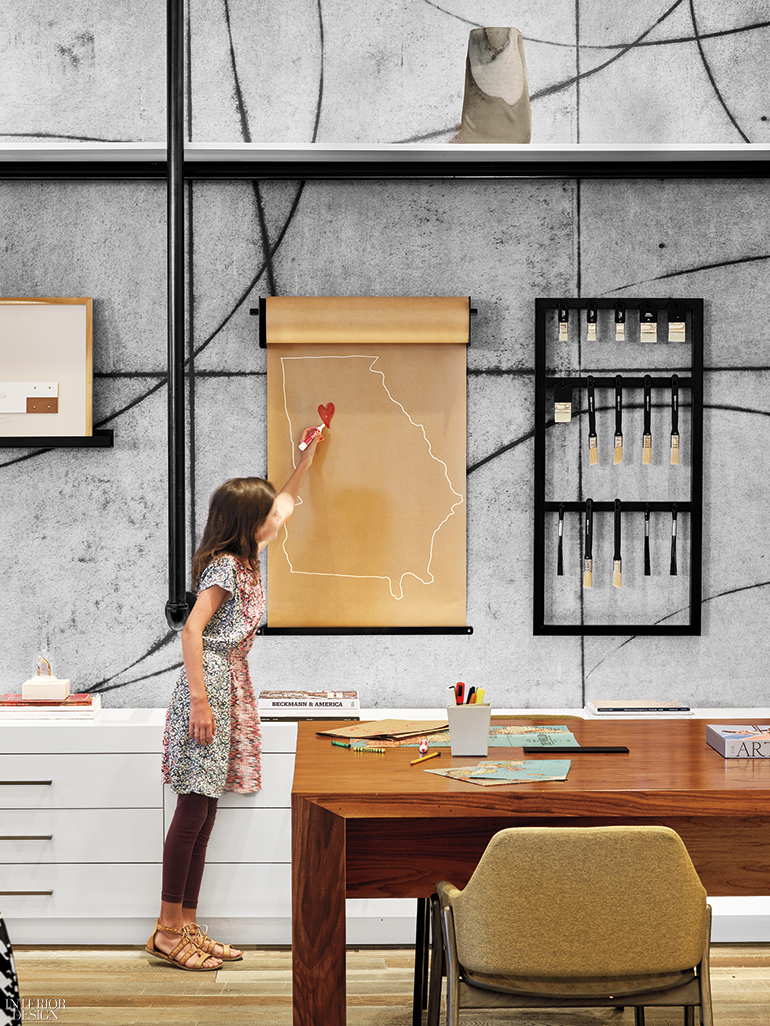 Rottet Studio put a unique spin on the concept of luxury for this Atlanta airport hotel revamp. "It's about letting a place have its own voice, something you can't find anywhere else," Lauren Rottet says. She tied luxury to notions of a diverse South and allusions to history in the ground-level areas and the 204 guest rooms. From reception through the lobby, public spaces compose one interconnected open zone, a welcoming living room. Any hints of formality, once associated with Renaissance, have been shaken off—replaced by exposed columns and floor planks resembling concrete.
6. Family Home by Gray Organschi and Aaron Schiller
Gray Organschi and architect Aaron Schiller collaborated on a Chilmark family home on Martha's Vineyard. The home's exterior was built to withstand the region's hardy climate, while keeping the interior light and open. "The rough-and-tough exterior materials meet the environmental stresses—the salt, the wind—while the interiors offer sanctuary from them," Alan Organschi says. "The strategy was that the home could button itself up but also open up completely on those beautiful Vineyard days when the wind is low."