8 Attention-Grabbing Lights
1. Wisse Trooster for Cartoni Design
Product: Cartoni 900
Standout: This linkable LED pendant is an exemplar of environmental friendliness, with a shade made almost entirely of recycled cardboard.
2. Rosie Li of Rosie Li Studio
Product: Bubbly 02 and 03
Standout: The table lamps' brass globes—in Oil-Slick Rainbow finish—add a pop of glamour to any room. A powder-coated steel base anchors the larger version.
3. Khaled El Mays for House of Today
Product: Mr. Brain
Standout: Aluminum tubing bent to form a "head" atop a rattan-wrapped "body" makes for a personable table lamp in two sizes and three pastel hues.
4. Achille Salvagni for Maison Gerard
Product: Elena
Standout: All angles and asymmetry, this cast- and burnished-bronze chandelier with hand-carved onyx diffuser comes in a limited edition of 20.
5. Sergi Ventura of Sergi Ventura
Product: Dorking
Standout: The steel floor lamp is a true flight of fancy, with aluminum eyes and an articulating plastic tail.
6. Michiko Sakano for Allied Maker
Product: Molten
Standout: The master glassblower shows off her virtuous touch via a sconce with delicate dome of gradient-smoked glass on a brass base.
7. David Trubridge for IQ Commercial
Product: Hush
Standout: Dull the roar of busy offices with this bright idea: an artful LED pendant clad in acoustic panels (in a dozen colorways). Through Wakanine.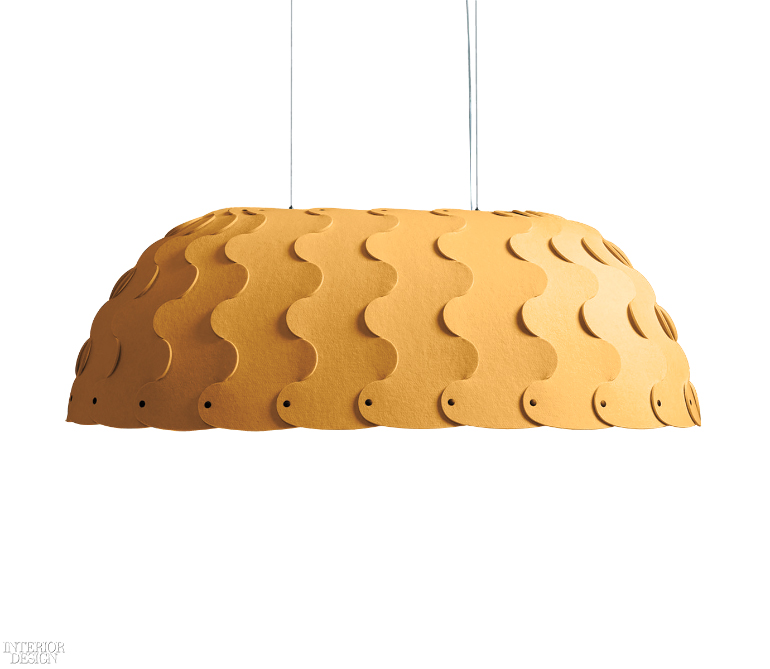 8. Félix Guyon and Audrée L. Larose of Larose Guyon
Product: Otéro
Standout: A necklace-inspired pendant combining dozens of delicate satin copper–finish chains makes the perfect dining room accessory.