8 Simply Amazing Fine Dining Restaurants
In the spirit of Valentine's Day, we round up magnificent restaurants fit for a special occasion.
1. Auberge d'Ill by Jouin Manku
The Hôtel des Berges's 4,250-square-foot restaurant in Illhaeusern, France, is truly exceptional. Patrick Jouin and Sanjit Manku completed a second renovation of the beloved gastronomic institution in honor of its 50th year of Michelin triple-stardom. Jouin describes Auberge d'Ill's update as "an enchanted moment for diners in communion with nature." Reflecting pools of stainless steel are overhead, a panoramic mural and a shimmering wall with embroidered butterflies and paper songbirds adorn the walls, and cerulean and aquamarine carpeting cover the floor, bringing the spirit of the region's river inside.
2. Restaurante Gastronómico by Estudihac
Chef and restauranteur César Anca returned to Madrid with Xanverí, a culinary hotspot that honors "the history of Chamberí and its origin, which date back to Napoleonic times," estudiHac creative director José Manuel Ferrero says. While the first floor houses the casual dining experience La Desenfadada, another area boasts the more formal Restaurante Gastronómico. Restaurante Gastronómico radiates white, gold, and blue tones that emulate the beaches of Madrid, while the seating's blue upholstery embodies estudiHac's "mature Mediterranean" design aesthetic.
3. Jean-Georges Restaurant by Neri & Hu Design and Research Office
Chef Jean-Georges Vongerichten gained acclaim for lightening and brightening classic French cuisine. Vongerichten asked Lyndon Neri and Rosanna Hu to bring a similar aesthetic to the renovation of his 9,200-square-foot Shanghai restaurant. Partitions in gradient glass, framed with brass, define the bar and lounge, show kitchen, and private dining rooms. This was the first refresh for the eatery since it was first completed by Neri and Hu's mentor, Michael Graves, in 2004. "That made it imperative for us to pay homage to the past while looking to the future," Hu said.
4. Nobu Downtown by Rockwell Group
When the first Nobu opened in New York, David Rockwell created a spectacular scene for pioneering chef Nobu Matsuhisha and his Japanese-Peruvian fusion cuisine. "The original restaurant was of its moment," says David Rockwell, who was tasked with the design of a second location, Nobu Downtown. "This one had to be, too. We were exploring, taking creative risks, and following the lead of the food." Rockwell's team made sure the renovation was compliant with landmark regulations and honored Nobu traditions. "We pulled from certain pieces of the DNA, like the river rocks," studio leader Greg Keffer says.
5. Saltz by Rolf Sachs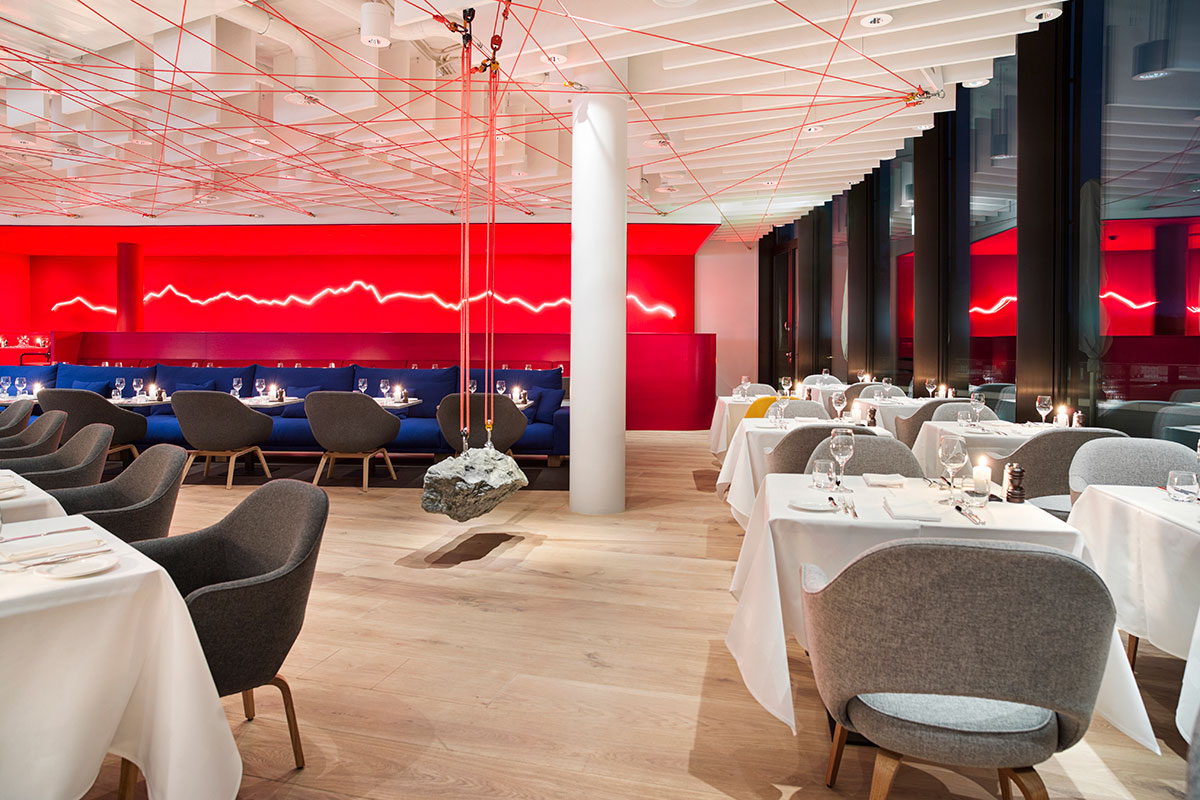 Rolf Sachs, in collaboration with local firm Küchel Architects, designed the five-star hotel restaurant Saltz as an homage to the Swiss Alps, which is particularly fitting considering the 3,000-square-foot eatery is located inside Zurich's Dolder Grand—a hotel with a spectacular view of the Alps. Beneath wide oak floor planks, the ceiling features criss-crossed red mountaineer rope, while a wall boasts a neon fixture that outlines the 182 mountain peaks visible from the restaurant's terrace.
6. Plant Food + Wine by Rene Gonzalez Architect
Karla Dascal entrusted Rene Gonzalez to expand her business headquarters into Sacred Space Miami, transforming the storage area of the former warehouse into a second location for chef Matthew Kenney's Plant Food + Wine restaurant. Gonzalez aimed to create a "a seamless interface between indoor and outdoor," made possible by glass panels that fold away to remove the venue's front wall. Gonzalez focused on how to accommodate both casual and formal at the same time, where a group of coworkers toting laptops or a solo guest reading a magazine can all feel at home.
7. Rainbow Room by Gabellini Sheppard
The updated renovation of the iconic 4,900-square-foot Rainbow Room by Gabellini Sheppard Associates still evokes the white-tie-and-tails elegance of the 1930's. "We maintained the room's existing configuration while making material alterations to the floor, ceiling, and wall surfaces, most of which had been replaced in various renovations over the years," Michael Gabellini says. The firm restored many of the original furnishings, adding even more sparkle to the dazzling eatery. "It's theatrical," adds Kimberly Sheppard.
8. Enigma by RCR Arquitectes
Chef Albert Adrià wanted "something very singular, different from the other restaurants around" for his latest eatery. Enigma, part of his El Barri project, is a 6,000-square-foot experimental sci-fi production by Rafael Aranda, Carme Pigem, and Ramon Villa. Up to 28 patrons a night embark on a culinary journey of 40-plus plates from seven stations, including an aperitif bar and a teppanyaki grill. Diners are immersed in a bluish-green world that is organic and high-tech, where translucent resin barrel chairs and pedestal tables appear to have been chiseled from ice caves.