8 Simply Amazing Outdoor Living Areas
Homes master indoor-outdoor living with retractable walls, expansive decks, and more.
1. Mexico City House by Ezequiel Farca + Cristina Grappin
Ezequiel Farca + Cristina Grappin were tasked with remodeling a 1970's house in Mexico City, which they transformed into an exemplar of indoor-outdoor living. Hidden doors and movable screens create a seamless relationship between the living room and garden with walls of frameless glass and sheer drapes.
2. San Francisco Home by CCS Architecture and Subject to Change
CCS Architecture and Subject to Change teamed up to transform a 4,000-square-foot abode into a completely customized hangout for social gatherings and work meetings alike. "The client was looking for a sense of simplicity and freshness, as well as fun and delight," Subject to Change principal Akemi Tamaribuchi says. They wanted to pay a similar level of attention to the outdoor spaces as they did inside. The terraces each have their own attraction: an outdoor kitchen and fire pit, a hot tub, and a sunning area with chaise lounges.
3. Los Angeles House by Minarc
This dwelling by Minarc features an easy-breezy floor plan. An alfresco forecourt leads into the 2,800-square-foot home's main level with an unencumbered access to the outdoors and the dining "room" is actually a covered breezeway. Glass sliders in the kitchen and living area walls disappear, allowing unobstructed views to a small side courtyard and a pool at the back.
4. Weekend House by CCS Architecture and MODE Interior Designs
CCS Architecture and MODE Interior Designs designed a Hamptons retreat with West Coast sensibilities for a bicoastal client. She wanted a "rustic, low-key, quietly luxurious" weekend house, inspired by modernist residences and clustered wooden barns. Two sets of glass doors open onto an exterior dining area, and the backyard features a pool and four lounge chairs on the wooden deck.
5. Amagansett Pool Pavilion by ICRAVE
ICRAVE designed a pool pavilion perfectly in tune with the Hamptons beach vernacular. The pool and its pavilion form the centerpiece of the Amagansett property. ICRAVE added a two-part structure with a guest room at one volume and a spa concept with a sauna and hammam on the opposite end. The pavilion's doors open onto the pool and a central sunken lounge sheltered by an aluminum canopy. "It's about the elements and being outside," principal Lionel Ohayon says.
6. Butterfly Form House by UNStudio
UNStudio designed a 4,400-square-foot house in the Netherlands to fit the client's request for a "hedonistic zen" house. Different parts correspond to particular features of the landscape: the town, the sea, the woods, and the polder, a distinctly Dutch type of pasture on reclaimed wetlands. To enhance the view, UNStudio raised the public space on a platform. Principal Ben Van Berkel brought the landscape indoors as the house embraces inlets of grass, plants, and mini-ponds. Out back, an ecological "swimming pond," a pool purified naturally by plants, sits beside the garden.
7. Dubai House by Tihany Design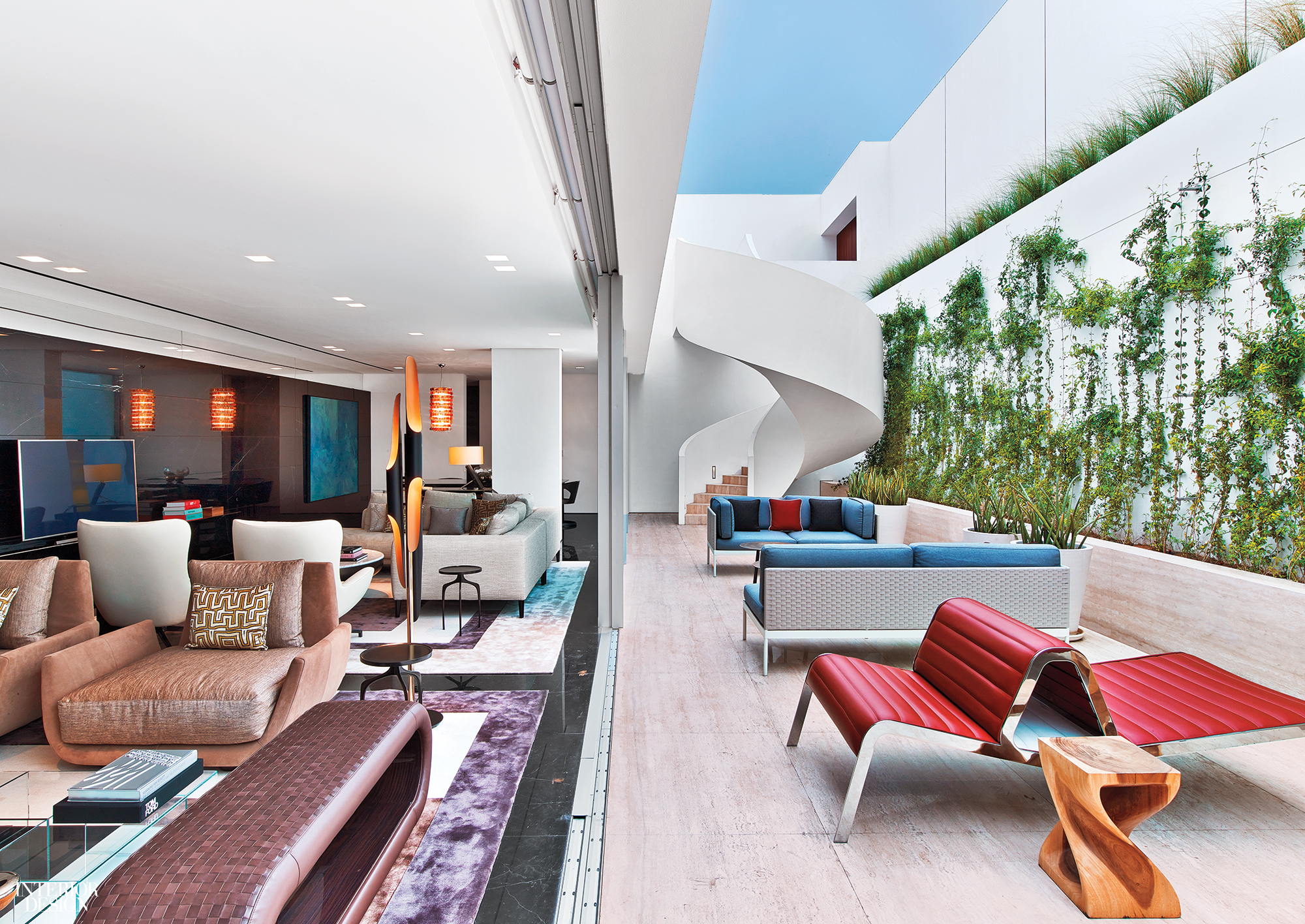 For Tihany Design's first residential project in 25 years, Adam Tihany designed a Dubai residence as an update on the traditional Arabian courtyard house, with glass doors to slide open to the outdoors from various rooms. For continuity from the inside, outdoor furniture is similarly low-slung and massive red seating options rule the courtyard and patio.
8. Nantucket House by Workshop/APD
Workshop/APD aimed to bring modern flair to this Nantucket weekend house. A series of cedar-clad pavilions compose the 9,300-square-foot compound: main house, guest house, studio, and garage. The buildings are all arranged for seamless indoor/outdoor living. The structures open on a deck leading to the infinity pool, hot tub, and fire pit.