8 Simply Amazing University Buildings
Outside the classroom, students and faculty can't help but stay engaged thanks to these stimulating university buildings. For more inspiration, check out our educational spaces board on Pinterest.
Learn in Style in These Striking University Buildings


While designing Pratt Institute's new film and video department, alumnus Jack Esterson, then of now-defunct WASA Studio, was determined to maintain the big-box feeling of the 23-foot-tall column-free interior of the prefab metal building. To accommodate Pratt's myriad requirements for the facility—a recording studio, a sound stage with an "infinity" green-screen for video shoots, a screening room, and more—Esterson created independent volumes, each distinguished by a series of shapes cut out of the aluminum wrapping, that either seem to float or, in some cases, actually do.


Sunlight, regarded as a building material by John Friedman Alice Kimm Architects, floods Roberts Pavilion at Claremont McKenna College. A campus hub for meet-ups, study groups, and numerous college organizations in addition to the expected basketball games and workouts, the pavilion's creamy exterior surface of terra-cotta panels is punctuated by vertical strips in the college colors, cardinal red and golden yellow, as well as white. Inside, the college's name is spelled out, in relief, against a backdrop of letters, symbols, and words from the 10 languages most commonly used on campus.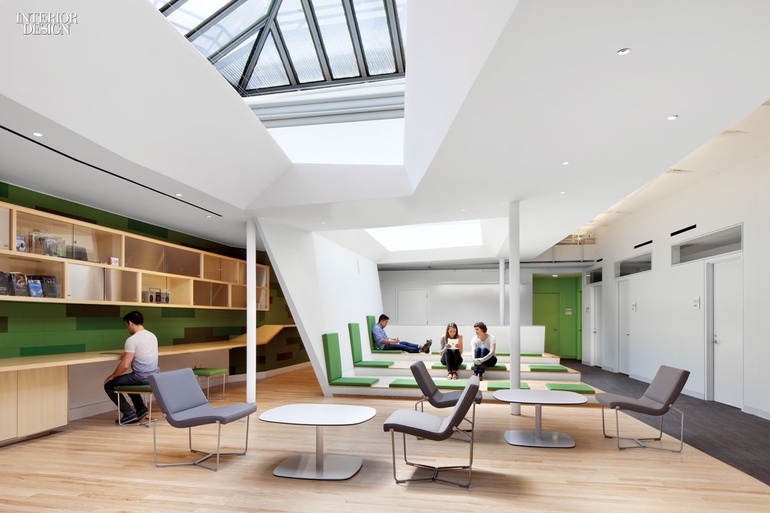 In the Steinhardt School of Culture, Education, and Human Development, New York University's teacher's college, LTL Architects incorporated elements from disparate fields of study, everything from engineering and health care to studio art, into an innovative design that resulted in a LEED Gold designation for the 1930 building. Spread over seven floors, each department has a central core with its own distinct character. Other cores, each beneath a sculptural canopy, contain lounges in which students and faculty from different departments can interact.
University of Kansas School of Business dean and professor Neeli Bendapudi had clear ideas for the school's new home, Capitol Federal Hall. To prepare their winning proposal, a team of Gensler architects researched business incubators, airports, religious institutions, universities, and corporations. In the central atrium, Bendapudi's emphasis on community, connections, and sight lines resulted in a zigzagging steel staircase with views into the glass-fronted offices, tutoring stations, conference rooms, and lounges. Near the base of the staircase, tiered seating references the university's hilly terrain and features moveable, student-designed benches. Long, art-lined corridors encourage students and faculty to stop, observe, and communicate between classes.
5. NEW-Blauhaus by Kadawittfeldarchitektur
Inside New-Blauhaus' distinctive shiny blue façade are administrative offices, a library, a student innovation lab, an incubator for start-up businesses, and a customer service center for NEW, an energy and water company. The Passivhaus project, designed by Kadawittfeldarchitektur, promotes the latest developments in energy while offering joint occupancy to the Hochschule Niederrhein, University of Applied Sciences, and NEW.

After a 1930's structure containing student studio space flooded, the University of Iowa hired Steven Holl Architects, who had recently completed the nearby Art Building West, to transform the space into a visual arts facility for young artists. In the new five-story building, panels of zinc and perforated stainless steel leave the interior's concrete structure exposed while strategic cutaways allow for natural light and ventilation. With the building's bones so clearly on display, architecture and interior merge—a fitting metaphor for a highly interdisciplinary approach to art-making.
The sense of rhythm shared by music and rowing informed the design of the CHK Central Boathouse, a facility for the University of Central Oklahoma women's crew team and a cultural amenity that includes an art gallery and theater for both the school and the city. Designed by Elliott + Associates Architects, the triangular structure contains a gallery with rotating exhibitions by students and local artists, highly polished concrete that mimics the surface of a lake in the theater, and golden yellow LEDs, reminiscent of the rowers' gold-and-blue jerseys, that shine through the theater's two window walls.
Refreshing a campus student center is a way to stoke home-team pride while attracting potential students and faculty. In a collaboration between three separate Perkins + Will offices–Dallas, Atlanta, and Chicago–the University of North Texas's university union was renovated and expanded. The building now features colored LEDs at entryways to mark special events throughout the academic year, lyrics of the university fight song set into the white terrazzo flooring, and words from the university values statement hanging overhead.