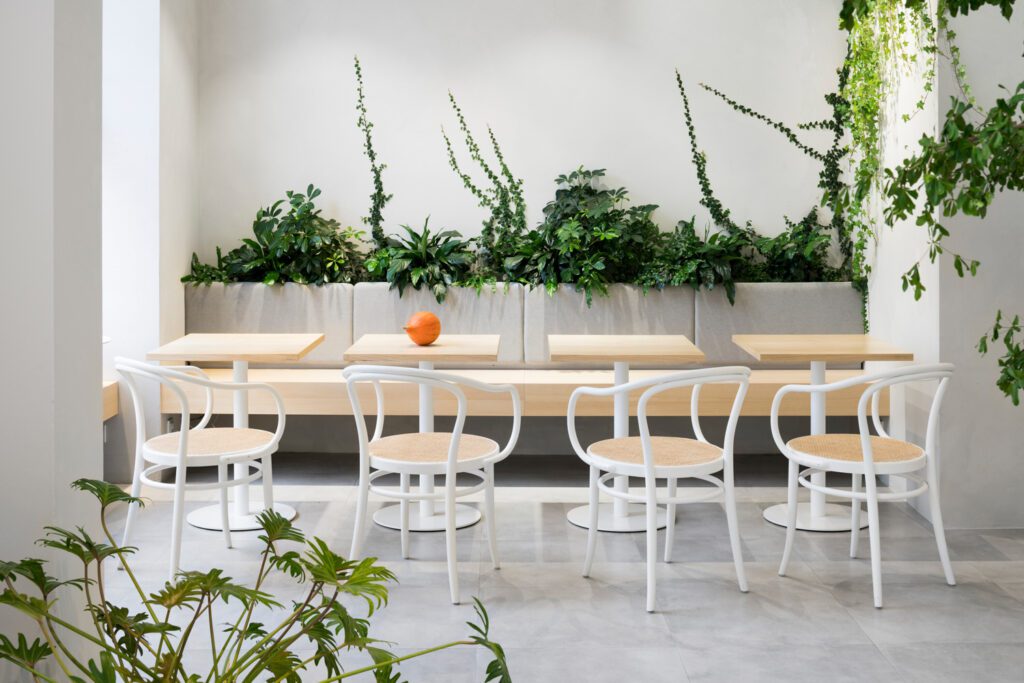 A Greenery-Filled Prague Bistro by Esté Architekti
A shadow-casting haiku in the window of a vegan bistro in Prague invites passersby to stop and think. "I'm slowing down / I'll come much later / But I see more," reads the haiku by Petr Petřiček when translated. It's the elegant and modern simplicity that the bistro owners are hoping will interest potential guests.
When the team at Esté Architekti first started working with the Prague-based vegan restaurant Loving Bistro about five years ago, before interior design became a key feature of the Loving Bistro franchise, they were delivered a concise brief: a little bit of warming wood and a lot of interior greenery. Since then, a total of six locations have been renovated based on the initial concept design with Loving Bistro—Letná being the fourth and having benefitted from a more developed vision.
Loving Bistro Letná features clean, minimalist surfaces in a light-filled corner spot in Prague's Letná neighborhood. A self-service buffet made of white technistone and ash anchors the space while painted steel and touches of colorful tile add bites of interest. Plenty of interior greenery reinforces the plant-based mission of the restaurant while adding a calming element to the atmosphere. The kitchen was also reorganized and made as compact as possible so as to maintain the open airiness of the sun-soaked bistro.