A Tall Drink of Water: An Unconventional Water Tower in Spain
To tolerate the summer heat in Spain's Extremadura region, bordering Portugal, locals quench their thirst with glasses of rioja or cold San Miguel beer. Water is hard to come by. Severe droughts punctuate the region's history, best known for unleashing such household-name conquistadores as Vasco Núñez de Balboa, Hernán Cortés, and Hernando de Soto on an unsuspecting hemisphere.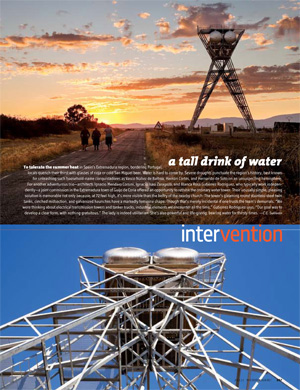 For another adventurous trio—architects Ignacio Mendaro Corsini, Ignacio Isasi Zaragozá, and Blanca Rosa Gutiérrez Rodríguez, who typically work independently—a joint commission in the Extremadura town of Guijo de Coria offered an opportunity to rethink the ordinary water tower. Their unusally simple, pleasing solution is memorable not only because, at 72 feet high, it's more visible than the belfry of the nearby church: The tower's gleaming round stainless-steel twin tanks, cinched midsection, and galvanized haunches have a markedly feminine shape.
Though that's merely incidental if one trusts the team's demurrals. "We were thinking about electrical transmission towers and tanker trucks, industrial elements we encounter all the time," Gutierrez Rodríguez says. "Our goal was to develop a clear form, with nothing gratuitous." The lady is indeed utilitarian. She's also powerful and life-giving, bearing water for thirsty times.