Abruzzo Bodziak Favors Fatigues Green For Maharishi's U.S. Flagship in New York
On the ground floor of a landmarked TriBeCa building, a certain slice of the L-shape floor plate has had many iterations since its 1867 construction: architect's office, sneaker shop, bookstore. The latest is the U.S. flagship of Maharishi, the first stateside store for Hardy Blechman's military-inspired label, which he founded in London in 1994 and is now experiencing a comeback. Blechman turned to husband-and-wife architects Emily Abruzzo and Gerald Bodziak, partners of the namesake studio they launched a decade ago, to convert the 1,300-square-foot former bookstore into one befitting the environmentally sound, fair trade–produced utilitarian clothing—think upscale cargo pants and hoodies—it would be showcasing.
Like Manhattan itself, Abruzzo Bodziak conceived the front of the double-height store as a grid, flanking it with wooden frames outfitted with rods and shelves, organizing the space into a series of rhythmic bays. It's a "building within a building," Bodziak says—a contemporary intervention in a historic shell. Toward the back, the firm inserted a mezzanine reached by a staircase, its balustrade of white perforated steel inspired by armory storage fronts.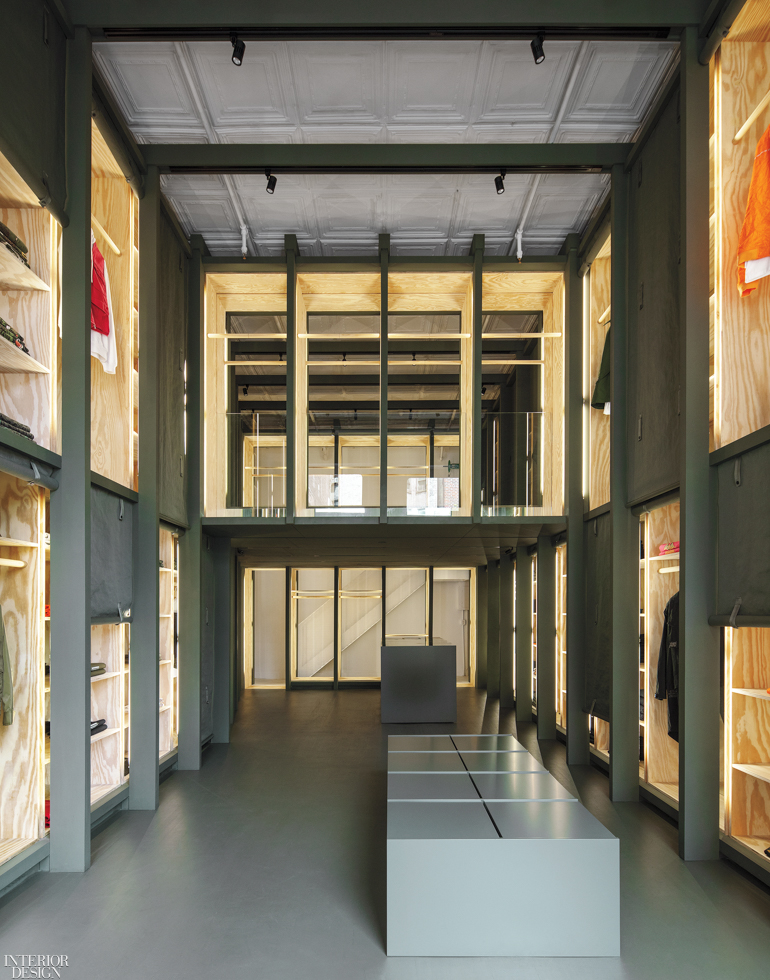 The couple then coated nearly everything else, including the bench seating, cash wrap, and existing pine floor—"polyurethane-ed to an inch of its life," Abruzzo notes—in a matte fatigues green. Furthering the theme, lengths of custom waxed Japanese cotton, color-matched with the paint, and referencing canvas army-truck enclosures, were installed at the top of each display bay. Sales associates looking to change up the look of the store or for storage can unroll the fabric half or all the way down over a bay or two, securing the panels with snap-close nylon straps. When the panels are up, rear mirrors reflect the reverse of clothes, say an embroidered dragon on the back of this season's bomber jacket.
Blechman is essentially an expert in camouflage—he wrote a 944-page book on the subject. So Abruzzo and Bodziak searched for a detail that would reference the pattern without being too literal. They found it in the pine plywood lining the bays and mezzanine, selecting a species with just the right knots and grain.
Emily Abruzzo and Gerald Bodziak: A Few of Their Favorite Things
Supplier: McMaster-Carr, which sells everything from raw metals to utilitarian furniture.
Photographer: Candida Höfer, especially her library images.
Book: Architecture in the Shoin Style: Japanese Feudal Residences by Fumio Hashimoto, it's a great resource.
Installation artist: Taryn Simon, particularly her A Cold Hole, where participants jump into icy water.
Textiles: They are an under-used architectural material.
Collaborator: James Buckhouse—his work across aesthetic genres is an art in itself.
Instagram: @abruzzobodziak
Resources: Throughout, Levelcraft: Custom Bench, Custom Cash Wrap. Curtains For You: Custom Display Panels. Contech Lighting: Track Lighting. Abbot Paint & Varnish: Paint. Star Snaps NYC: Straps. Dot Dash: Lighting Consultant. A Degree Of Freedom: Structural Engineer. Devon Turnbull: Design Consultant. K2: General Contractor.