Acompanya'm Therapeutic Unit by Rai Pinto Studio And Rubio Arauna Studio: 2018 Best of Year Winner for Greater Good
Siting a mental health center in the annex of an early 20th-century monastery posed numerous challenges, most notably conforming to local heritage restrictions and strict patient safety requirements. Part of Sant Joan de Déu Barcelona Children's Hospital, but a few miles from its main building in Barcelona, the residential facility Acompanya'm Therapeutic Unit treats teenagers and children with a range of psychological conditions. "It's a vulnerable population at risk of social exclusion," says interior designer Rai Pinto Estrada, who collaborated on the project with graphic designer Dani Rubio Arauna.
Inspiration for the scheme came from the neo-Gothic building itself, rehabbed by Barreiro-Eskubi-Turró Arquitectes. Historic details such as brick arches, restored and waterproofed, add warmth to common areas and sparked the graphics program's colorful extruded shapes. Those abstract motifs are painted on walls throughout the 15,000-square-foot, three-story space and are even emblazoned on durable acrylic bedcovers and window film.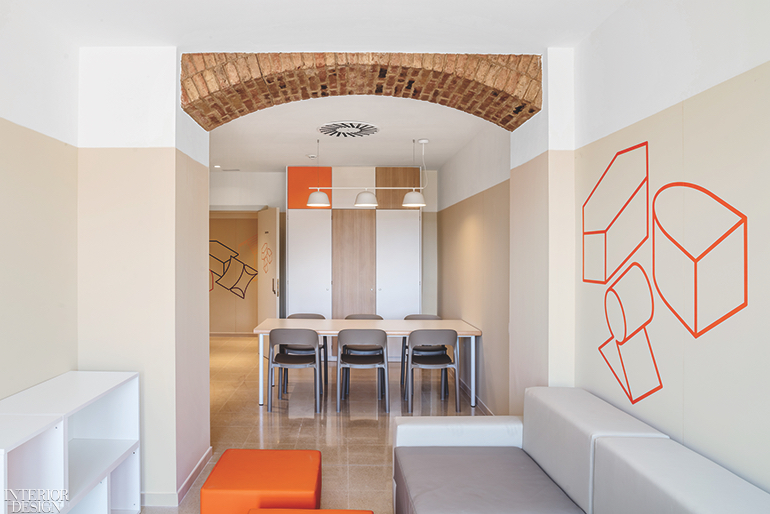 To encourage the development of interpersonal skills and inspire a feeling of connectedness, the team carefully linked sleeping quarters for the 30 patients with shared spaces. Suites outfitted with custom furniture have their own identity while integrating into the larger project via color coding and graphics. In this way, the dignified design doubles as a teaching tool, signaling to patients that individuals are always part of the larger community.
Project Team: Rai Pinto Studio: Mireia Sandoval Flores; Berta Comellas Estapé; Ainhoa Mur Pallàs. Rubio Arauna Studio: Pablo Estarriaga; Pol Pintó.
> See more Best of Year Project Winners from the December 2018 issue of Interior Design