Aidlin Darling Design Carves Out a Soaring Home on a Bay Area Precipice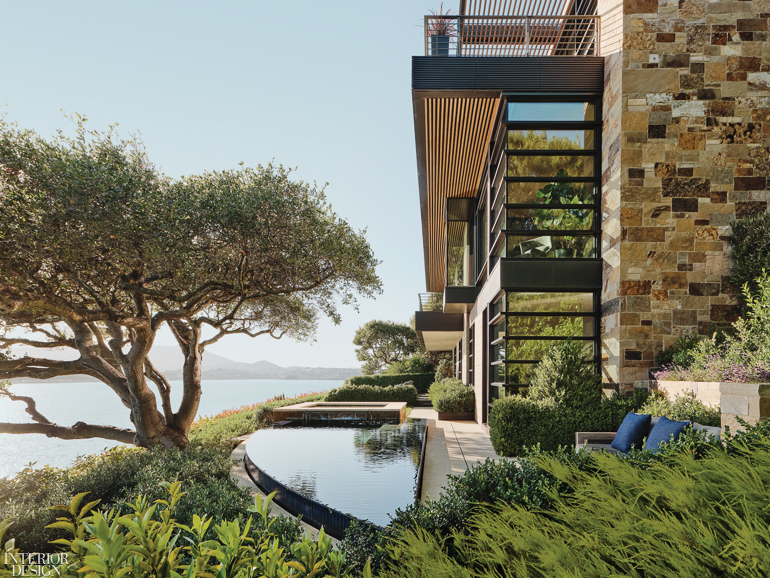 Tucked into a wild, rugged setting—a steep hill on windswept Belvedere Island near San Francisco—this house by Aidlin Darling Design is at once resolutely modern and yet looks as if it's always been there, with crisp stone walls and deep timber overhangs that seem rooted in the earth. "The structure feels very permanent," principal and cofounder Joshua Aidlin affirms. Building such a house on such a site takes more than a little ingenuity, and the firm, having completed other projects on the island, was familiar with the rigors of the task—the primary challenge being to design something grounded that would offer shelter from the harsh elements. "There's sun and glare, and the winds that come off the bay are intense," Aidlin reports.
The client, Todd Chaffee, a venture capitalist and philanthropist who's built five previous homes and loved the process, was deeply involved in all aspects of the design and execution. His vision was for it to be modern but not cold or high tech, to utilize organic materials, and to abet indoor/outdoor family living; he lives with his wife, Kat, and their three children. "I wanted lots of exterior living spaces and a central courtyard off the kitchen and dining room that was protected from the wind," Chaffee explains. Given the relatively high density of homes on the island, carving out privacy was also key. "The goal was to create something that felt like an oasis in nature," Aidlin Darling senior associate Adam Rouse recalls.
The formal language of the C-shape house, which enfolds a courtyard, takes cues from the vertiginous terrain. Walls are mostly mortar-set stone or board-formed concrete, the latter tinted to give it a warmer rammed-earth tone and then sandblasted for a softer, less industrial look. "The heavy, monolithic quality of the walls anchors the house to the precipitous drop of the hillside, so you feel nested into the site as you descend through it," Rouse says.
Extensive greenery conceived by Blasen Landscape Architecture further grounds the house in its context and helps stabilize the hillside. The copious plantings break up the heavier linear aspects of the architecture, adding a fluid and rhythmic element to the steadiness of stone and concrete. "Conceptually, the garden emphasizes green forms, texture, and drought tolerance; it's not about lots of flowers," firm founding principal Eric Blasen says. "The client wanted privacy, so the strategy was to add lot of planting such that people couldn't see in." A great deal of care was taken to preserve the abundance of live oaks and Monterrey pines that blanket the half-acre site, and to insert new species, such as the courtyard's olive trees, which came in by crane.
The architects dubbed the project Lattice House, referring in part to the long brise-soleil along the water-facing west side, which provides protection from the sometimes oppressive sunshine. Crafted of Western red cedar, the element continues inside to form the ceilings. Outside, the rough-sawn timber is finished with a semitransparent stain; inside, it's left unpolished and unsealed to absorb rather than reflect the intense light. The house's nickname also references window slatting and interior screens that divide space and filter light, inviting a play of verticals and horizontals. "We used them very strategically to edit transition points throughout, giving a sense of pause," Rouse says.
The six-bedroom property is, in some ways, a home with no egos. The 7,170-square-foot interior encompasses a series of linked rooms with equal stature, each element deferring to and segueing into the others. It's characterized by a layering of subtle texture, the inviting warmth of the materials, and meticulous attention to detail. "Josh is a master of quietly revealing the beauty of a home room by room rather than having some huge, grand entrance that speaks loudly before someone even gets to the front door," Chaffee notes. For the decor, overseen by Shelley & Company Interior Design, "the driving aesthetic was for the home to feel luxe but also approachable and warm, like the clients," principal Shelley Cahan says. To accomplish that, Cahan and her team curated timeless, modern furnishings in a natural palette that honored the architectural details, surrounding landscape, and sweeping views of Richardson Bay, the Golden Gate Bridge, Mount Tamalpais, and Sausalito.
"The finishes and materials were carefully chosen to echo the sleek and exacting architecture," Cahan continues. Top-flight pieces from Christian Liaigre, Holly Hunt, Alison Berger, and Berman Rosetti were selected for their perfect sense of scale, expert craftsmanship, and sumptuous fabrics and leathers. As such, the furniture, like the other elements, is holistic, blending in rather than begging for attention. "Todd didn't want a lot of fine art distracting from the view; he wanted the design to be more ambient, serene," she says. "So the decor is fairly sparse. Not a lot of tabletop or floor lamps, for instance."
Some of this the client no doubt absorbed from working collaboratively with his architects. Says Chaffee, "I learned quite a bit from Josh and Adam in the process—most importantly, how they keep key design elements quiet and elegant." This masterpiece is a case in point.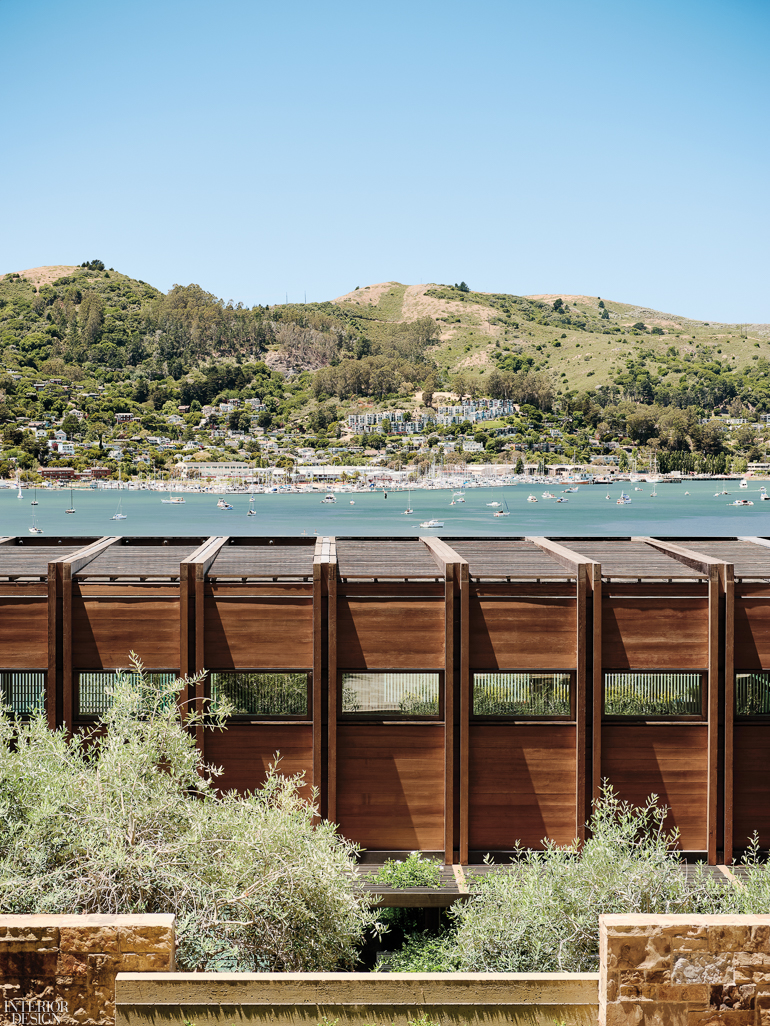 Project Team: Leonard Ng, Michael Pierry, Cherie Lau, Raissa Vieira: Aidlin Darling Design. Blasen Landscape Architecture: Landscape Consultant. Shelley & Company Interior Design: Interior Design. Matarozzi Pelsinger Builders: General Contractor. Berkeley Structural Design: Structural Engineer. Axiom Engineers: MEP. Boxcabco: Woodwork, Cabinetry, Stairs. Revolver Design: Lighting Consultant. ILS Associates Inc.: Civil Engineer. Orion Construction Managers: Construction Management. Ferrari Moe: Waterproofing.
Product Sources: Holly Hunt: Sofa (Living Room). Liaigre: Coffee Table. Through Design Within Reach: Lounge Chair, Ottoman. Caste: Lounge Chairs. Joseph Jeup Through De Sousa Hughes: Console. Sutherland: Seating, Tables (Balcony, Courtyard). Sun Valley Bronze: Cabinet Pulls (Kitchen). Franke: Sink. Dornbracht: Sink Fittings. Viking: Microwave. Fox Marble & Granite: Countertops (Kitchen), Custom Vanity (Bathroom). Sound Vision: Custom Acoustic Wall Panels (Media Room). Sony Through Sound Vision: TV. Through Design Within Reach: Chair (Bedroom). MTI: Tub (Bathroom). Haussmann Natural Stone: Shower Tile. Rohl: Handrails. Waterworks: Showerhead, Tub Fittings. The Urban Electric Co.: Custom Pendant. Custom Glassworks: Custom Mirror, Shower Door. Throughout: Duratherm: Custom Windows. Arc Wood + Timbers: Reclaimed Timber. Benjamin Moore & Co.: Paint, Stain. Wheeler Zamaroni: Stone Veneer, Pond Tile. Aurubis Buffalo: Copper Cladding. Partners Contracting: Custom Concrete Flatwork. Flying Turtle Cast Concrete: Custom Hearths. West Edge Metals: Custom Railings. Dasal Architectural Lighting: Ceiling Lights.