Allied Maker, Purveyor of Artisan-Crafted Lighting, Sets Up Shop in TriBeCa
TriBeCa's renowned design district has welcomed its newest resident. Long Island–based lighting manufacturer Allied Maker has inaugurated a storefront on Franklin Street, bringing a curated selection of artisan-crafted fixtures to the design-friendly locale. The showroom, which now boasts Le Corbusier–inspired archways and pristine white walls after a lengthy restoration process, feels right at home among other neighborhood mainstays such as R & Company, Patrick Parrish Gallery, and David Weeks Studio.
Husband-and-wife founders Ryden and Lanette Rizzo had carte blanche—the storefront, an erstwhile dentist's office, had fallen into disrepair, so a total overhaul was necessary. But creating a space true to the brand's ethos wasn't the most seamless process. "One of the main challenges was being able to encompass our entire collection," they recall. "Instead, we limited the selection to a taste of our offerings and intentionally created an open space that gives one's imagination room to run."
To accomplish this, they oversaw every last design detail and selected materials that reflect the brand's values. For example, flooring is desaturated quarter sawn white oak planks—the same cut used for their fixtures. And when the market failed to deliver suitable baluster hardware for the staircase, the duo took it upon themselves to hand-fabricate custom pieces in-house. (They enjoyed the process so much that hardware will soon be a permanent offering).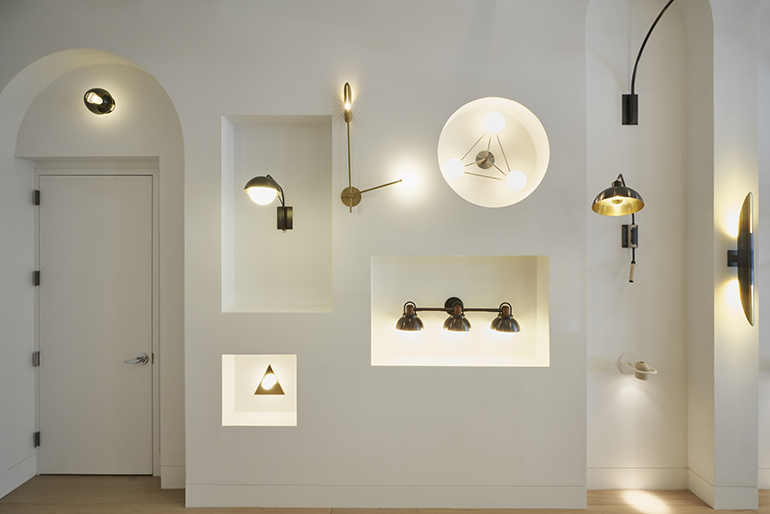 The end result saw nearly every element touched by a craftsman. "We're really proud of the space we created," the duo says. "It's the perfect canvas to imagine."