Anacapa Architecture, Geremia Design, and M-Rad Architecture Create AutoCamp Yosemite
No one visits Yosemite National Park to stay inside. The whole point is to commune with nature, the Sierra Nevada Mountain landscape specifically. Which was the driving force behind AutoCamp Yosemite, a hotel by Anacapa Architecture and Geremia Design. Although "high design" and "boutique" could be used as descriptors, it's no typical hospitality project. The 102 rooms are a collection of custom Airstreams, luxury tents, and freestanding cabins. Its two-story clubhouse looks more like a contemporary home than reception. Guests can hike the park and "get a little bit woodsy," then go to sleep on a Tempur-Pedic mattress in a Wi-Fi–equipped, temperature-controlled setting.
Some would be tempted to call what AutoCamp does "glamping," but the brand prefers "an outdoor hotel experience." This third, and largest, location, had camping in its DNA: The 35-acre setting, located 25 miles from Yosemite, was formerly a Kampgrounds of America site. Anacapa made use of the existing infra- structure and roads during construction but it's now a car-free retreat. An expanse of concrete next to what is now the clubhouse, where campers would park their RVs, was turned into a lawn with a fire pit, and the entrance was reoriented to let the clubhouse act as a transition for guests to leave their vehicles behind.
Made with walls of windows that slide open, the two-story clubhouse functions not only as reception but also a gathering place. "Our goal was to connect guests to nature—and to each other," Anacapa founder Dan Weber begins. A heated swimming pool and a freestanding meeting room on the second level overlook the lawn and fire pit. Inside the clubhouse proper, a circular fireplace is the centerpiece of the lounge, which Lauren Geremia outfitted with pieces by small studios: deep club chairs by Crump and Kwash, a long communal table by Crow Works. It's carefully curated but not precious; the spaces are meant to be used. It's OK to return from a day-long hike, sweaty and covered in dirt, and sink into a leather sofa with a pint of craft beer poured from one of the nearby taps. Furnishings were chosen for comfort and durability. "Between dogs, kids, and marshmallows, everything had to be really washable," Geremia notes.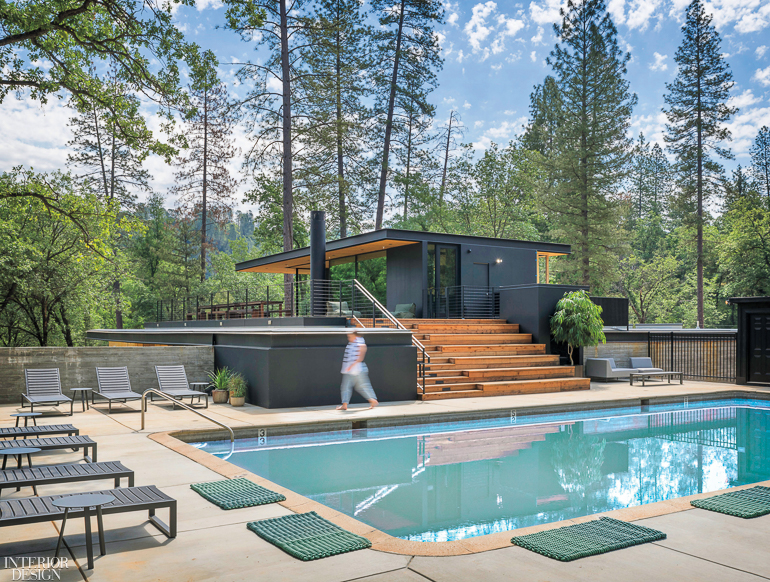 This is the second AutoCamp on which Anacapa and Geremia collaborated, and it was an opportunity for the team to build on and refine their designs. At the start of the 18-month project, Weber and Geremia discussed whether the clubhouse should be a "kit of parts" based on the structure they had designed for AutoCamp Russian River, or if they should design an entirely new building. "When you go to a Taco Bell in Santa Barbara, it looks exactly like the Taco Bell in San Francisco," Weber says. "We didn't want that." Instead, they strove for the clubhouse, and the hotel overall, to have a strong connection to place, while maintaining aspects of the brand. The clubhouse's material palette pulls directly from the environment. Pine was used for exterior cladding, and board-formed concrete with timber impressions forms the walls and floors. But glass and steel components mirror the modern style of other AutoCamp locations.
Site-specific artwork and lighting by Geremia add warmth and intimacy. Behind the reception desk hangs a photograph of Yosemite's iconic Half Dome that she had printed on fabric and stretched across a screen; it hangs in front of a window, filtering light and turning a not-so-great view of another building into an art experience. For a corridor, she worked with designer Rosie Li on a large-scale map installation with lights representing summits guests can hike.
On a path about 50 yards from the clubhouse, the 81 silvery Airstreams are lined up. At 31 feet long, they're like made-for-Instagram tiny homes, featuring large windows, clean-white interiors, separate bedrooms furnished with a queen-size bed, ceramic-tiled bathrooms with a rain shower, and living areas with a sleek kitchenette. It rivals what you'd find in an upscale hotel suite, albeit on a miniature scale. Outside, private lounge areas have a fire pit for open-flame cooking and furniture in the spirit of California modernism. "Everything ties back to what you're experiencing in nature," Geremia says.
The 15 canvas tents are larger than those at the other AutoCamps, but two cabins (renovations of structures from the KOA) and five X suites are new for this outpost. The latter, each 275 square feet, are by M-Rad Architecture to provide handicap-accessible accommodations. "The units don't just serve ADA clients," M-Rad founder and CEO Matthew Rosenberg explains, "we designed them to be the most sought-after." He worked separately from Anacapa and Geremia but echoed their aesthetic language, employing simple, natural materials: American walnut for floors, stone in bathrooms, and blackened-steel exteriors that match the metal of the clubhouse. "When you snap a photo, they look like they're meant to be there."
It's how the entire project feels: like an extension of Yosemite. It's a comfortable entry point to opening yourself up to nature. Maybe it's drinking the Kool-Aid to call it an "experience," but then again, there aren't many places where you can hike to the top of a 2,000-foot waterfall, then come down to sleep on a memory foam mattress wrapped in organic cotton sheets.
Project Team:
Jessi Finnicum-Schwartz; Geoff April; Jose Sanchez; Saba Zahedi: Anacapa Architecture. Stephanie Willemsen: Geremia Design. Patrick Lun; Agustina Alaines; Carlos Augusto Garcia; Etienne Serveau: M-Rad Architecture. Ashley & Vance Engineering: Structural Engineer. JMPE Electrical Engineering: MEP. Quiring: General Contractor.
Product Sources: Nobuto Suga: Custom Benches (Lawn). Amigo Modern: Chairs (Lawn, Fire Pit). Chambers Art & Design: Custom Screen (Reception). Workstead: Pendant Fixture. Shore: Custom Mats (Pool). Diphano through Akula Living: Chaise Longues, Tables, Sofa. Arteriors: Lamp (Lounge). Juniper: Pendant Fixture. Crow Works: Custom Communal Table. Crump & Kwash: Stools, Armchairs. Pfeifer Studio: Cocktail Table. Blu Dot: Sofa (Lounge), Coffee Table (Tent), Ottoman (Airstream Galley). Milgard Manufacturing: Windows (X Suites). Western States Metal Roofing: Siding. Madera; Plant Prefab: Woodwork. Zinus: Bed Frame. Onefortythree: Custom Sconce. Sheridan Tent & Awning: Custom Tent (Tent). Cozumel: Throw Blanket. Kush: Rug. In Common With: Pendant Fixture (Tent), Sconces (Cabin Bedroom). Chop Wood Co.: Custom Headboard (Cabin Bedroom). Kush Handmade Rugs: Custom Rug. Bronsen: Wall Art (Airstream Galley). Throughout: Innovation Living: Futons. Corian: Solid Surfacing. Treko: Throw Pillows.