Go Into the Woods With the Architects at Delavegacanolasso
Tucked into a forested area in Madrid, architects Ignacio de la Vega and Pilar Cano-Lasso designed their cantilevered home to preserve the natural landscape, altering the terrain as little as possible. After countless picnics on-site to dream up the ideal house, the architects and their team at delavegacanolasso opted for a structure that slopes with the land, offering striking views and plenty of space for indoor-outdoor living.
To ensure the earth and surrounding pines were disturbed minimally, de la Vega and Cano-Lasso merged elements available through tini® modules with traditional craftsmanship, such as whitewashed brick walls. "It was a very interesting exercise mixing the on-site work with totally prefab modules, one of them—the office, that was being used as a showroom—came from the north of Spain, and the other two from the west where our factory is," note de la Vega and Cano-Lasso. "Being able to easily complete this puzzle with the on-site works was very challenging and interesting."
The home's structure hovers above the ground, allowing vines and jasmine to flourish beneath it. Outside, pine and gravel steps enliven the winding path to the home's door while the interiors are flooded with natural light thanks to walls of glass in several of the rooms, including the main bedroom. The rooms and bathrooms are tini® modules, though the bedrooms and study are different designs, creating distinct zones for rest and work.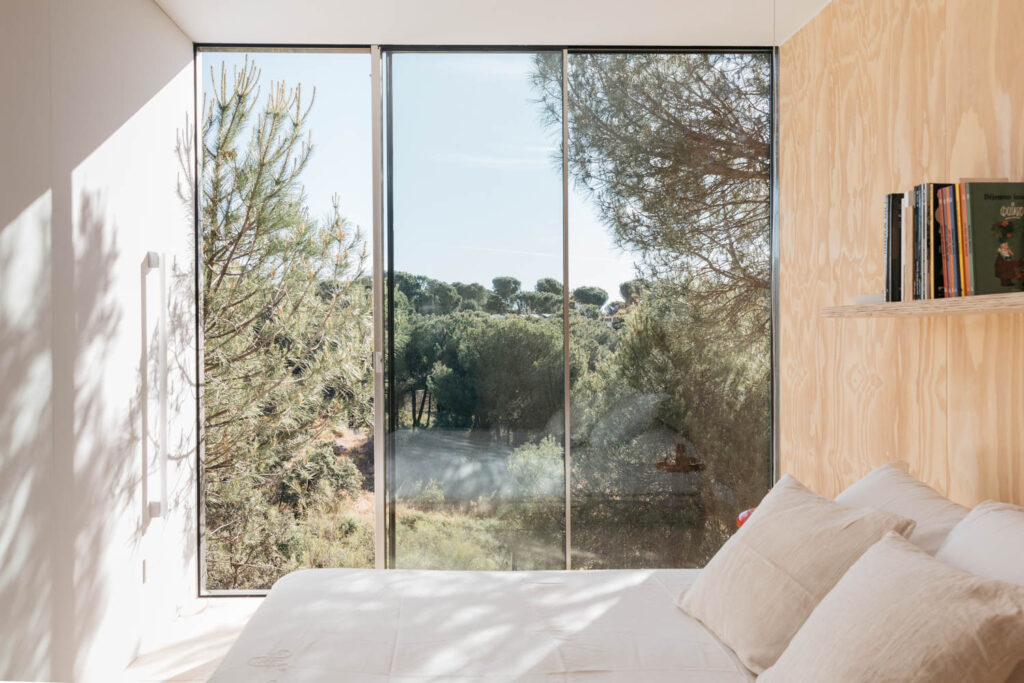 To ensure the interiors stay cool, glass walls and windows are strategically oriented so that they are shielded by the porch area and existing vegetation, providing cross ventilation. The structure also includes heated floors and a cooling system connected to the solar panels in the roof, as well as rain water capture, which is directed into a built-pond used for garden irrigation and cooling by evapotranspiration, or the process of water moving from the earth's surface into the atmosphere.
"This is our own home and, the truth is, we always envisioned our home totally different to what it is. We imagined a house with the traditional architecture of the south of Spain, thick walls around a patio, a very massive and introverted home. But when we got this land we understood this kind of architecture made no sense there, and in a very natural way we design the opposite house, a light cantilevered structure totally open to the view," share de la Vega and Cano-Lasso. "We are very happy, looking back to that process, how clear it was to us despite the preconceived idea we had."
Every aspect of the compact home is designed to maximize living space—and access to the outdoors—while preserving every tree. "We always ask the question: How much do you need?" they add. "We believe that a small house with solar energy is way more stainable than a massive one with nonrenewable sources."
Inside the Forested Home Ignacio de la Vega and Pilar Cano-Lasso