Artful Fabrics Turn Any Room into a Personal Gallery
For designers, the colors and textures of expressionist art are fraught for inspiration. Paintings by Wassily Kandinsky, who used mediums like watercolor and crayon to codify a language of color on canvas, and Willem de Kooning, who layered paint in infinite ways, transformed the art landscape in the twentieth century. Though digital screens command our attention more often than original art, given daily exposure to them, one German-based manufacturer is looking to change that.
In line with the design realm's return to tactile, artisanal techniques, Carlucci di Chivasso by JAB Anstoetz – an interior fabrics and wallpaper brand – draws from the expressionist aesthetic in its latest collection, TREASURES OF TIME. The collection features 18 fabric styles, with patterns ranging from abstract geometric shapes to scenes inspired by Pompeian frescos, in textures like plush velvet and airy linen. Designers will take comfort in the breadth of truly unique offerings, each meant to honor the technical finesse of the Bauhaus era.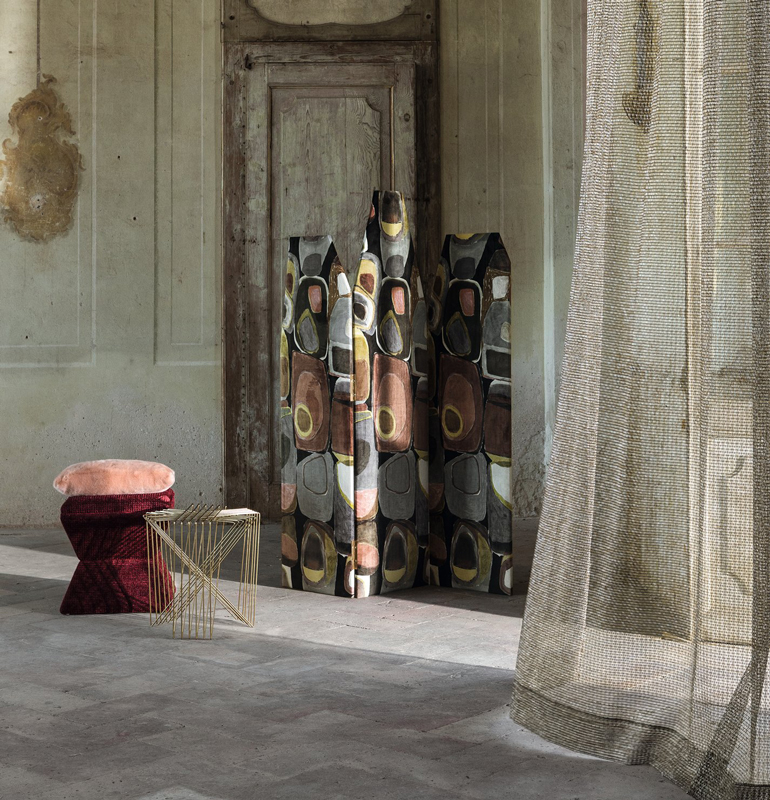 The company's team of in-house artists hand-paint a selection of patterns in TREASURES OF TIME, enabling them to come alive on linen-viscose and velvet. Silk and wool also are used, adding to the bevy of textures, while cool hues, such as Vibrant Jade and Maidenhair Fern, add a touch of mystery along with the warm tones of Golden Ginkgo and Musk Mallow.
"Recycled polyester has been used in order to give the material a current 'green approach,'" says Chris-Jacob Schminnes, President of JAB Anstoetz, in reference to the velvet styles, which reimagine mid-century elements in a contemporary aesthetic.
Though each pattern makes a statement, PAINTBOX, an energetic hand-painted style, is particularly adept at drawing the eye in. It's reminiscent of Kandinsky's early twentieth century work, 'Color Study: Squares with Concentric Circles,' which depicts vibrant layers of stretched and morphed rings within square shapes, giving the illusion of infinite depth. Carlucci di Chivasso by JAB Anstoetz's collection enables designers to use fabric as a stand-alone art piece for interiors.
PAINTBOX, new for 2019, is available in a bold, multi-colored palette as well as more muted natural and metallic tones.