Astet Studio Transports Malaga to Madrid with Sea-Inspired Decor for Lobito de Mar
The gastronomic specialty of Madrid's Lobito de Mar restaurant is written all over its walls—and, thanks to the vision of Barcelona-based Astet Studio—its ceilings, floors, and bathrooms, too. On the ground floor of the 4,700-square-foot-space, the Bar Resalao welcomes guests with walls covered in white fabric braided to mimic fishing nets and backlit with neon shapes bringing to mind creatures of the deep.
Further in, a "shipyard room" is all walnut and terracotta-colored fabric, with walls clad in stainless steel and vintage paintings of the sea. Downstairs, two private dining areas expand beyond a red-tiled lobby: a burgundy ship-shaped room with mirrors acting as portholes, and a sea-blue dining area with a stainless-steel bar. Bathrooms, meanwhile, call to mind fish butcheries—albeit chic ones—with their industrial plastic curtains and concrete troughs.
The result, says Astet's creative director Óscar Engroba, "submerges the ambience of the sea into the capital," while reminding guests that the beach and ocean of Malaga are not far away.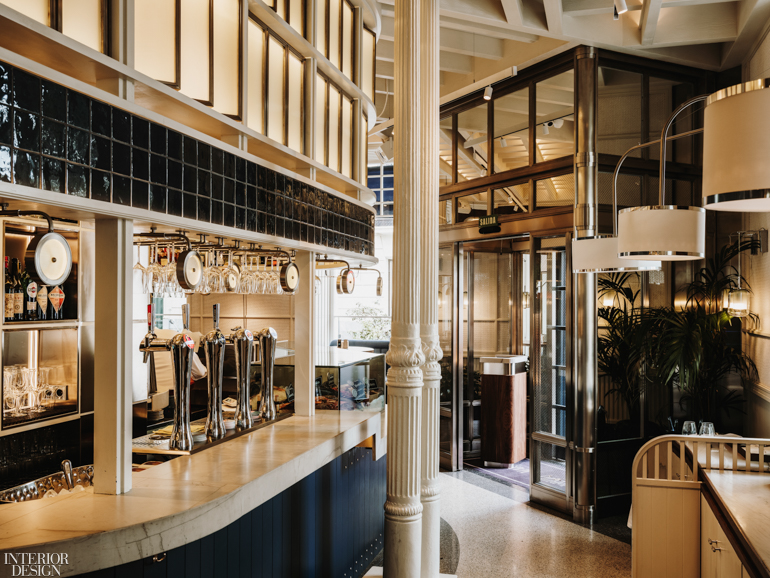 Read next: Osmose Channels Blue Skies and a Brazilian Sunset for Portland's Carioca Bowls