AvroKO Channels Savannah's Hospitality at the Perry Lane Hotel
From a distance, it looks like it's been there for a century. But in reality, the Perry Lane Hotel in Savannah, Georgia, is a new ground-up structure—actually, two structures (more on that later). Its interiors, however, conjure a bygone era, yet still feel fresh and modern. That's the work of AvroKO principals Greg Bradshaw, Adam Farmerie, William Harris, and Kristina O'Neal, who immersed themselves in Savannah, even invented a muse to guide the project, their first in the Hostess City.
But first, the exterior. The hotel occupies two buildings bisected by Perry Street, which runs between the pair of cast-stone facades. (A parking garage and hotel services join the buildings underground.) Because the property is located in the city's Historic Landmark District, it needed to be approved by the Savannah Historic District Board of Review, a process that was navigated with the help of local firm Hansen Architects, which also specializes in historic preservation. "The street is an integral part of the city plan, which was laid out by General James Oglethorpe in 1733," senior principal Patrick L. Phelps says of one of the U.S.'s oldest gridded cities, famous for its charming tree-lined streets and leafy squares. "It was important that we not only maintain the street but also restore it for public use." As such, it was resurfaced with granite pavers reminiscent of the district's cobblestones.
> Watch highlights of Interior Design's Giants of Design 2019 event from Savannah, Georgia
Notable stonework appears inside the 189,000-square-foot, seven-story hotel, too, which has the main reception, the restaurant, and the rooftop pool and bar in one building, and the Andie Kully Boutique, the bar, and conference and meeting spaces in the other; the 167 guest rooms and suites are split between both structures. It's in reception that visitors encounter the first instance of checkered flooring—in this case, black-and-white Italian marble. Check-in proper is a pair of wooden desks, rather than the usual hulking mass. It's AvroKO's effort to imbue the hotel with a warm, residential vibe inspired by the beautiful homes lining the historic district. To further that effort, the team enlisted an art-consulting firm to source an eclectic collection of objects that might appear in the manor of a worldly Southern belle, and the art consultants and designers, in turn, all gave a name to her: Adelaide Harcourt. "We were thinking of Dorothy Draper and other fantastic, powerful, creative women as the general muse," Harris says.
As the story goes, Adelaide is a wealthy heiress with a passion for travel and a penchant for collecting. After jet-setting to New York, Paris, and Istanbul, she returned to Savannah and opened the hotel. A fictional portrait of her graces the ground-floor parlor opposite a Steinway piano. Built-in bookshelves display curios like Civil War bullets on the shelves and in library-style flat file drawers. In fact, nearly 4,000 artifacts and antiques were sourced from Savannah and beyond with the goal of making the property feel lived in. "Savannah and the surrounding areas being such an antiquing culture, we found great, little gems," Harris notes. He and his co-principals also incorporated many pieces brought in by Jon Kully, an architect by training and the managing partner of Flank, which owns the hotel and spent five years bringing it to fruition.
Of the 1,200 pieces of art throughout the site, more than 100 were commissioned specifically for the project. Naturally, the Savannah College of Art and Design was a source. There are pieces by 81 artists with ties to SCAD, including large murals by Kyle Millsap and Marcus Kenney by the rooftop bar Peregrin and in a sitting area, respectively. "Some of my favorite pieces are the looser, rougher things, like the sketches and charcoals on paper," Harris says. "There's a ton of them in the Wayward."
The Wayward street-level bar is one of three dining and drinking venues on the property and the most casual. A motorcycle hangs above the bar and vintage postcards adorn the walls, lending an upscale-dive vibe. Guests can play pinball, Skee-Ball, and help themselves to popcorn from the popcorn machine. Peregrin boasts a deck patterned with gray-and-cream cement tile and fantastic city views, inviting locals and visitors to mingle over cocktails while listening to live music. (The restaurant, Emporium Kitchen & Wine Market, was done by Dash Design.)
> Browse through more hospitality projects featured in Interior Design

The rooms and suites have texture and personality, thanks to abundant moldings and custom millwork, unique artwork, and AvroKO-designed bar carts instead of the typical minibars. Beds boast luxurious padded-leather headboards and feminine sconces. Checkered flooring reappears in the guest bathrooms along with custom vanities topped in black marble. Walls are painted in rich colors like deep indigo. "Blue is a big color story here," Harris explains. "We were riffing off typologies we found in town." He's referring to the area porches with traditional "haint" blue ceilings but also to the city's history as a major producer of indigo dye. Reception's silk wall covering in the shade beckons guests to come make themselves at home.
Inside the Perry Lane Hotel in Savannah, Georgia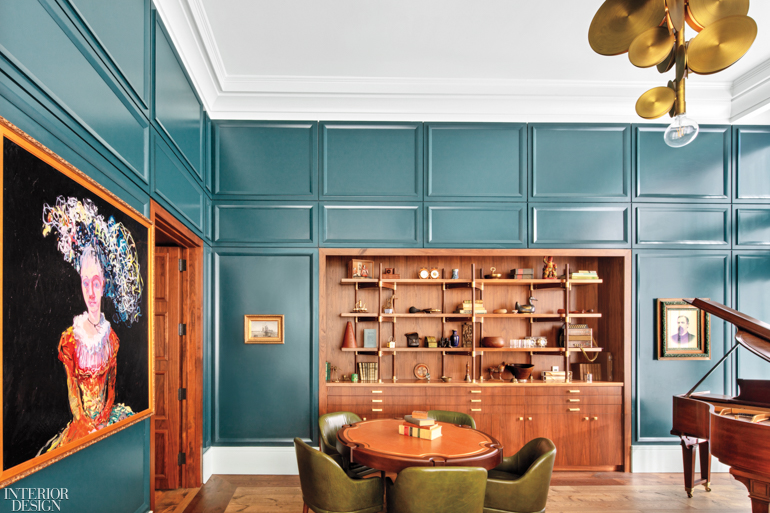 Project Team: Hansen Architects: Architect of Record. SESCO Lighting: Lighting Consultant. NINE Dot ARTS: Art Consultant. Brand Bureau: Custom Graphics. Tharpe Engineering Group: Structural Engineer. RWP Engineering: MEP. Coleman Company: Civil Engineer. Cornerstone Interior Woodworking; Elements Contract Furniture: Woodwork. DPR Hardin Construction: General Contractor.
Product Sources: From Front: Wausau: Windows (Exterior). Wilson Composites; General Shale: Facade Material. Bev­olo: Lanterns. Design Communications: Custom Plant Trough. Southern Pine Company of Georgia: Planter. Phillip Jeffries: Wall Covering (Recep­tion). Daltile: Floor Tile (Reception, Sitting Area, Bar). Decca Contract: Desks (Reception), Tables (Par­lor, Lobby), Sofa, Coffee Table, Side Table (Lounge), Armchairs, Side Tables (Sitting Area), Cus­tom Banquette, Custom Daybeds (Pool Deck). Doris Leslie Blau: Rugs (Lounge). Goodshop Manufacturies: Custom Pendant Fixtures (Lounge, Parlor). RH: Sconces (Lounge, Bar). Circa Lighting: Floor Lamp (Lounge). Menu: Coffee Table (Sitting Area). Rejuvenation: Pendant Fixtures (Bar). Room & Board: Ottomans (Pool Deck). Design Within Reach: Chaise Longues. Tuuci: Umbrellas. CM Hospi­tality: Carpet (Guest Rooms). Moore & Giles: Head­board Upholstery (Double Room). Illumination Lighting: Sconces. Belstone: Custom Vanity. Through­out: Benjamin Moore & Co.: Paint. Junckers Hardwood; Terramai: Wood Flooring.