Back in the Limelight: The Latest Iteration of an NYC Landmark by Mansour Design
If these walls could talk, they'd tell tales of Cornelius Vanderbilt, once a parishioner of the Episcopal Church of the Holy Communion, as well as the drug-fueled '80's club kids at the famous and noto­rious Limelight.
Ushering in the latest chapter in the history of this neo-Gothic brownstone landmark, the Limelight Marketplace has opened as the Flatiron district's answer to the "street of shops" invented at the original Henri Bendel's department store. That retail classic was renovated in the '90's by Mansour Design's James Mansour, who took a similar tack in transforming the 20,000-square-foot church interior.
Against the scant historic details that remained-leaded-glass windows, pointed arches-Mansour laid out 55 boutiques and restaurants on three levels. The assortment is loosely categorized but carefully edited, ranging from Petrossian caviar to Brocade Home bedding. "Uptown merges with downtown. Street meets tradition," he notes, adding that the elaborate storefronts, such as It'Sugar's pink jelly beans suspended in resin, afford visitors a "Technicolor stroll." The phase-two influx includes an outpost of Brooklyn pizza legend Grimaldi's.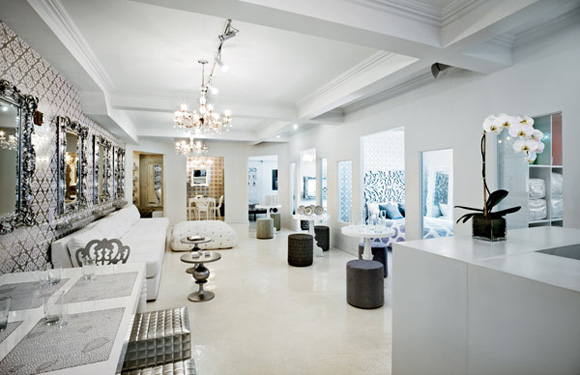 Photography by David Joseph.