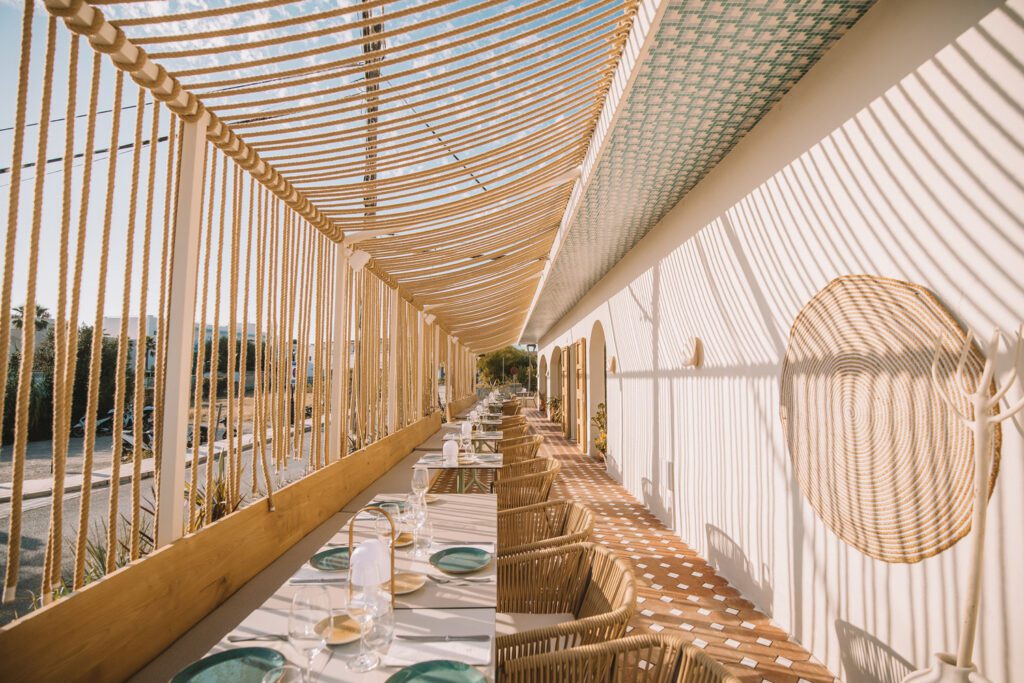 Balearic Island Charm is on Display at This Local Restaurant by Destudio Arquitectura
Located at the southernmost tip of the Balearic Islands, the autonomous community Formentera is smaller and quieter than nearby Ibiza. But that only adds to its considerable charm, which on display at the Mediterranean restaurant Ritmo Formentera. Destudio Arquitectura renovated the 5,250-square-foot, two-floor beauty, located on the center of the island, with an eye on the celebrated the local landscape.
"Ritmo Formentera has been a challenge for us, as it is our first restaurant project," says architect Gabi Ladaria. "Knowing how to reflect the island and Mediterranean atmosphere was our main goal, so we wanted to take care of all aspects of the design to the smallest detail." Destudio emphasized semicircular arches throughout: The shapes lend a graceful air to the first floor dining area, and reappear as artworks across the walls of the elevated terrace. They also form mirrors in the bathrooms, where a clay lattice creates privacy. Deep terrazzo sinks lend weight to the otherwise buoyant palette of terracottas and aquamarines throughout.
But the real action is upstairs. A rustic pergola showcasing the weathered patina of chestnut and eucalyptus wood includes seriously handsome communal tables beneath wicker lighting swinging in the breeze—and actual swings for partiers (or their kids) to play on. It's the perfect spot, after a day on the beach, to watch the sun go down and the famed Balearic nightlife light up.