Baranowitz + Kronenberg-Designed Sir Victor Hotel in Barcelona Embraces Communal Hospitality Trend
Reimagining what many perceive as perfect is a challenge—especially when you've experienced its charm first-hand. Yet the co-founders of Baranowitz + Kronenberg found themselves doing just that to public areas and 30 suites for what was once Barcelona's iconic Hotel Omm. Built in 2003 by Capella Garcia Arquitectura, the building is an unexpectedly contemporary landmark in the historic and centrally located Paseo de Gracia district. With sections flipping outwards, its distinctive facade resembles turned back sheets of paper.
"This was our favorite hotel in the city for the last 15 years," admits Alon Baranowitz. Adds Irene Kronenberg, "We never thought we were going to break it and make something new." Yet the husband-and-wife team were enlisted to transform the interior to reflect the expanding Sir Hotels brand—a new chapter that began after Omm's owner retired, and the hotel fell under new management.
The sixth Sir hotel, 91-room Sir Victor embraces new hospitality standards calling for communal and co-working spaces. It follows Sir openings in Amsterdam, Ibiza, Hamburg, and Berlin and is the third with interiors by B+K.
On Sir Victor's ground floor, the first thing people notice is the "strong and beautiful transition from the street to the patio at the end," says Baranowitz. Reception, lounge and co-working space, pool table, and the dining room and bar for steakhouse Mr Porter are positioned in a generous, open single space. It's bathed by natural light flowing from large skylights and an outdoor space at the end of the floorplate—staying true to existing architecture.
Underlining this transition, interior accents follow a color palette of pale pastels that grow increasingly "more earthy, more heavy, and more intense," Baranowitz notes. Near reception at the entrance, fabric on soft upholstered chairs and sofas is pale peach and light blue, while banquet seating in the restaurant is dark blue leather. Wood flooring is laid by grain, with lighter planks positioned at the entrance. "Everything shifts beautifully from sea to mountain—just like in Barcelona," notes Baranowitz.
Sir Victor's name is a tribute to Caterina Albert i Paradís, a Catalan author who wrote under the male penname Víctor Català. Likewise, undulating floor-to-ceiling drapery in Mr Porter addresses the conceptions of masculinity and femininity. Says Kronenberg, "it is unexpectedly steel, making it delicate and sensual but also cold and strong."
Keep scrolling to view more images of the hotel and restaurant >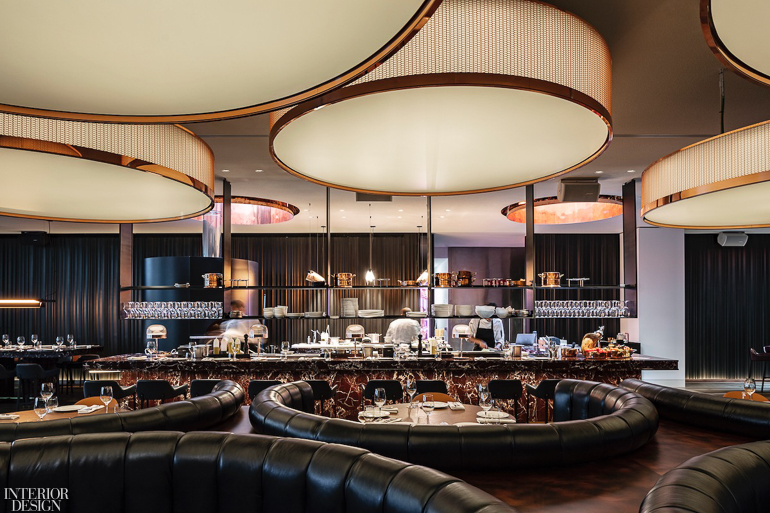 Read more: 10 Questions With… Baranowitz + Kronenberg