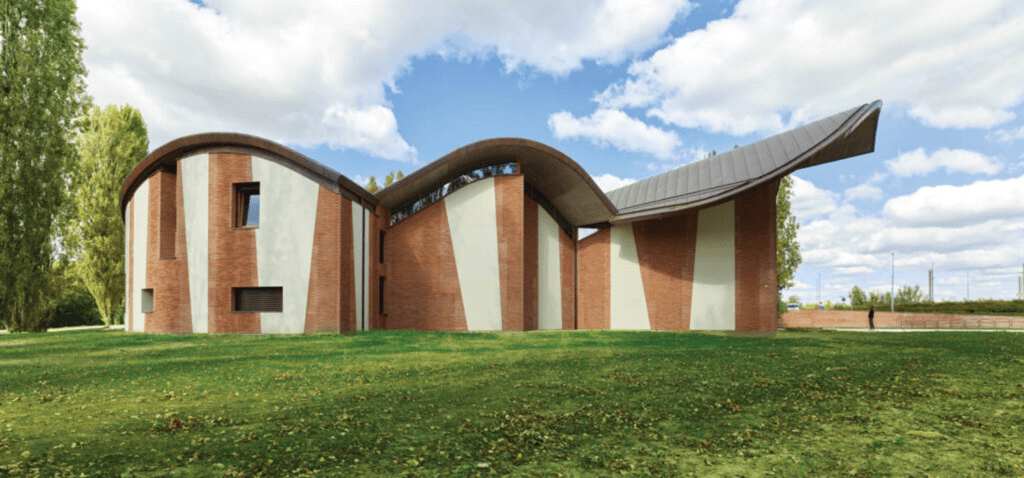 Benedetta Tagliabue-EMBT Designs a Contemporary Church in Northern Italy
Sinuous and sculptural, San Giacomo Apostolo Church is capped by deconstructed planes of thin copper panels. Topping the ground-up parish complex in the northern Italian city of Ferrara, the roofscape was inspired by a hot-air balloon after it falls flat to the ground. "When we were coming up with ideas, we found this image of a balloon festival in the skies of Ferrara, struck by what impressive, colorful, and light structures they were," architect Benedetta Tagliabue recalls. "At the same time, we were looking at the beautiful city, its brick and monochromatic hues, medieval and Renaissance architecture, and thinking Why should we go back to history and mimic it? Let's be inspired by something else." Inspired she was. The unique roof is just one of several contemporary standouts in the decade-long project masterminded by Benedetta Tagliabue-EMBT, the Spanish studio Tagliabue cofounded with her late husband Enric Miralles and of which she is now CEO and head architect.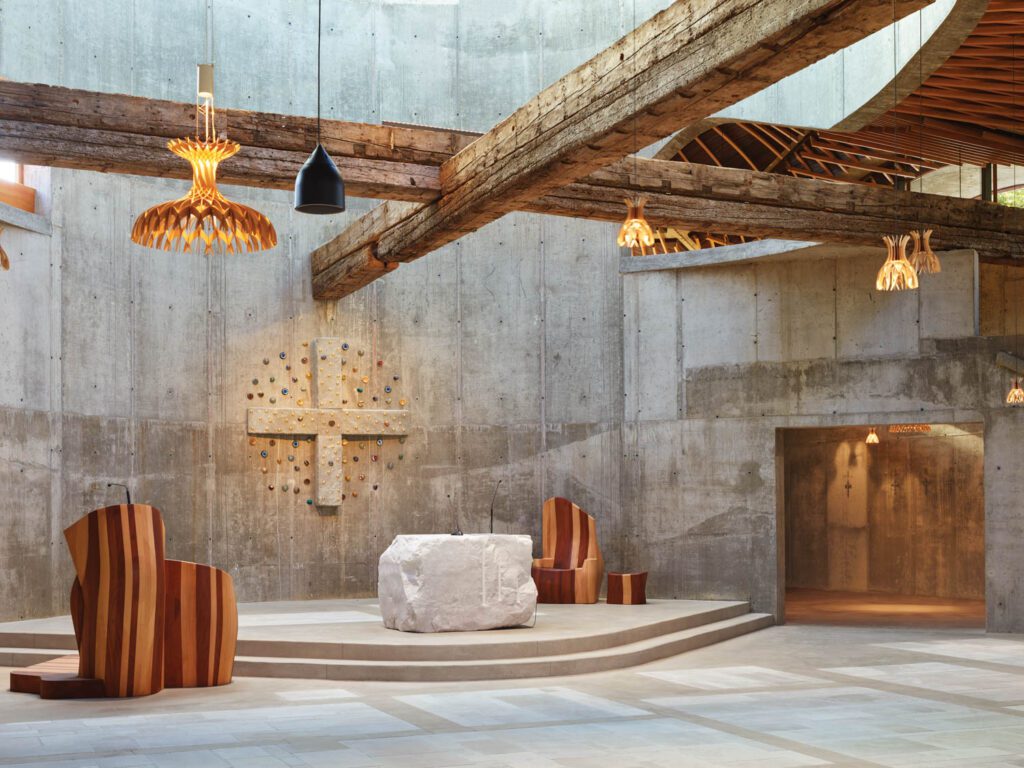 Commissioned in 2011 by the Conferenza Episcopale Italiana, Italy's official assembly of bishops, San Giacomo Apostolo is part of a pilot program to erect three new Catholic parishes throughout the country where growing congregations made new facilities necessary. Composed of a 7,600-square-foot church and rectory, plus a 9,000-square-foot annex with meeting and classroom spaces, it shares a plot with the former church, now a nursery and kindergarten.
Beneath the wavy roof, a striped undulating exterior of red brick and white concrete underscores the church's modern expression. "Using two materials was partly about not wanting to be overly assertive with one," Tagliabue explains, "but it was about giving the building visibility, too." The materials also contribute to the project being contextual: The brickwork, a three-point pattern in some sections, nods to the carved marble "diamond" exteriors of the 15th-century Palazzo dei Diamanti nearby.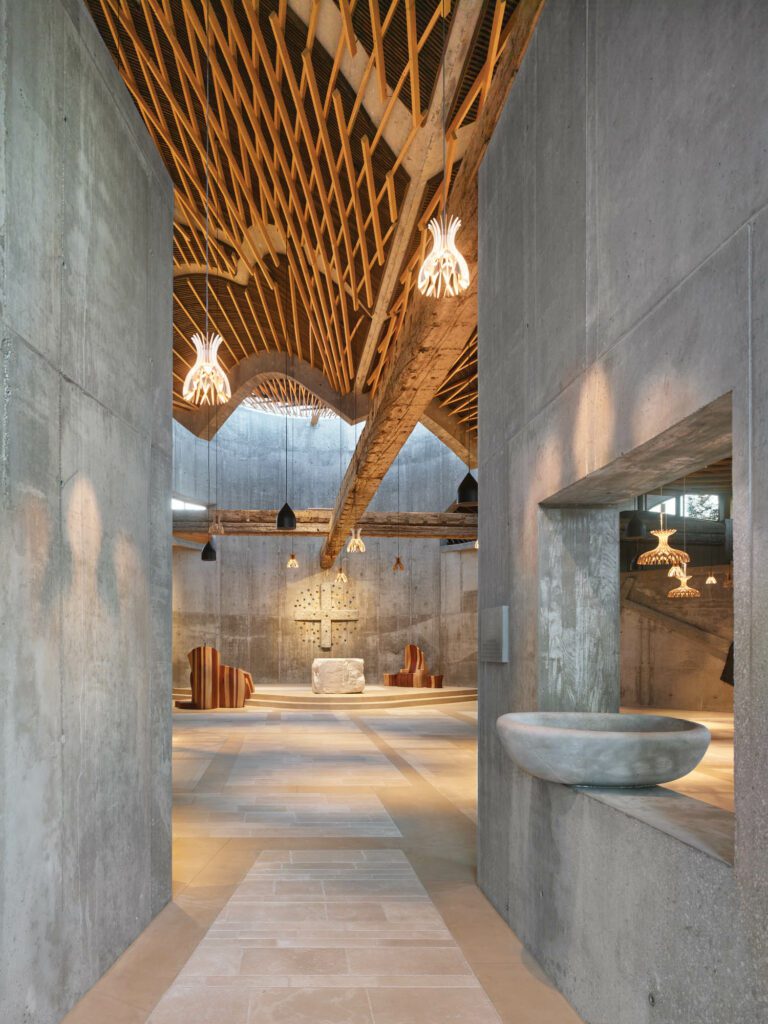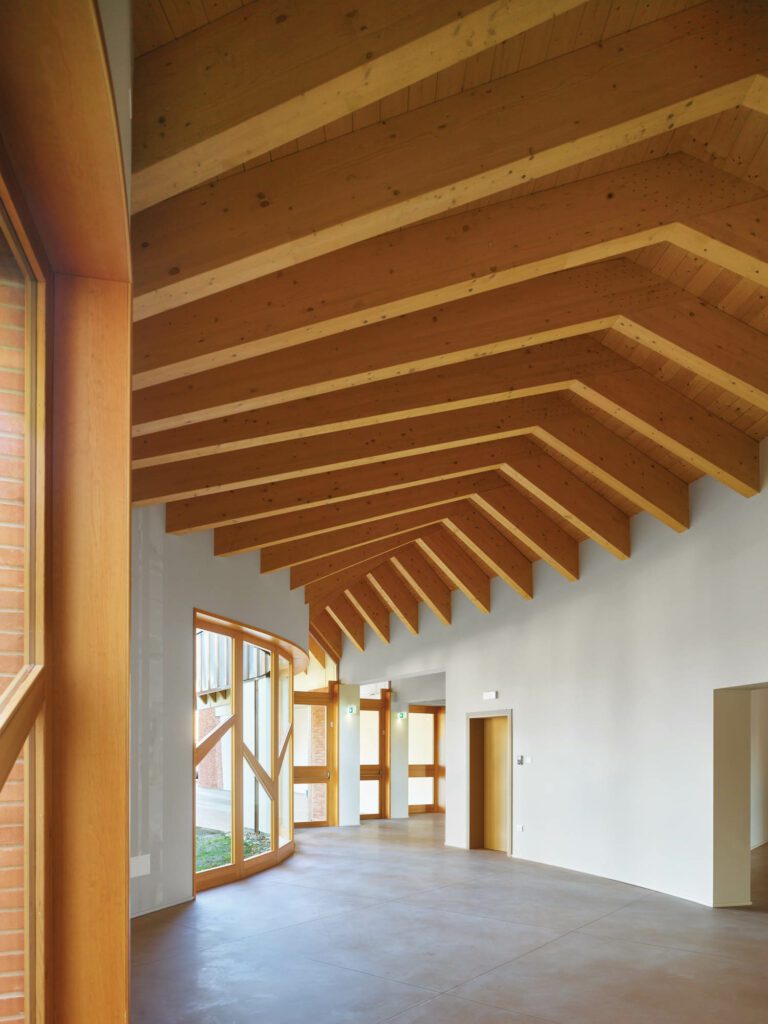 Inside the church is equally impressive and unexpected. Light, both natural and artificial, is a defining characteristic. It pours in through a central oculus and surrounding clerestories, encouraging congregants to look ever heavenwards, and is supplemented by Tagliabue's domelike beech pendant fixtures. Also in abundance is concrete. She and her team had wanted to build the church out of wood but couldn't because of budget constraints. When they settled on concrete, they'd planned to treat it but realized, despite initial client opposition, that it was more beautiful in its raw form, particularly as a backdrop to site-specific artwork.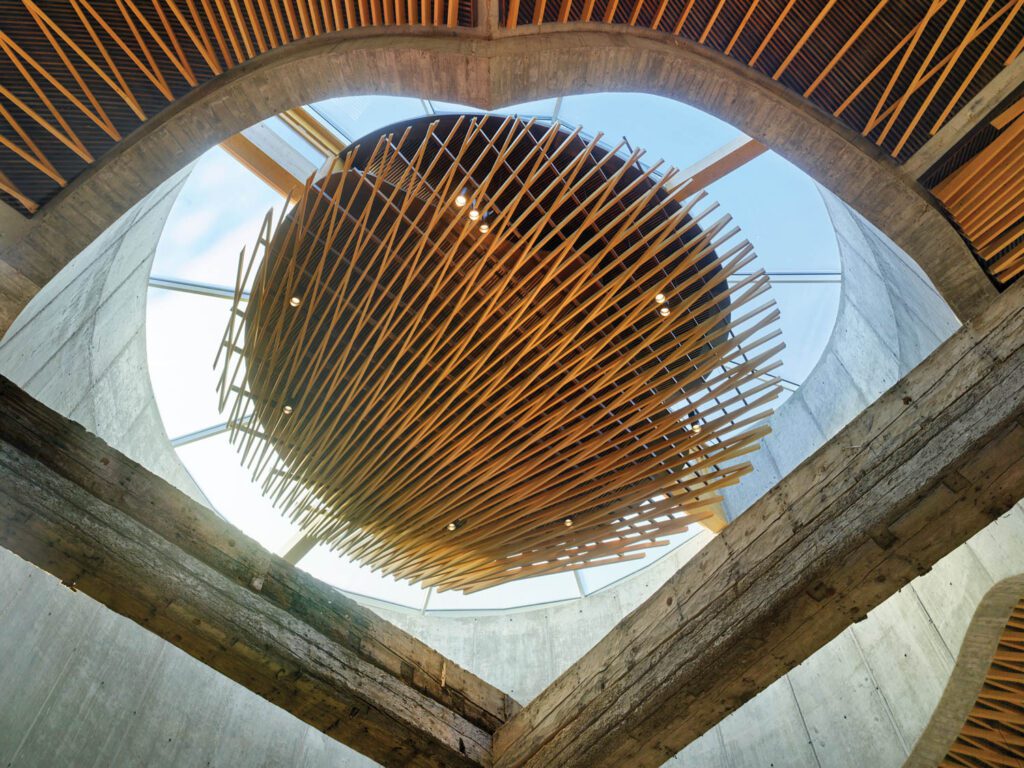 Collaborating with sculptor and painter Enzo Cucchi is one of the reasons the project endured for so long. The works of Cucchi, who's part of the Transvanguardia, a neo-Espressionist movement, gave pause to the CEI's more conservative members. "They were afraid of what he would do, so it got stuck for a while," Tagliabue reports. But the artist kept his impulse for the provocative at bay, choosing instead to adorn eight walls of the church with large crosses in pietra serena, a noble gray sandstone, installed either vertically, slanted, or along a curve so that "you see the sculpture going around the edge," Tagliabue notes. Each cross has a black ceramic base carved in bas-relief with verses from the Old and New Testaments.
Behind the altar, a dramatic monolith carved from a single block of unpolished white limestone, is another, even larger cross devised by Cucchi. Its cues come from the early Christian and medieval tradition of the crux gemmata, Latin for jeweled cross, Cucchi studding the sculpture not only with golden ceramic elements but also surrounding it with glazed ceramic "gems" in colors that represent "the stars, saints, and angels in the sky," Tagliabue enthuses. "I love that Enzo saw that, by enhancing the walls with a simple cross, they would become something else entirely. It's a fantastic integration between art and architecture—the art ties right into the materiality of the project."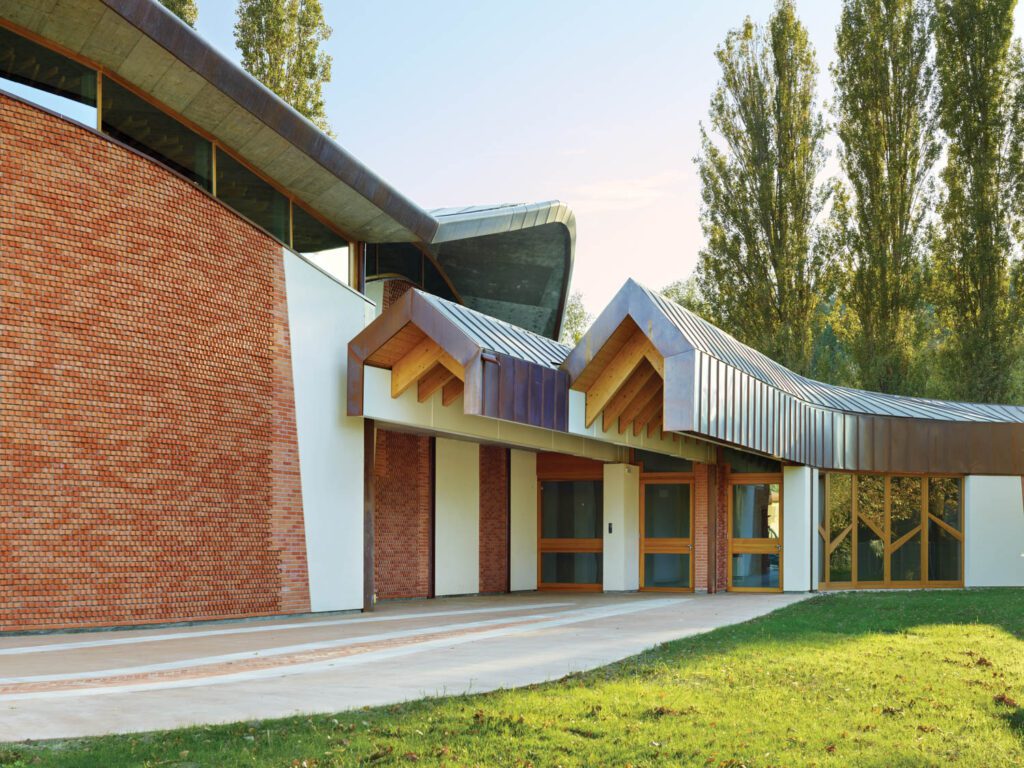 EMBT was keen to use timber where it could, so the firm created a vaulted ceiling of thin pine slats that encompasses a suspended metaphorical baldachin. The vault, which was fabricated on-site with intended and poetic gaps that "let something of the original structure emerge," was about creating this "idea of being in a humble cabin that keeps the community together," Tagliabue says. Wood, along with stripes, reappear in the furniture, for the pulpit, the chairs for the priests and acolytes, and the plinths, all made by the studio from alternating sections of mahogany and beech laminates.
One of the studio's concerns was not having the building look too new. "It's terrible if a church looks as if it's just landed there," Tagliabue states. The plan was to break some of the points on the exterior bricks so the facade looked older, but that was deemed too complicated and, Cucchi thought, "manneristic." However, the copper roof will help provide that desired patina, morphing from orange brown to matte green over time. For a sense of gravitas inside, the team inserted found objects with previous, preferably religious, lives: a baptismal fount Tagliabue's father sourced in an antiques shop, a Virgin Mary from a derelict church in Ferrara, an old monstrance and reliquary. In the concrete flooring, rectangular stone slabs with patterns reminiscent of old tombs have been inlaid to recall the floors of grand, centuries-old cathedrals.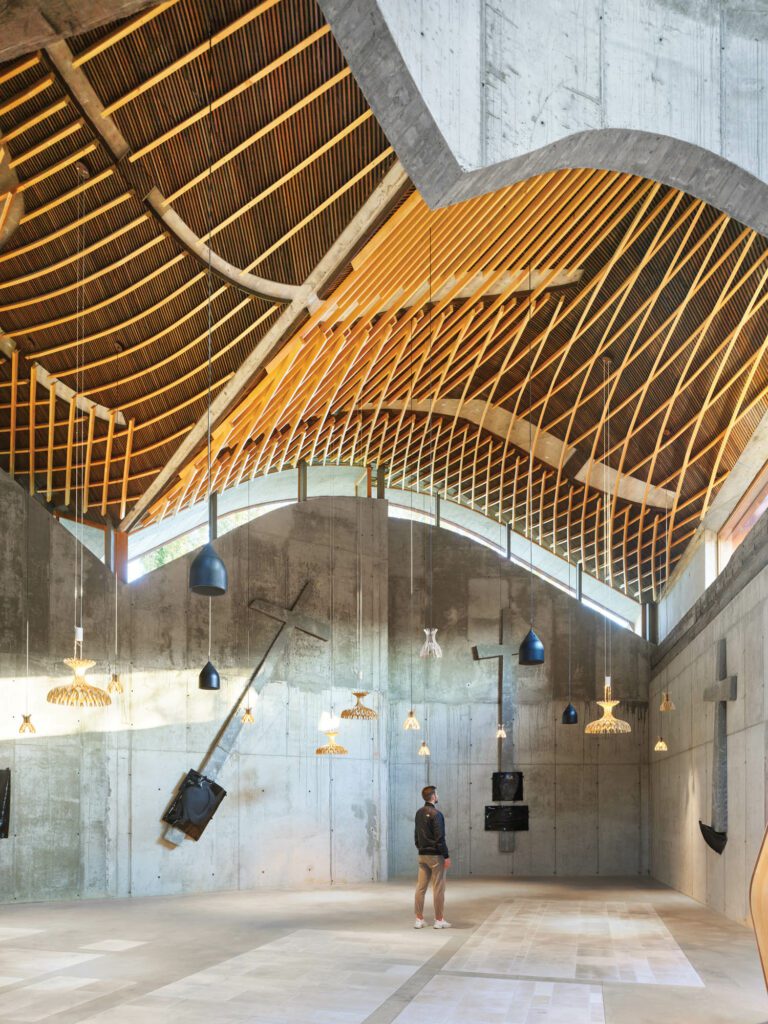 Floating above the entire nave is a flat horizontal cross of fir beams salvaged from Ferrara's town hall. Since they're at least 500 years old and dilapidated, they couldn't be used structurally. Instead they're joined together on metal beams to create a crowning crucifix that doesn't overawe or oppress, but rather imbues San Giacomo Apostolo with history and presence.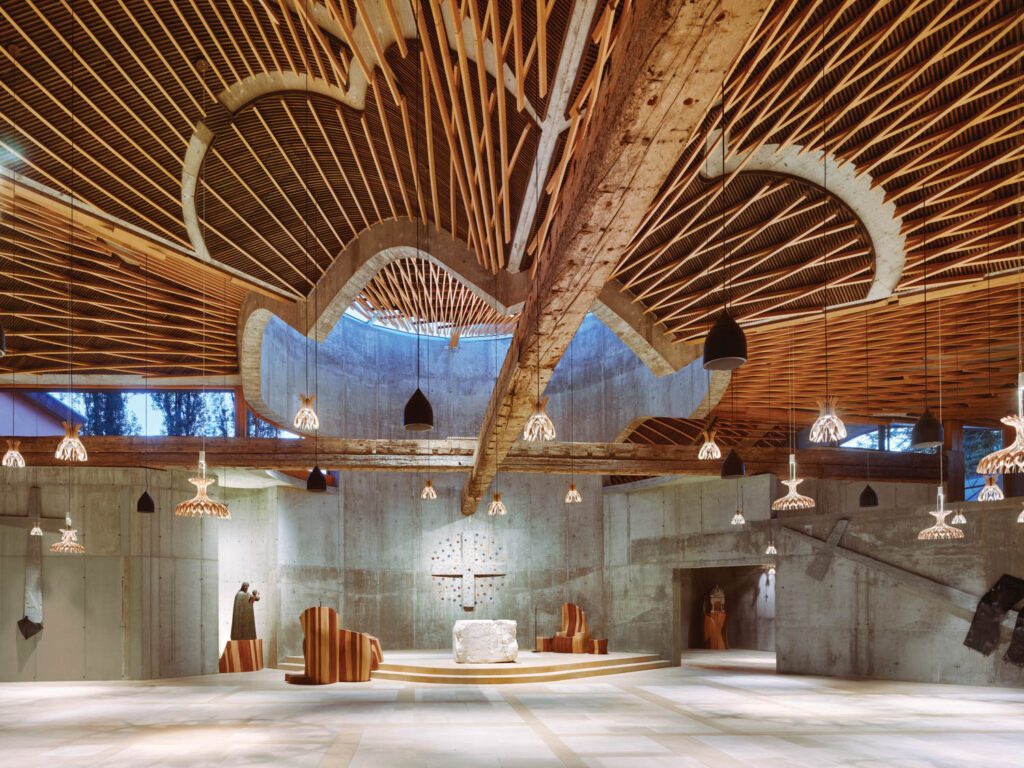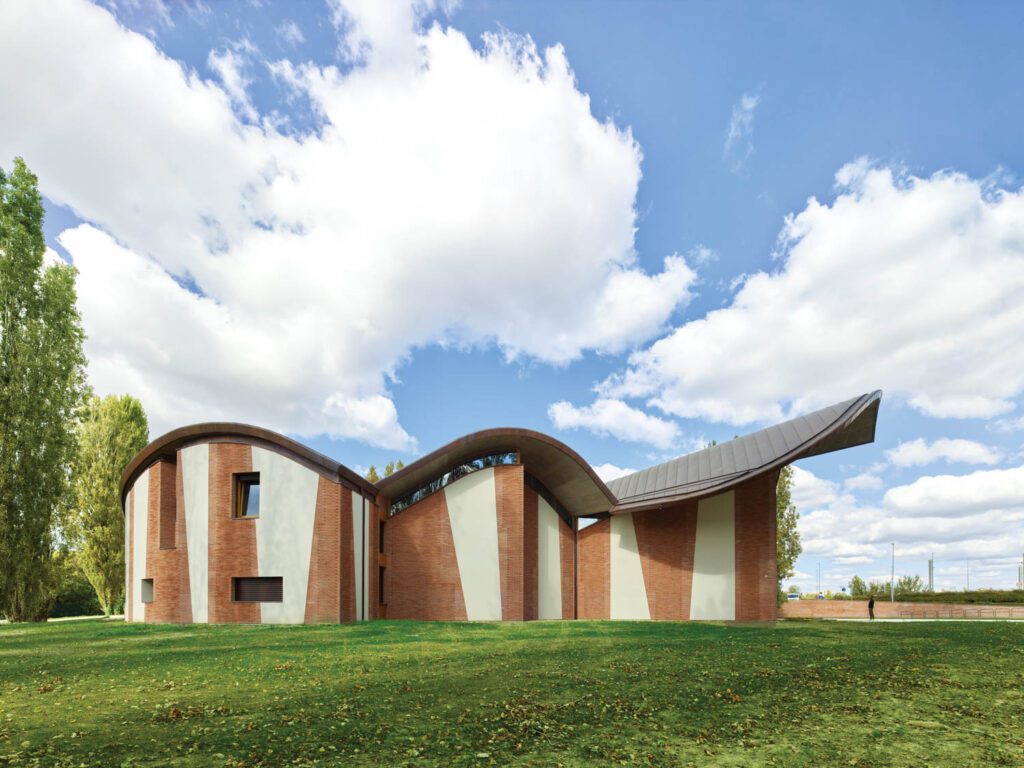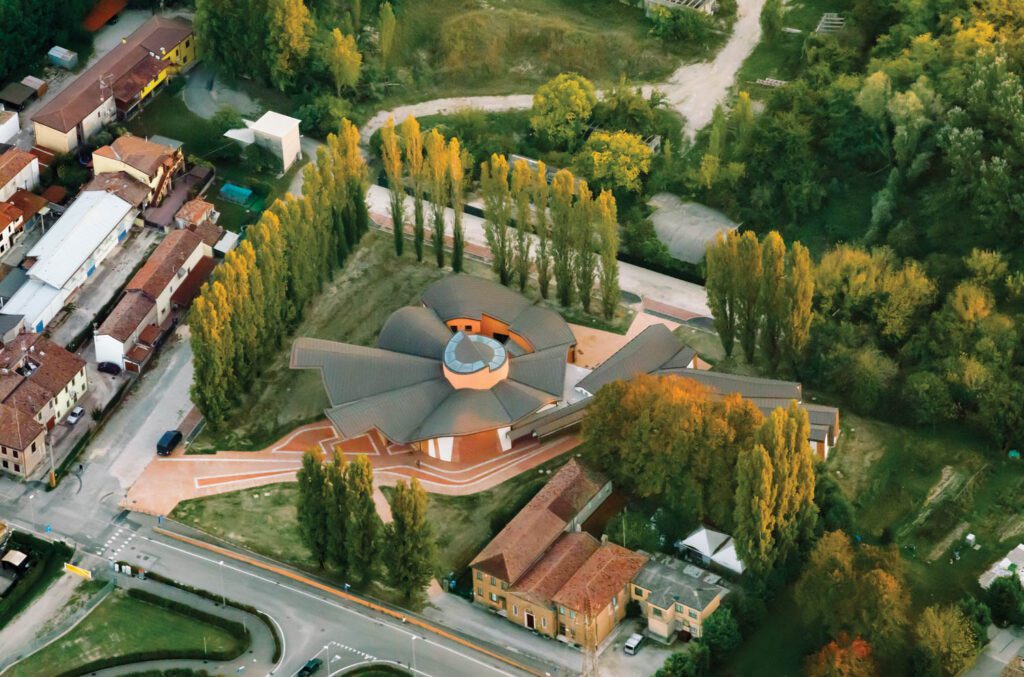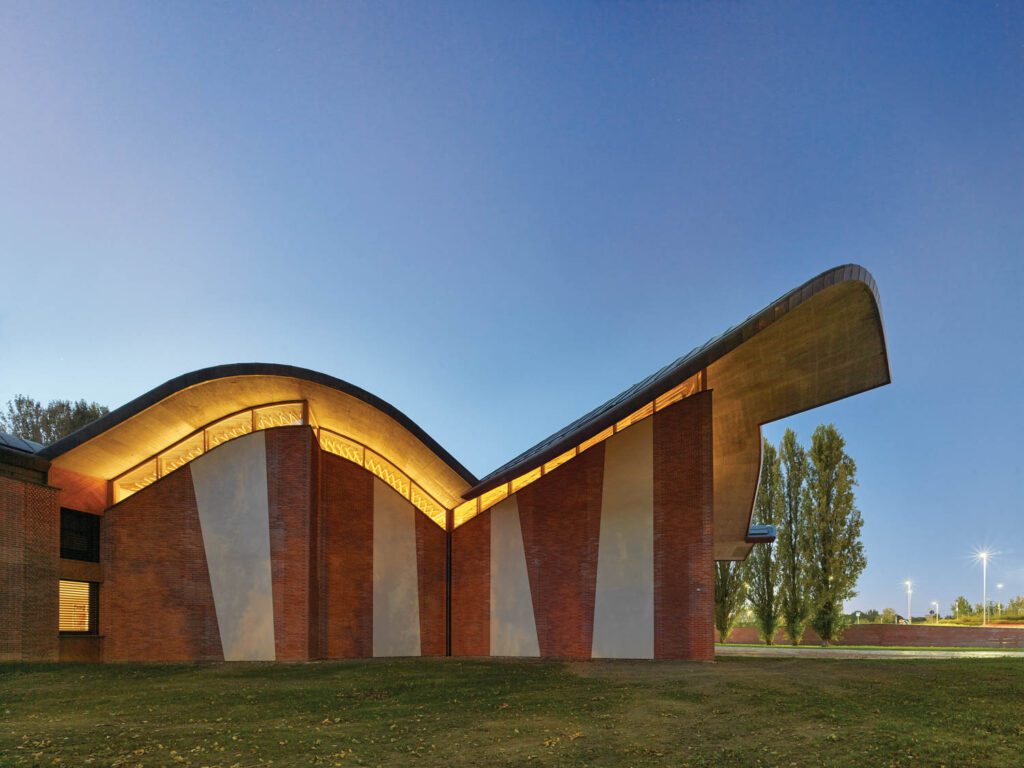 project team
project sources throughout