Berlin Restaurant REMI by Ester Bruzkus Architekten Reflects the Ethos of its Chefs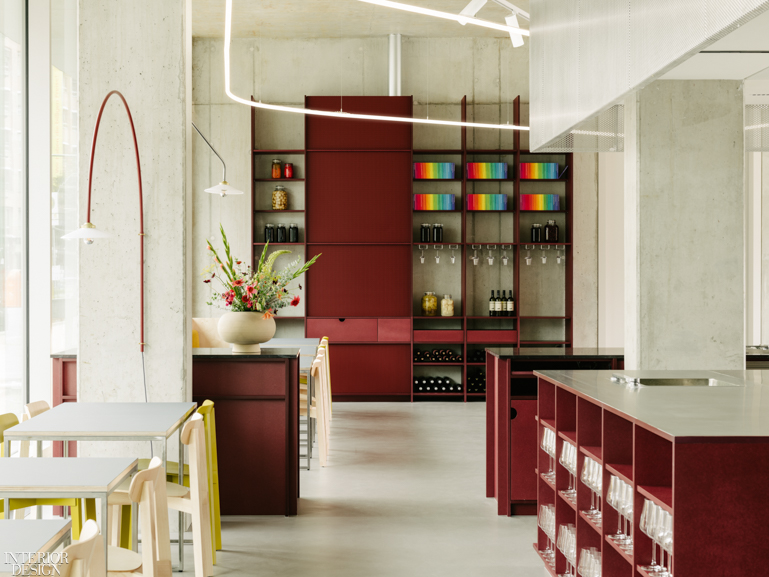 When chefs Lode van Zuylen and Stijn Remi described their approach to sourcing quality ingredients and transforming them into signature dishes, the design team at Ester Bruzkus Architekten took that work ethic to heart, creating the duo's latest restaurant venture in Berlin's central borough, Mitte. The recently completed REMI restaurant, which features an expansive open kitchen at its center, reflects the chefs' ethos down to every detail. Diners are treated to a playful yet sophisticated atmosphere outfitted with materials that work together much like diverse ingredients in a meal. Unfinished perforated aluminum, rough stucco, vibrant medium-density fiberboard cabinetry, transparent lacquered birch, pale blue curtains, and stainless steel all complement the natural deep red granite used throughout.
The design aesthetic spotlights the inherent qualities of each material, further defining the space, while overhead neon tube lighting guides guests from the entrance to the dining area. "An important goal of the design was to retain the feeling of openness that comes from the high exposed concrete ceilings and the expansive glass fronts on either side of the restaurant," the designers note. To do this, the team created a simplistic design scheme punctuated by layers of texture and color, making use of the existing architectural details in the site, which sits in the ground floor of the new Suhrkamp Verlag building by Bundschuh Architekten. REMI, like many carefully curated meals, is unassuming at a glance, yet the space reveals endless surprises to diners around each corner—and on every plate.