Best Residential Projects of 2019
Interior Design features dozens of beautiful houses on the pages of its monthly magazine and its Homes quarterly each year. Choosing just 10 favorites from the residences we've profiled over the past 12 months wasn't easy, but these designs stood out for many reasons—unique settings, creative materials, incredible artwork, and more—so here are the best residential house designs of 2019. One was a Best of Year Award winner and another was designed by 2019 Hall of Fame inductee Rick Joy.
French Farmhouse by NBBJ's Rysia Suchecka
Interior Design Hall of Fame member and NBBJ consulting partner Rysia Suchecka recounts how she and her husband reinvented a centuries-old farm in Larroque-Saint-Sernan, France, as a modern private residence and cultural compound for art and music. It's so captivating, it won the 2019 Best of Year Award for Residential Transformation. Read more about this project
Mexico City Concrete Town House by Rick Joy
For years, architect Rick Joy was known mainly for designing houses in the Arizona desert. But that's changing. "We've had a lot of 'firsts' in the last few years," notes the principal of Tucson-based Studio Rick Joy, who was just inducted into the Interior Design Hall of Fame. One was a train station in Princeton, New Jersey, the firm's first public commission. Another was an 11,000-square-foot, two-family residence recently completed in Mexico City, its first ground-up urban building. "People tend to think of our projects as being out in the wilderness," Joy says. "This one is squeezed between two other houses." Read more about this project
David Jameson's Vapor House in Bethesda, Maryland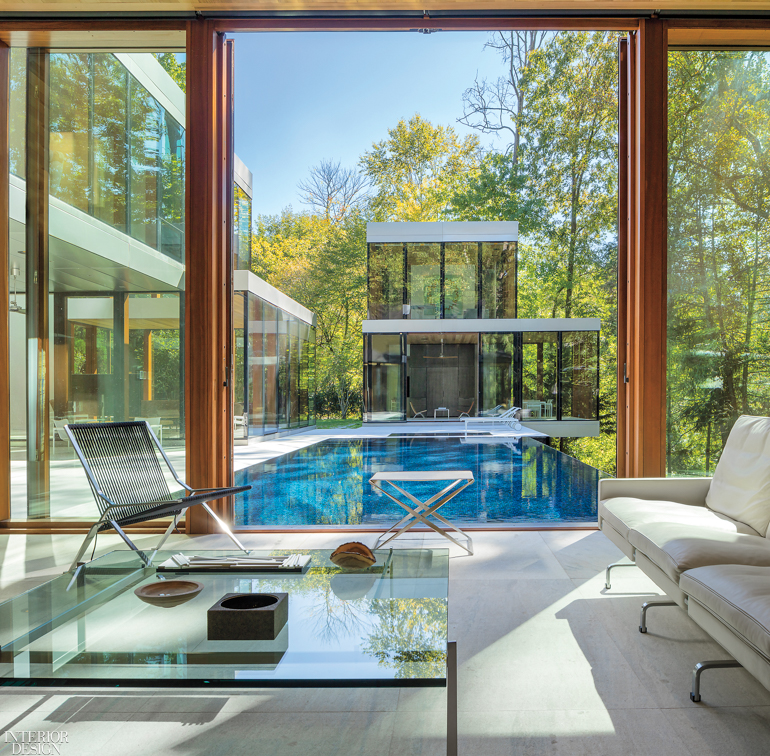 When an ice storm felled a large poplar, which crushed his family's 1950s Midcentury Modernist house, architect David Jameson knew there was no going back. "I didn't want to rebuild the house," he explains. "But I could create a whole new property for my growing family. So I said, 'Let's rebirth it.'" Read more about this project
Modernist Chicago Residence by dSpace Studio and Project Interiors
After raising their three children in a typical painted-clapboard house on a double lot in Chicago's Lakeview neighborhood, Stefanie Schenk and her husband, Jared, decided to demolish it and build a modernist structure that better reflected their style. They engaged architects Kevin Toukoumidis and Robert McFadden of dSpace Studio, who recommended Project Interiors for the interior design—their fourth collaboration. Both firms share a progressive, contemporary spirit that appealed to the clients. Read more about this project
Paris Residence by Kenzo Takada Refreshed by Kengo Kuma
Tucked away in a hidden spot in the Bastille district of Paris is a remarkable house built by Japanese fashion designer Kenzo Takada more than thirty years ago. Set in the courtyard of an 18th-century apartment building, the four-level, 14,000-square foot, cedar-clad residence—replete with its own inner courtyard and planted terraces—took about seven years to complete. When a French family recently acquired the house, they called on the Japanese architect and Interior Design Hall of Fame member Kengo Kuma to infuse new life into the unique property. Read more about this project
Kona Coast Compound by Walker Warner Architects and Philpotts Interiors
It took nearly three years to perfect a Kona Coast vacation home for a couple based in Portland, Oregon. The clients' wait was rewarded with spectacular results. Architecture and interior are ultramodern and yet rely heavily on traditional materials and touchstones. Old and new ebb and flow as easily as the tides right outside the home's copious sliding-glass doors. Principal Greg Warner of Walker Warner Architects and Philpotts Interiors partner Marion Philpotts-Miller approached the project in a methodical manner. "We call it the 'Village,'" Warner says of the unusual arrangement, a grouping of four separate structures linked by a lush courtyard and a series of walkways and patios. Read more about this project
Melbourne Family Villa by Leeton Pointon Architects + Interiors and Allison Pye Interiors
Almost inevitably, calling a building sculptural arouses the suspicion that function played second fiddle to the architect's shape-shifting vision. In designing a house worthy of the epithet, however, Michael Leeton, principal of Leeton Pointon Architects + Interiors, kept form and function in equilibrium as deftly as a juggler spinning plates. Blending sheltering solidity with airy transparency, the 9,365- square-foot, two-story villa responds not only to its environment—a leafy suburb in Melbourne, Australia—but also to the needs of its occupants, a couple with three children. Read more about this project
Sabine Marcelis and Paul Cournet's Artful Loft in Rotterdam
If Coolhaven—the name of a waterfront district in Rotterdam, the Netherlands—suggests an oasis of cutting-edge chic, a tour of designer Sabine Marcelis's elegantly restrained neighborhood loft only reinforces the impression. But the Dutch moniker translates to Coal Harbor, which gives a truer sense of the area's character: "It used to be quite rough but has changed massively in the three years since we moved here," Marcelis says. Even so, her 2,800-square-foot apartment overlooks the heavily trafficked Schie river. The cool quotient is mostly inside. Read more about project
Artsy Sag Harbor Retreat by Groves & Co.
It's one thing to live with art. But to live submerged in it—as do the owners of this Sag Harbor, New York, getaway—requires a whole other level of connoisseurship and commitment, not to mention a rather prolific collection. Also ironic: the fact that collectors of au courant works live in a house with such an old-world bearing. "The project's biggest challenge," says Groves & Co. principal Russell Groves, who masterminded the interiors, "was marrying the very forward art with the traditional envelope." Read more about this project
Swiss Villa by Andreas Fuhrimann Gabrielle Hächler
Architects Andreas Fuhrimann and Gabrielle Hächler have amassed quite an artsy clientele since founding their eponymous firm in 1995. Another forte is residential work, notable for the fluid transitions between spaces as well as the clarity, simplicity, and rich tactility of the materials palette. Those specialties are leveraged in another multistage project they recently completed: transforming a midcentury-era villa—located just south of Zurich in the village of Küsnacht, and designed in 1956 by local architect Theodor Laubi—into a combination residence, studio, and exhibition space for an art-world couple. Read more about this project