Beyer Blinder Belle, INC, Lubrano Ciavarra, and Stonehill Taylor Propel Eero Saarinen's TWA Flight Center into a 21st-Century Hotel
You expect Don Draper to appear any minute at the check-in counter. He would then head past the chili pepper–red sunken lounge to a room in the hotel, which you can see through the soaring glass wall. The raptorlike TWA Flight Center—a terminal for Trans World Airlines, designed by Eero Saarinen, built in 1962, and mothballed in 2002—is finally back, transformed into the lobby, restaurant, and ballroom of the new TWA Hotel at John F. Kennedy International Airport in Queens. The voices of Frank Sinatra and the Beatles float in, establishing the period and mood; hotel staff are uniformed like TWA flight attendants; an elegant Lincoln Continental convertible, circa 1962, the model that looks like a floating barge, is parked at the entrance. But the hotel delivers the punch line sitting on a piece of recreated tarmac between the iconic terminal and the two new hotel wings: The Connie, a 1958 Lockheed Constellation—the four-propeller airliner commissioned by TWA's owner, Howard Hughes, that was the state of the art in transcontinental travel immediately before the jet age—still attracts passengers, though now they climb aboard just for cocktails.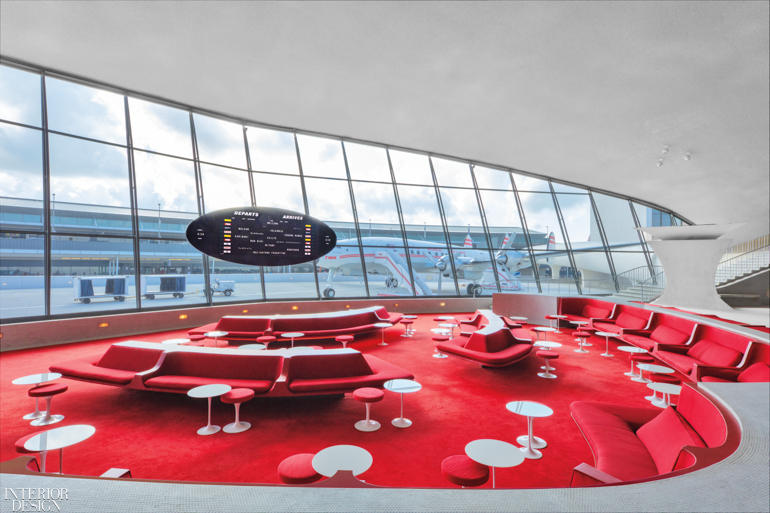 Looking like a magnificent eagle touching ground, Saarinen's terminal was one of the aspirational monuments of its time—a segmented concrete-shell structure whose daring construction technology served a sophisticated artistic idea, the "upward soaring quality of line," as Saarinen put it, defying the "form follows function" dictate of the day: "The structural and rational cannot always take precedent when another form proves more beautiful."
Function followed beauty at Saarinen's terminal. Curving form and space subtly thrilled passengers to the idea of flight. As a young man, Saarinen studied sculpture, and he was, as his childhood friend Florence Knoll once told me, "at home in the curvilinear world." Perhaps straight-lined Miesian rationalism was the dominant postwar architectural style, but there was also an organic subtext to the times: Isamu Noguchi's freeform table and sofa; kidney-shape pools; biomorphic sculpture, painting, and landscape design. Saarinen brought those fluid geometries into the floor plan and restaurant mezzanines at the flight center, extending compound curves from the roof into spaces where people walked.
Ahead of its time architecturally, prescient given today's digital extravaganzas, this symbol of dynamic progress could not keep up with aeronautical advances, and within a short decade of its inauguration, the terminal was obsolete. The 80-seat Constellation gave way to the much larger Boeing 707 and eventually to the 747—the first Jumbo Jet—overwhelm­ing the capacity of the terminal, which was finally vacated in 2002. Shuttered by the Port Authority of New York and New Jersey, the flight center—whose interior and exterior were listed on the National Register of Historic Places in 2005—was stabilized in a decade-long series of restoration efforts led by Richard Southwick, director of historic preservation at Beyer Blinder Belle Architects & Planners. In 2015, Southwick began a second phase of restoration, after hotelier Tyler Morse, CEO of MCR and Morse Development, won the RFP to redevelop the terminal as the key structure in a new $265-million hotel and events center. The latter allowed the hotel to achieve a critical mass of rooms that assured its profitability, while the combined facility basically financed the restoration of the terminal as its lobby.
Though the program of arrival and departure of a terminal and hotel largely overlap, the adaptive reuse of the flight center required satisfying current needs and codes. Inside, for instance, Southwick connected the lower and upper lobbies with new ADA ramps—broad pathways enhanced by sculpted walls whose contours capture the buoyant lift of Saarinen's design. BBB staffers researched the architect's archives at Yale University, where they found the project drawings and even sample boards, which were helpful in recreating the original materials and color palettes. Thus Southwick was able to accurately restore the first-class mezzanine Ambassador Lounge, which Saarinen had designed with colleagues Knoll and Charles and Ray Eames.
Besides the removal of service appendages, the only major intervention in the terminal proper involved a baggage-claim area that, although original to the "period of significance" (1962 to 1970), had been heavily modified over the years. Adam Rolston, Drew Stuart, and Gabriel Benroth of INC Architecture & Design transformed the space into a small ballroom, with an expanse of upside-down umbrella ceiling fixtures bathing the room in reflected light. INC was also responsible for the new 50,000-square-foot, three-story subterranean events center, located 30 feet below the Connie's patch of tarmac. For it, the team emulated the strict geometries of Saarinen's early rationalist buildings. "Mies van der Rohe influenced Saarinen who influenced us," Rolston explains. "We pursued a strategy of layering to achieve depth and complexity." Hence the rich stratification of woods and metals on the walls, while backlit clerestories provide illumination and a sense of openness that prevents the underground spaces from feeling claustrophobic.
Lubrano Ciavarra Architects worked with the hotelier from the beginning to develop the master plan that won the RFP. Principals Anne Marie Lubrano and Lea Ciavarra divided the seven-story, 512-room hotel into two partial crescents—the Hughes Wing and the Saarinen Wing—each connected to the terminal lobby by the long tubes that originally led to plane-boarding satellites. The architects kept the twin aluminum-and-glass buildings simple, sober, and straightforward—a neutral backdrop that "celebrates and preserves the legibility of Saarinen's flight center," Lubrano says. "The wings' verticality serves as a counterpoint to the horizontal dominance of their length, and is consistent with examples in Saarinen's oeuvre," Ciavarra adds. The firm devised curtain walls that are seven layers of glass and 5 inches thick to protect rooms from the deep boom of JFK's ubiquitous jets. LCA also designed the roof deck atop the Hughes Wing, which features a bar and lap pool with a built-in bench overlooking the runway and Jamaica Bay. "Sitting there with a drink, watching the planes, is really an unprecedented experience," Lubrano says.
Michael Suomi and Sara Duffy, respectively principal and senior interiors associate of Stonehill Taylor, used details to bring Saarinen into the hotel's interiors. They furnished the guest rooms with the architect's seminal Tulip table and Womb chair. Staging the rooms for romance, the designers included a small built-in martini bar that appeals to everyone's inner Don Draper. With rooms on both the terminal and runway sides of the buildings, Stonehill Taylor oriented each bed to face the view. The Saarinen building and the airport itself remain the focus of the rooms. "The goal was to bring the sexiness, allure, joy, and wonder of travelling back to JFK," Suomi explains. "And to not screw up the Saarinen."
Saarinen's flight center was never just a building to look at and use: It was an event that offered the excitement of architecture infused with the idealism of technological progress that would benefit society. The reinvention of the terminal as an immersive period-inflected experience compounds that original sensation. Saarinen conjured an anti-gravitational building to which the new team of architects and designers has added what Rolston calls "high-performance nostalgia." The TWA Hotel has time-machine power to transport visitors into a reverie about lives improved through beauty—it's an authentically optimistic vision and they enter and leave the building feeling as elated as an upbeat Sinatra song.
> See all images on the project slideshow
Project Team: Miriam Kelly; Orest Krawciw; Joe Gall; Susan Bopp: Carmen Menocal; Steve McCarthy; Kett Murphy; Efi Orfanou; Michael Elizabeth Rozas; Mon­ika Sarac; Andrea Sforza: Beyer Blinder Belle Archi­tects & Planners. Hilary Kroll; Louisa Revitte; Se­-
Jung Kim; Aaron White; Jay Bills: INC Architecture & Design. Dale Lunan; Heather Dela Cruz; Ramona Albert; Josh Barkan; Matt Kiwior; Daya Zhang; Mariel Mora Llorens; Tom Arleo; Stefanie Huchzermeier; Tatiana Rodriguez: Lubrano Ciavarra Architects. Deedee San­chez: Clive Kuo; Lauren Gorgano; Steven Eshelmen: Stonehill Taylor. Mathews Nielsen Landscape Archi­tects: Landscaping Consultants. Cooley Monato Studio; One Lux Studio; Ventresca Design: Lighting Consul­tants. Arup: Structural Engineer. Jaros Baum & Bolles: MEP. Langan: Civil Engineer. Cerami & Associates: Acou­stical Consultant. Continental Glass Systems: Tile Restoration. Centre Interiors Wood­working; Hill­top Woodworking: Woodwork. Bétons Préfabriqués du Lac; Ruttura & Sons; Sorbara Con­struction Corp.: Concrete Work. Front: Curtain Wall Consultant. Atlantic Aquatic Engineering: Pool Con­sultant. Turner Construction Company: General Con­tractor.
Product Sources:
Knoll: Round Side Tables, Tulip Stools (Sunken Lounge, Connie Bar), Desk Chair, Lounge Chairs, Side Table, Coffee Table (Guest Room), Chaise Longues (Pool). Knoll Textiles: Stool Upholstery (Sunken Lounge), Lounge Chair Upholstery (Guest Room), Custom Curtain Fabric, Banquette Upholstery (Connie Bar). Solari di Udine: Information Board (Sunken Lounge). Spectrum Lighting: Spotlights, Downlights. Vermont Quarries Corp.: Bar Countertop. Caesarstone: Back Bar Countertop (Sunken Lounge); Stone Wall (Tunnel). Design and Direct Source: Penny Tile (Sunken Lounge, Small Ballroom); Mosaic Tile (Tunnel). Axis Lighting: Linear Cove Light (Upper Lobby). YKK: Glazed Entry Doors. HB Lighting: Linear Pendant Fixture (Upper Lobby), Lamps (Guest Room). Flos: Custom Pendant Fixtures (Ballrooms), Art Lighting (Events Lobby). FilzFelt: Red Wall Covering (Small Ballroom). Thomas Hayes Studio: Blue Barstools (Guest Room). Cortina Leathers: Stool Upholstery. Mohawk Group: Flooring. Zenith Rugs: Rugs. Duggal Visual Solutions: Posters. Spin­neybeck: Headboard Upholstery. Samuelson Furni­ture: Custom Bench, Headboard, Nightstands, Desk, Bar Cart (Guest Room), Custom Banquettes, Restored Plane Seats (Connie Bar). Maharam: Desk Chair Upholstery (Guest Room), Plane Seat Accent Fabric (Connie Bar). Nemo Tile & Stone: Wall Tile (Bathroom). European Granite & Marble Group: Floor Tile (Bathroom, Main Ballroom, Tunnel, Grand Stair). Stone Resource: Cus­tom Vanity (Bathroom). Majestic Mirror: Mirror. Kohler Co.: Sink Fittings, Shower Fittings. WingIts: Towel Bar. v2 Lighting Group: Pendant Fixtures (Main Ballroom). Carnegie Fabrics: Wall Covering. Conwed: Stretched Ceiling. Muuto: Chairs. Formglas: Custom Round Ceiling Light (Tunnel). Optic Arts: Custom Cove Light. Ecosense Lighting; Visual Light­ing Technologies: Linear Cove Lights. Koroseal Interior Products: Paneling (Stair). Ceramic Tech­nics: Tile, Logo (Pool). Sunny Brook Pressed Concrete Co.: Pavers. Porter Corp: Trellis. Valley Forge Fabrics: Seat Upholstery (Connie Bar). Throughout: Innovative Carpets: Custom Red Carpet. Fabbrica: Exterior Curtain Wall. Interpane Glas Indus­trie: Glass Facade. Benjamin Moore & Co.: Paint. Crown Sign Systems: Custom Signage.